Discover more from Femstreet
Femstreet is a media platform amplifying female voices, accelerating their success and creating a culture of empowerment - where women lead, shape, and fund the future.
Over 19,000 subscribers
Why Quibi could be a game-changer; How it feels to be laid off during the crisis; Keeping a great culture while being remote & Enterprise Sales Guide: COVID-19 Edition
Your weekly Newsletter on Women in Tech and Venture Capital
Good morning and welcome to issue No. 129. Q1 is finally over and now on to Q2. It's going to be tough emotionally and economically. I hope you are all crushing this life lived through screens.
💬
Mark your calendars for a
Q&A with Alison Eastaway, Head of People @Sqreen,
a Greylock and YC-backed security startup.
Our next online Q&A will be with Alison Eastaway, Head of People at Sqreen, on how to build and scale a remarkable startup without compromising on people or culture on Wednesday, April 8th at 6pm GMT. Look out for a link to the discussion thread in your inbox!
This week, we sent out a special edition of our weekly Member Briefing with a focus on jobs, hiring & self-care (available for everyone for a very short time). We have a lot of fun behind the paywall and there is already a treasure trove of content and people back there waiting for you to catch up on and connect with.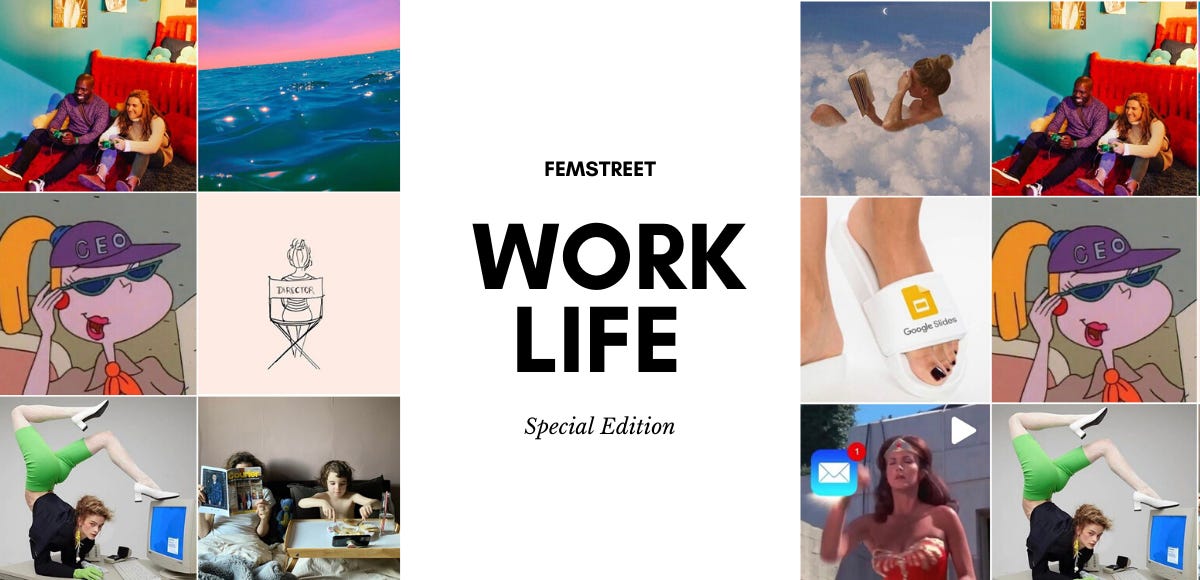 Sign up as a paid member for just $100/year.
If you become a paid member, you will receive the complete suite of Femstreet resources, access to our Slack channel, member directory and invites to exclusive events. Join the high-powered community to access our archive with Q&A expert sessions and to meet and talk with leaders in tech.
I don't want anyone to be left out due to money concerns so if you're a founder and genuinely can't afford the monthly subscription right now, please just email me and I will hook you up. We got you.
Insights
Mass layoffs over Zoom: The women's co-working-space-meets-social-club The Wing laid off almost all of its space teams and half its headquarters, saying that 95 percent of revenue had disappeared overnight.
ClassPass has cut or furloughed the jobs of half of its employees.
And where do clothing rental and subscriptions like Rent the Runway fit in a world that works from home? Tricky. Rent the Runway layed off all retail employees due to coronavirus uncertainty. The announcements were made on a Zoom call.

The judge in the Elizabeth Holmes case today refused to move the trial date despite the defense's concerns over a fair trial due to the COVID-19 pandemic. CNBC has more here.
People
Cristina Cordova, formerly Head of Corporate Card at Stripe, joined Notion to lead on all things Platform & Partnerships.

Dropbox's Geraldine MacCarthy joins the German HR tech company Personio as Chief Revenue Officer and opens Dublin the office.
From the Investor




Enterprise Sales Guide: COVID-19 Edition that collates the top guides and resources in enterprise sales during this challenging time, across how to sell to new vs. existing customers, reforecasting OTEs and quotas, and more.
— Jessica Lin / Work-Bench



"Before, not everyone wanted to use video conferencing; they felt like it was difficult to set-up or that the quality wasn't as good as in-person meetings. But now everyone has become accustomed to it, so I expect us to shift more towards remote meetings, including on weekends.'"
How coronavirus is shifting consumer behavior and attitudes in China: Dispatches from Beijing & e-learning apps.
— Li Jin / a16z


State of European Venture and B2B Software.
— Joyce Liu


On the macro impact of COVID-19, the future of work, and what to expect in the coming months.
— Brianne Kimmel / Work-Life Ventures


Working from home with kids, juggling homeschool, housekeeping, cooking and work? Here are 28 Covid Life at home hacks.
— Leah Busque / Fuel Capital

5 SaaS metrics to monitor in these trying times.
— Anna Khan / CRV

Venture investing in the age of COVID-19.
— Grace Isford / Canvas Ventures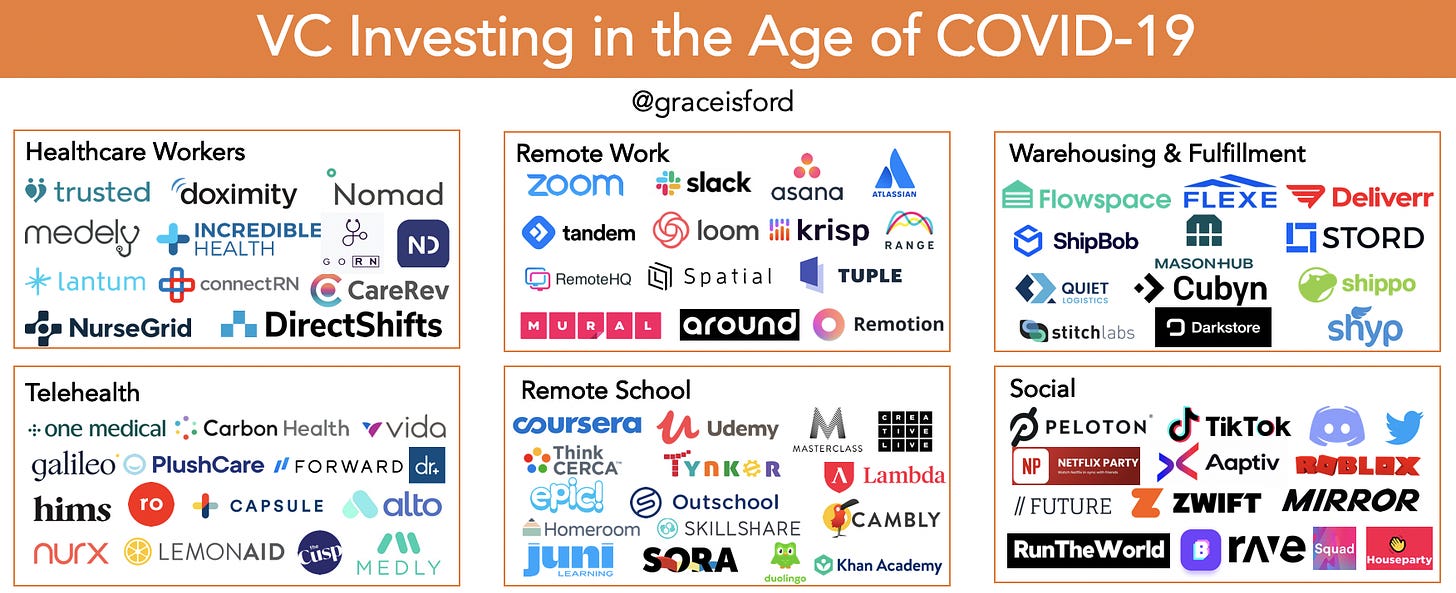 Quibi, the short-form mobile video platform, is set to launch tomorrow. Here's why it could be a game-changer.
— Shripriya Mahesh / Spero Ventures


Our new work and life situation at home led to a rapid adoption of new consumer behaviour. On the personal care / beauty front for example, how are we going to handle what is usually done by professionals? Are people going to cut and dye their hair themselves? Some at-home hair care brands are actually leveraging this unique opportunity to increase awareness. Josh Wood Colour is offering online personal consultations on his website and a live chat service and Bleach London is launching a series of virtual, interactive at-home colour tutorials, entitled 'HAIR PARTY'. Emilie Spire of Felix Capital argues that during these isolated times, the demand for human connection is making virtual one-on-one consultations even more relevant. More here.
---
Sustaining Mental Wellness for the Long Haul: Self-Awareness Practice for Easier Decision-Making
As you know, we have put together a collection of perks for Femstreet members. These are the incredible perks offered by our incredible community so far.
This is a hard time around the globe for so many reasons, and uncertainty is chief among them. How can we make it through this time – and not just make it through, but grow and thrive? Femstreet member and entrepreneur coach Kathleen Stetson is offering a free Zoom session to Femstreet friends on how to take this unique time to build self-awareness and make decisions with more clarity on Friday, April 10, noon ET. In this workshop, you'll discuss and practice research-backed tools for greater self-awareness, including meditation and mindfulness. Hope to see you there!
---
From the Founder & Operator

Five stages of grief: how it feels to be laid off during COVID-19 crisis.
— Zoey Zou / (ex) Pleo


How Surveymonkey moved upmarket to serve the enterprise, and leverage traditional marketing channels with a viral product and how to make marketing more human.
— Leela Srinivasan / Surveymonkey


25 things we've implemented at Front to keep a great culture while being remote.
— Mathilde Collin / Front


On fundraising in a pandemic.
— Holly Liu / Kabam


Here's a look into a week of working from home and homeschooling as an Engineering Manager and a mom.
— Isabel Nyo / Atlassian


Can we sing a hymn together in a conference call? This founder joined a church service on Zoom. Here is what worked and what didn't.
— Mari Teresienė

People lead wisdom on how to support employees and navigate organisations during these surreal and challenging times.
— Elena Pantazi / Northzone


How to manage communication during a crisis.
— Sarah Hodges / Pillar VC




Upcoming (Virtual) Events we recommend



🗓️April 9
Ask Media anything  |  CNBC, Techcrunch, Forbes
🗓️April 15
MSP Digital Q&A - Comp Planning For All Levels Of Your Sales Team
🗓️April 15
Vestpod's online workshop on investing for beginners



And in case you missed it:
Thank you for being part of Femstreet this Sunday. Even if you are alone at home, we are all together.
💙

If you are a female investor, founder or startup operator, we'd love to feature your content. Are you currently fundraising? Share the details with us here.
Follow me on Twitter, Medium, and Femstreet on Instagram.
👋Comments, questions, tips? Know a founder of a B2B company I should meet? Send me a note!
---
Curated in London by Sarah Nöckel, Founder/Editor in Chief & B2B SaaS Investor at Dawn Capital