Discover more from Femstreet
Femstreet is a media platform amplifying female voices, accelerating their success and creating a culture of empowerment - where women lead, shape, and fund the future.
Over 19,000 subscribers
Startups that help in times of social distancing; Key lessons from enterprise experts & How Covid-19 will impact the VC fundraising environment
Your weekly Newsletter on Women in Tech and Venture Capital
There are decades where nothing happens, and there are weeks where decades happen.
- Vladimir Lenin
Hello and welcome to issue No. 127. It's been a tough week, it feels like a century happened. We can already see the impact this virus has on the future of the world. On the bright side, forcing everyone to be online is going to accelerate the transition to tech and better connectivity and collaboration, regardless of your location in the world. But I must admit, I miss 2019 so much. ❤️

Remote ≠ Alone. We might be cooped up indoors but that doesn't mean we need to be socially distant. You're probably just getting used to working at home and feel a little more out of control so here are startups that help in times of social distancing and that people are using to hang out with colleagues, friends, family, and even strangers. What most of us are experiencing right now isn't "remote work." It's working from home during a pandemic which is stressful, for your mental and physical health but also for your relationships and job situation. Please don't forget that most remote workers can share their tips on how to work from home, but they are likely as lost as you are about being locked in their homes.

💬 Q&A with Camille Ricketts, Head of Marketing @Notion
Mark your calendars, friends! Our next Q&A on Tuesday at 9 am PT will be led by Camille Ricketts, Head of Marketing at Notion, on remote work management strategies.
Many founders asked me for advice on fundraising during uncertain times. The Femstreet community is here to support you. We will do another Q&A with a VC on this subject this week. Look out for a link to the discussion thread in your inbox!
---
Femstreet Perks
I don't want COVID-19 to overtake this newsletter but we are currently gathering more insights, resources, and strategies from our community to help our members during this challenging time. We are also putting together a collection of perks for Femstreet members. If you are a founder running a business in the remote work or mindful productivity space and can offer our community free/discounted resources, please get in touch 🙏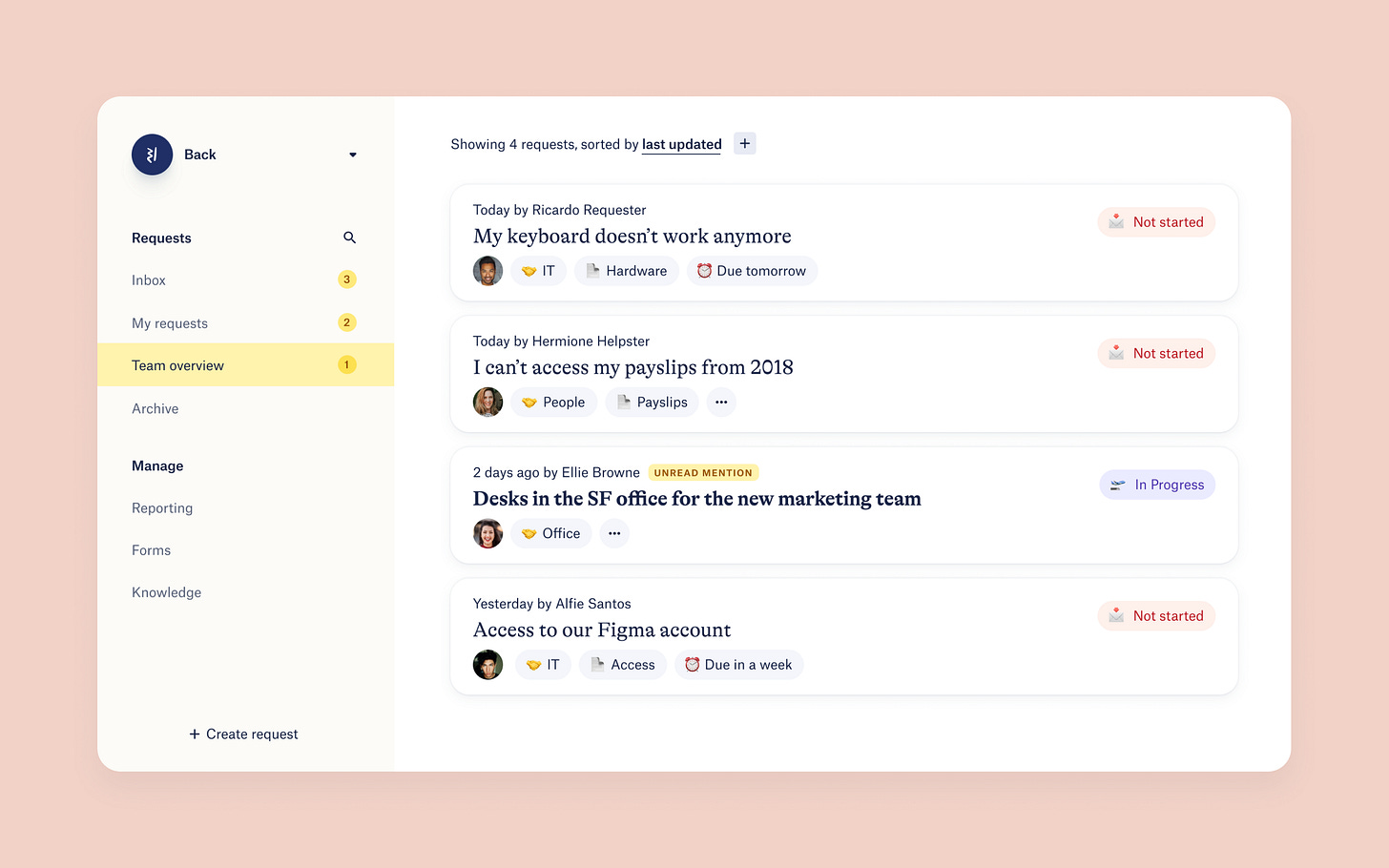 Back is an employee service platform for internal operations teams (HR, IT, Office Management, Legal and others) to organize and automate all employee requests and processes on one intuitive platform. You'll be able to automate a good amount of repeating questions on Slack, and have more transparency on requests in progress.
They are offering all Femstreet readers an extended free trial period of 1 month as well as 25% off the following 6 months. Schedule a demo and redeem the offer now.
(Note: We make no commission on sales through discount codes or affiliate links.)

Insights
This week, Robin Games rannounced that it has raised $7m in Seed funding to combine lifestyle content with fantasy gaming. Femstreet reader and investor Clara Lindh Bergendorff of firstminute Capital says: The majority of mobile gamers today are women, yet there are almost no women at the helm of mobile game companies—sad if you ask some, a billion dollar opportunity if you ask me. By pioneering a mobile games studio lead by mainly female executives, that can hang with and ultimately surpass the big boys, Robin Games hope to make a substantial difference to the future of the industry: both the type of content put out and opportunities for women within it.


Last week, two female led companies Nurx and Everly Well release COVID home testing kits. Thanks to the teams behind this!

People
Hanel Baveja (ex Insight) joined Union Square Ventures.

Our newsletter friend Polina Marinova from Term Sheet is leaving Fortune to build her weekly newsletter The Profile into a standalone business. Congrats, sister!
---
From the Investor
On March 4th (which feels a lifetime ago in the days of Corona) Femstreet co-hosted its second Women in Enterprise Tech event in London. We invited an exceptional group of women from CEOs of early-stage enterprise software start-ups to PMs and engineers at global IT leaders. Here are 9 key lessons from enterprise experts.
— Megan Reynolds / Crane VC
On the consumerization of healthcare.
— Jax Vullinghs / AirTree Ventures
Now that we are stuck at home, we will increase our consumption of digital content and connect with those we follow and trust. Here's a good piece about the future of online communities and whether they are venture backable or not.
— Sari Azout / Level Ventures



5 lessons from Tandem (a virtual office for remote teams) on raising a $7.5 Million Seed round and rising to the occasion in uncertain times.
— Brianne Kimmel / Work-Life Ventures



If you have not yet managed remotely, here is a guide to managing remote teams.
— Laurel Woerner / RRE


A practical framework for software entrepreneurs who may look to raise (additional) venture funding, perhaps sooner than planned. 
— Joyce Liu



How Covid-19 will impact the VC fundraising environment.
— Elizabeth Clarkson / Sapphire Ventures
How to take advantage of the markets now that they're down.
— Cheryl Campos / Republic
---
Take advantage of 
our special offer until 03/31
 and
become an official Femstreet member for $80/year today.
If you become a paid member, you will receive the complete suite of Femstreet resources, access to our Slack channel, archive with Q&A expert sessions, member directory and invites to member-only events + an additional weekly member briefing in your inbox.
---



From the Founder & Operator

7 days of Covid-19 as an early-stage founder and tips on how to survive the next weeks.
— Sharmadean Reid / Beautystack


29 Tips for yery effective remote managers and workers.
— Sarah Milstein / Mailchimp


Keep selling or pause the business? What to do next during a pandemic.
— Sophie Sunwoo / Ascent Strategy


8 tips for customer retention.
— Tassia Agatowski / Night Sky Creative 


How startups can implement a product-led growth strategy.
— Heather Hansson / Docket




Upcoming (Virtual) Events




🗓️March 25
From Investor's Perspective - Women Investing In Women


🗓️March 25
The Future of Talent: Attracting and Retaining Diverse Talent 

🗓️March 26
Expert Hacks for Working from Home Like a Pro 


🗓️April 1
Crisis communications 101: Facing Covid-19
We are currently working on more virtual Femstreet events, please reach out if you'd like to partner with us.
---
To all of you, thank you for
being part of Femstreet. Have a fantastic Sunday, please stay home! 
🎶 "Got to keep dancing when the lights go out. Hold tight for everyday life."
If you are a female investor, founder or startup operator, we'd love to feature your content.
Are you currently fundraising? Share the details with us here.
Follow me on Twitter, Medium, and Femstreet on Instagram.

👋Comments, questions, tips? Know a founder of a B2B company I should meet? Send me a note!
---
Curated in London by Sarah Nöckel, Founder/Editor in Chief & B2B SaaS Investor at Dawn Capital