Discover more from Femstreet
Femstreet is a media platform amplifying female voices, accelerating their success and creating a culture of empowerment - where women lead, shape, and fund the future.
Over 19,000 subscribers
Gender diversity in Enterprise Software is still disappointingly low. Last year we launched our Enterprise Europe 2019 market report and discovered that only 17% of early-stage enterprise software founders we surveyed have a gender diverse founding team.
We started the Women in Enterprise Tech Meet-up to try and improve these stats alongside our friends Femstreet and Dawn Capital. We hear resounding feedback that there are communities for women building consumer and SaaS companies but there is much less support in enterprise technology. Our aim for this meet-up is to build a supportive ecosystem for the next generation of female enterprise software company-builders.
On Wednesday 4th March we hosted the 2nd installment of the meet-up. Early-stage enterprise founders have to cover many different roles and so for this session, we focused on the core CEO competencies of Sales, Product and Finance/Operations.
We invited an exceptional group of women from CEOs of early-stage enterprise software start-ups to PMs and engineers at global IT leaders to:
Learn from operators at the top of their game — highlights below!

Build networks across companies, stages and functions

Share and solve enterprise-specific challenges
Read on for lessons we learned from our three speakers, all experienced enterprise software operators and industry pioneers.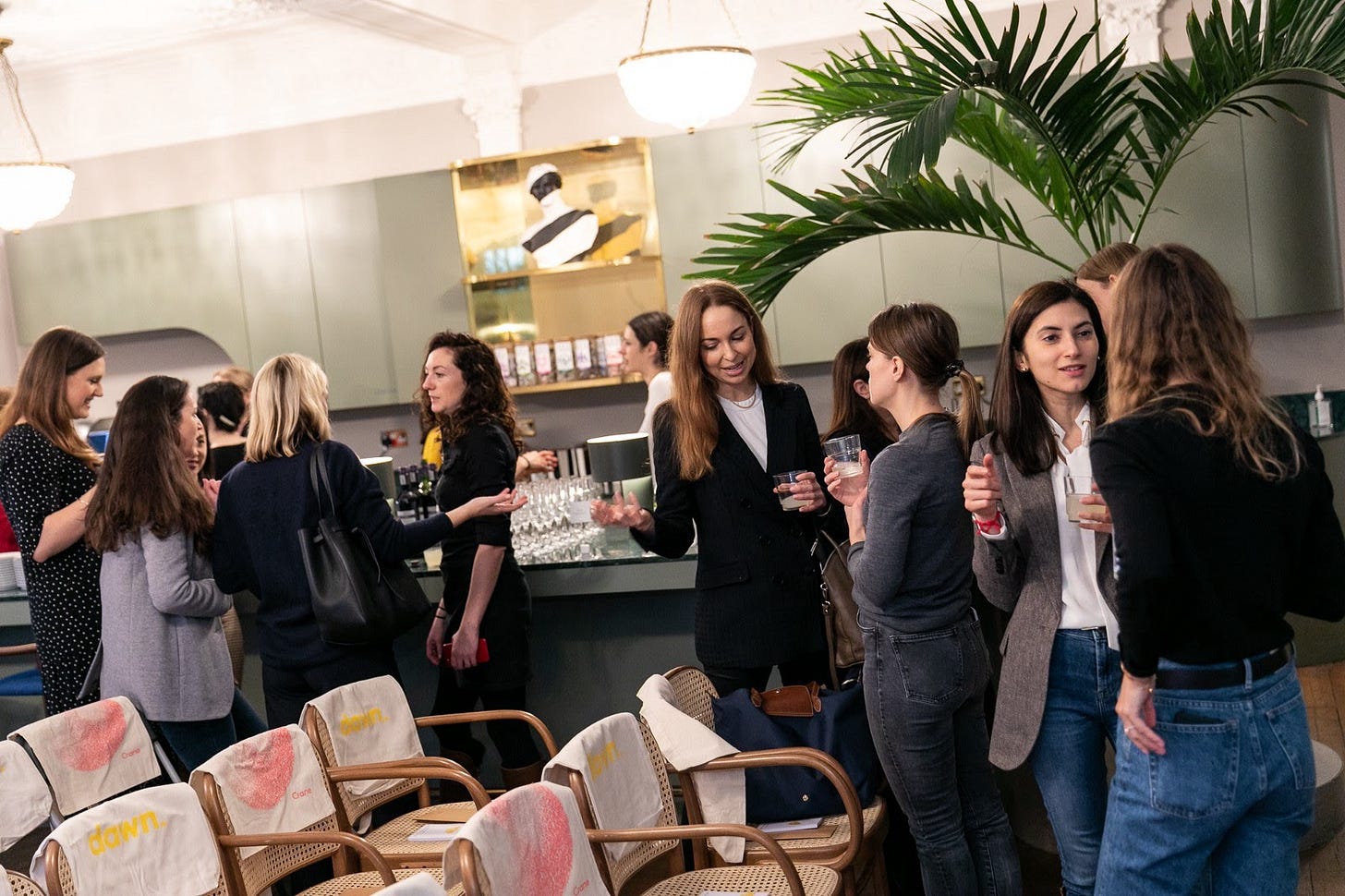 We were joined by:
Ashley Fidler (CPO at Eigen): Why your Company needs a (Real) Product Roadmap

Christina Kemper (VP Sales at Recorded Future): How to Navigate an Enterprise Sales Deal

Sabrina Castiglione (CFO at Tessian): Bootstrapping a Finance Function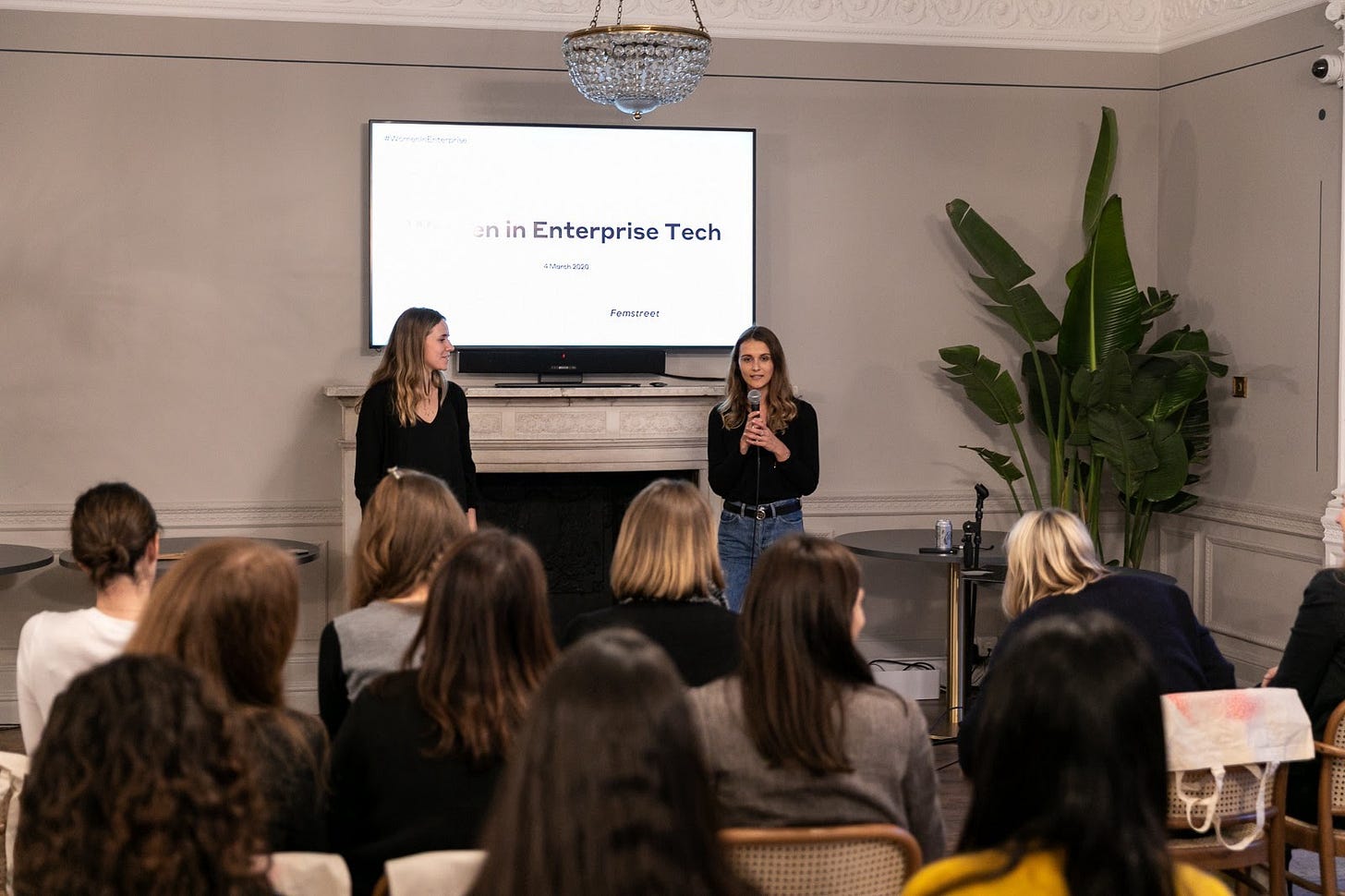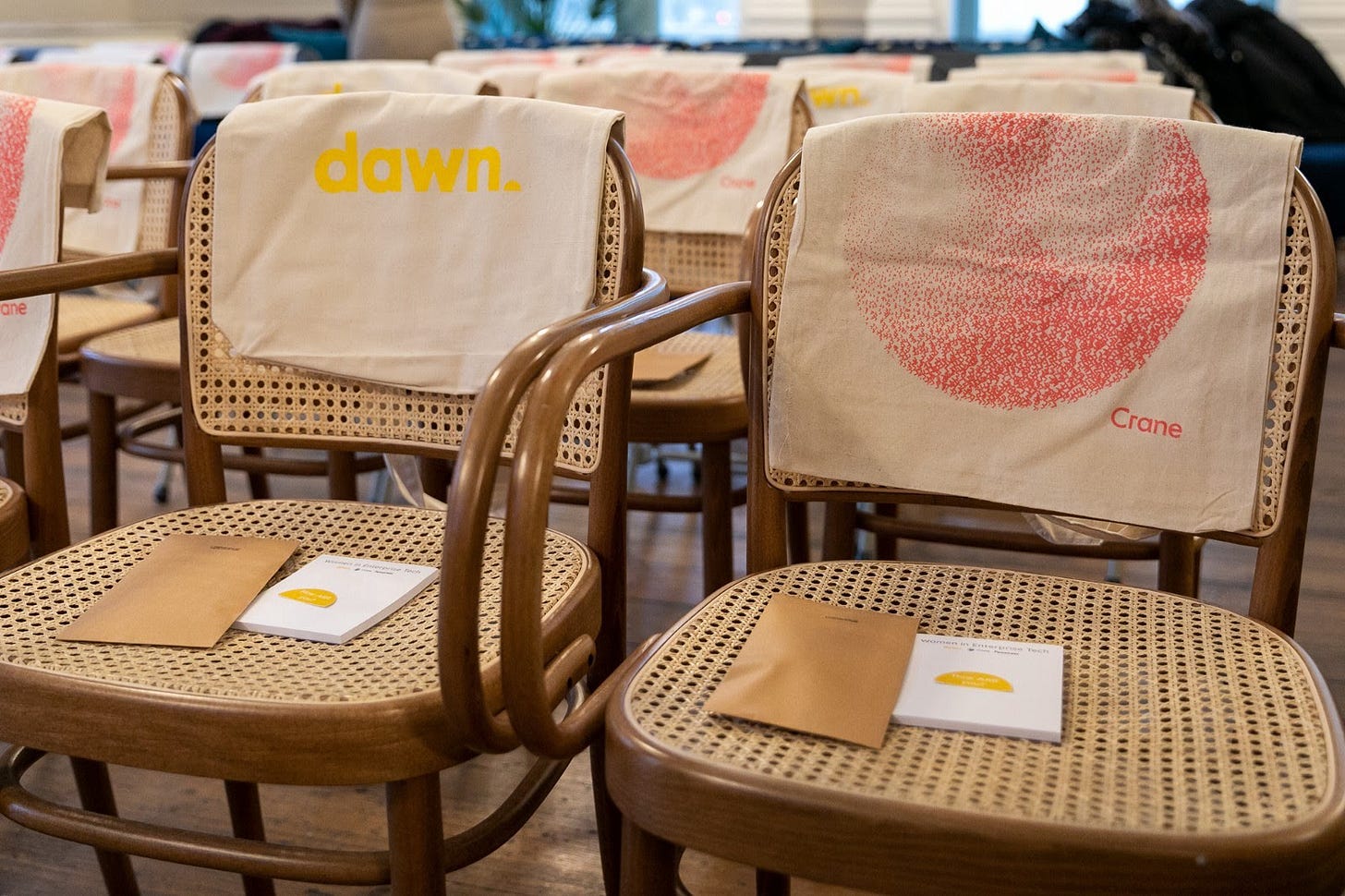 We kicked off the evening with lessons from Ashley in using product strategy to align your team and make faster decisions in a high-growth and uncertain environment.
Why your Company needs a (Real) Product Roadmap
Ashley Fidler is the Chief Product Officer at Eigen Technologies, a natural language processing platform. She was previously CPO at eSentire after their acquisition of Versive where she was formerly VP Product.
Key product lessons from Ashley:
1. "A great product roadmap can align your company" use it as a tool to focus leadership decisions and change behavior internally, the goal is to stimulate discussion and communication not just to set a direction.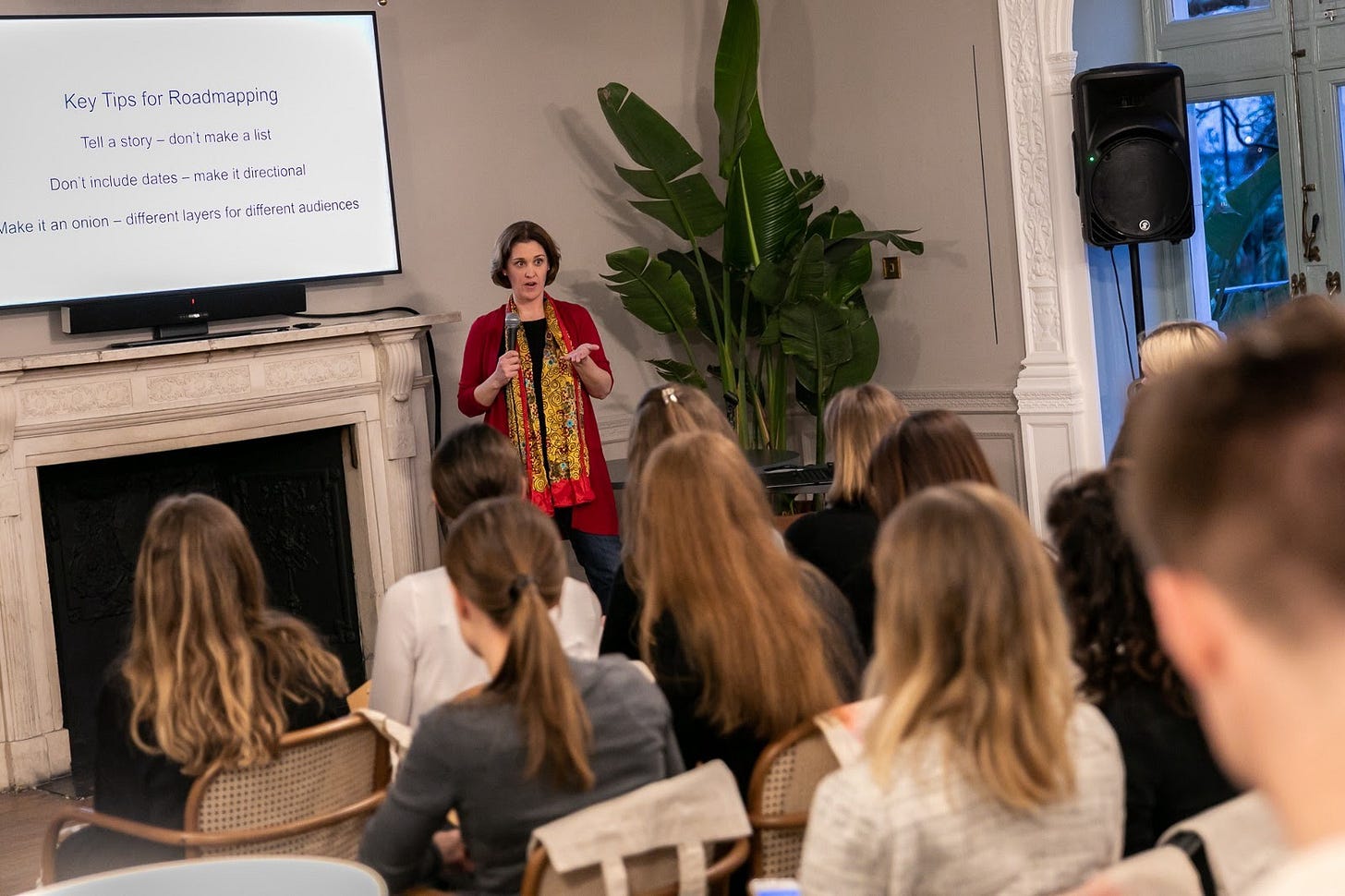 Ashley Fidler, CPO at Eigen Technologies
The team at Eigen once considered changing the sales model from an enterprise platform to a more modular app store-like platform. Ashley built a product roadmap for the app store knowing that it was the more controversial option and would stimulate discussion. Stakeholders were better able to communicate their views and made a decision against the app store quickly.
2. "Make your product roadmap an onion" Build layers into your roadmap, stakeholders need different information. Investors want the top-level story, how you're driving market value. Team members want themes and how you're tranching the roadmap towards the company vision. Only engineers really need the granular spreadsheet.
3. "Don't put dates in your roadmap" building and shipping product is a highly complex system, it is impossible to predict an exact delivery date 6 months out. Make it directional and give guidance but save the Gantt charts for the engineering team.
---
Next, we moved to the sales function — arguably the most critical role for any enterprise CEO. Christina shares her most valuable frameworks and strategies for spending time on the right leads and closing deals quickly.
How to Navigate an Enterprise Sales Deal
Christina Kemper is the VP of EMEA at Record Future which specializes in threat intelligence powered by machine learning. She was previously SVP of Sales at Callidus Cloud, acquired by SAP in 2018 for $2.8bn, where she built her career over 11 years.
Christina's lessons on the foundations for enterprise sales:
1. "MEDDPPICC is the best way to qualify leads" use this framework to spend time on the right leads. MEDDIC is the standard formula, Christina adds Purchasing Process, Partnerships and Competitive Landscape as enterprise essentials
2. "Keep digging until you find the real customer need, the more painful the better" find it quickly, use it to build a strong business case and generate urgency in the buying process
3. "If your champion is not helping you navigate the business, they are not a champion" make sure your champion/coach takes action and shows you they are a promoter of your business
In one sales process at Callidus Cloud, Christina was selling to the CIO, who was the senior stakeholder and also had the buying power. However, the company was also using a competitive product and there was no buy-in from any other decision-maker. Usually game-over for an enterprise deal. They only kept going and eventually closed the deal because the CIO was their champion and also the economic buyer — a powerful combination.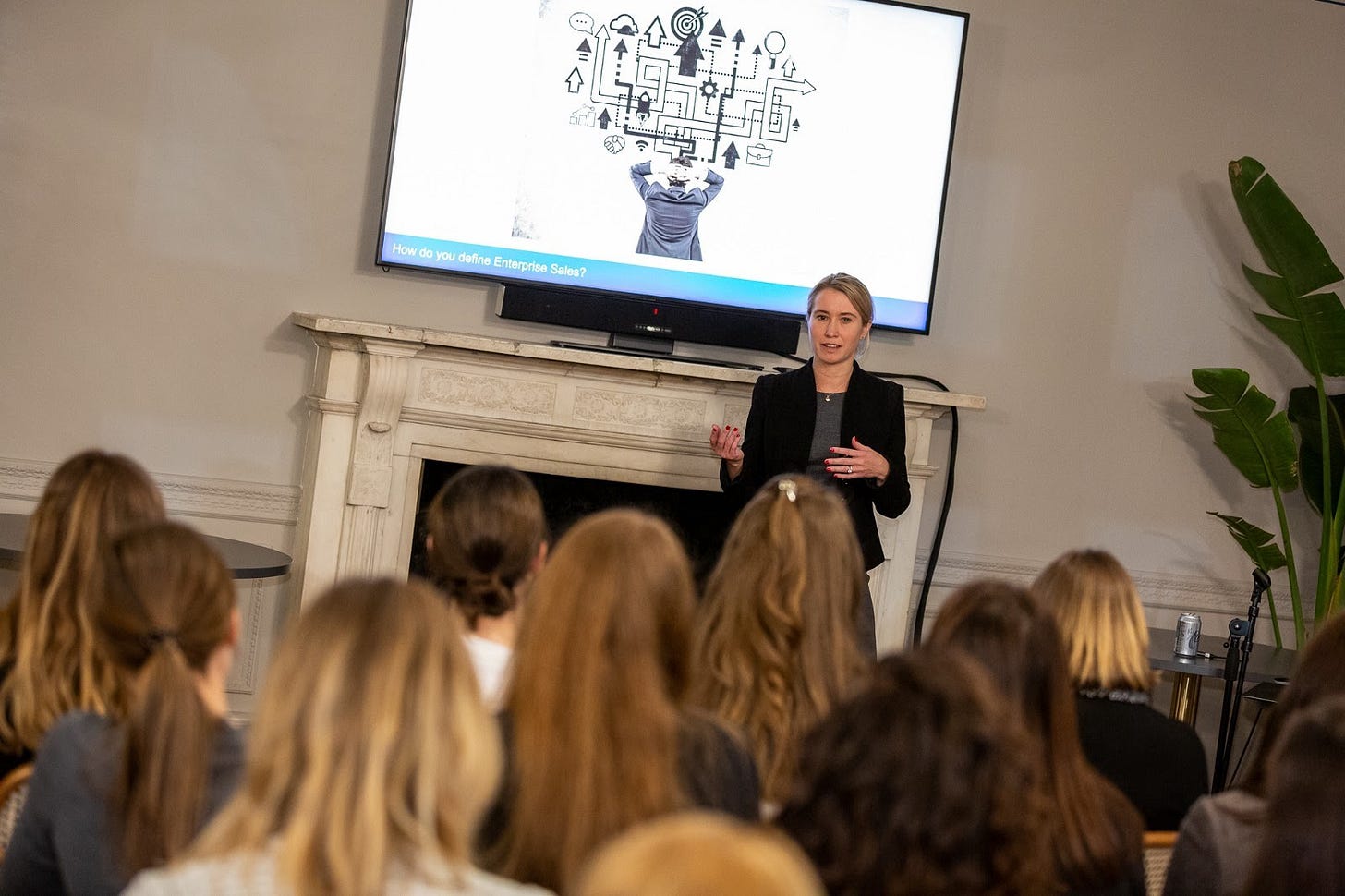 Christina Kemper, VP EMEA at Recorded Future
---
Tessian raised Series B from Sequoia in 2019 and is a company in hypergrowth. CFO Sabrina shares her model for maintaining the core business and managing cash at a speed of scale a few operators have experienced.
Bootstrapping a Finance Function
Sabrina Castiglione is the CFO at Tessian, the first Human Layer Security platform to protect people using email. Sabrina joined Tessian in 2016 as employee number 7. She has been pivotal in scaling the business to over 170 people and raising over $50M with investors incl. Sequoia, Accel and Crane.
Key lessons:
1. "Robots are your friends" automate everything you can to take low-value work off your plate. Bookkeeping, payroll, accounts payable/receivable, invoice chasing etc. Not core business!
Sabrina hired a freelancer for less than £500 to build Zapier integrations that helped them automate core operations including 50% of their entire recruitment process.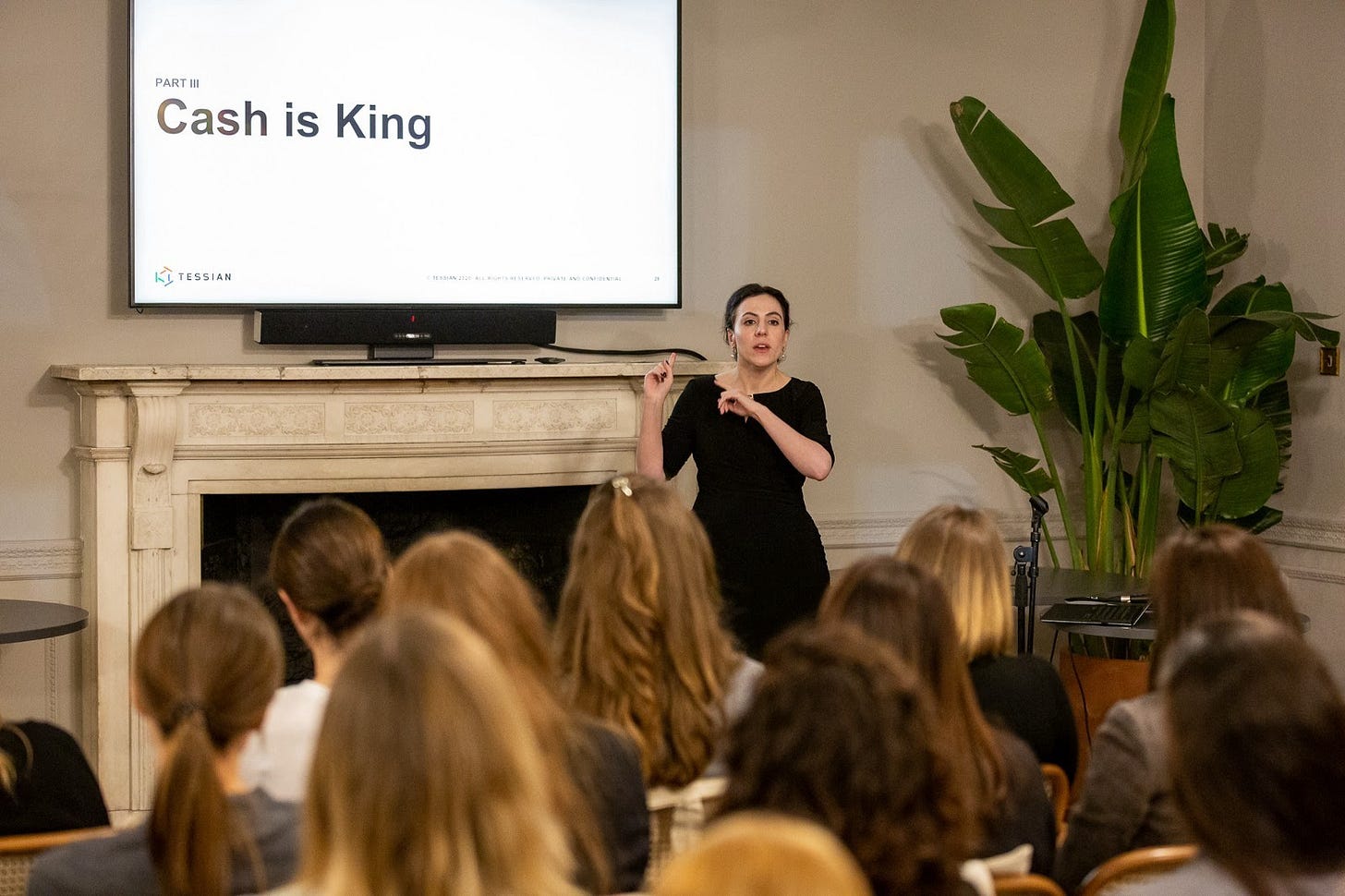 Sabrina Castiglione, CFO at Tessian
2. "Cash is air to companies at this stage" be the expert in your financial forecast, know your model and it's assumptions inside out BUT make sure you get someone to sanity check it.
3. Sabrina's three golden rules for anyone leading Finance, People, Ops in a start-up (advice given to her by Patrick Pichette, former Google CFO)
Rule 1: No one dies. Look out for the health of people and the business.
Rule 2: No one goes to jail. Avoid toxic headlines, stick to your processes and say no when you need to.
Rule 3: Don't run out of money. Know your runway in detail.
---
A huge thanks to our three inspirational speakers, our co-conspirators Dawn and Femstreet and last but not least, the attendees — it was great to see so many of you sharing and learning throughout the evening!
If you are building or working at an enterprise software company and would like to come to future events, join our community here.
Hope to see you at the next one.