Discover more from Femstreet
Femstreet is a media platform amplifying female voices, accelerating their success and creating a culture of empowerment - where women lead, shape, and fund the future.
Over 19,000 subscribers
Spicy questions to ask when choosing a VC; What to consider when making your first product hire; How to get more newsletter subscribers
Your weekly Newsletter on Women in Tech and Venture Capital
This is Femstreet, a weekly newsletter featuring must-read content by female operators and investors. I try to make this one of the best emails you get each Sunday morning. If you enjoy this issue, please like it above. If you can't get enough, join our premium membership today to connect with and learn from peers and experts, leverage resources and discover career opportunities.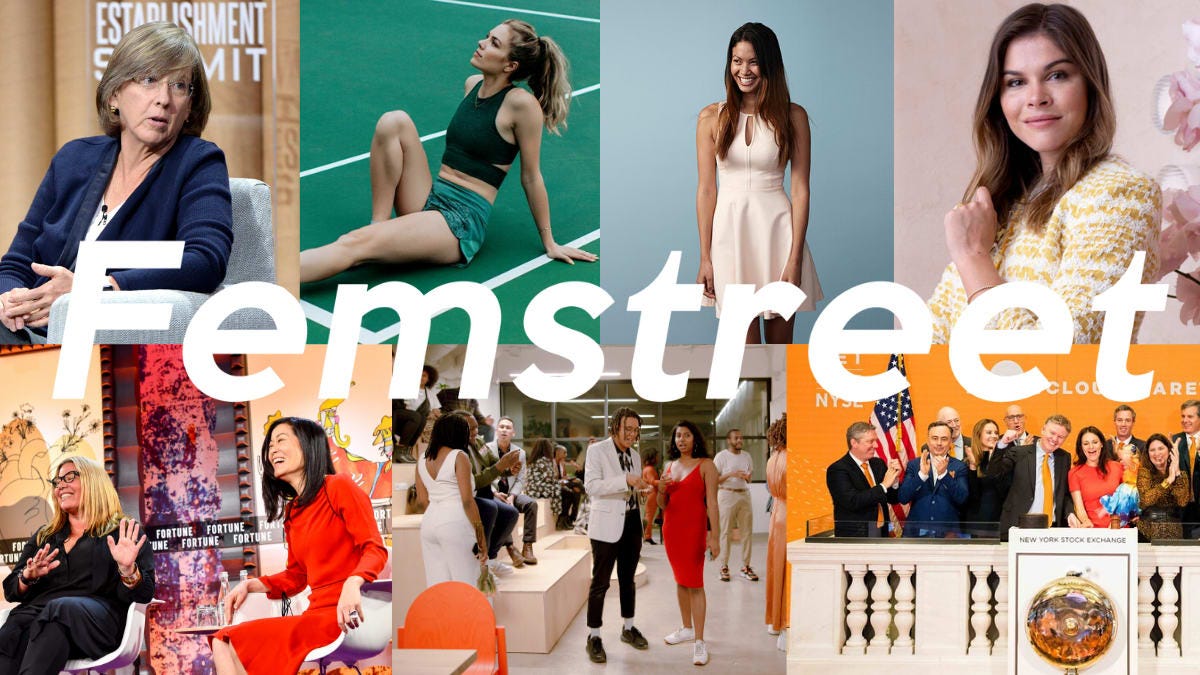 Good morning from London. This is issue No. 155.
I hope this email will encourage you to start the new week with great confidence and energy. This week's issue is 🔥 and I suggest you get ready to bookmark.
I'll meet you at the bottom.

Here's what you'll learn today:
What to consider when making your first product hire.

Spicy questions you should ask when choosing a VC.

How to get more newsletter subscribers without spending a dime.

Easy tactics to make your product into a habit for customers.

How to sleep better by not sleeping a single minute longer and implement quick and strategic habits into your daily life to stay productive.
---
Insights
Forbes published a ranking of the US's most successful women entrepreneurs and executives. London Business School and LocalGlobe VC launch a new VC course aimed at women, Black and Asian candidates. How women VCs are working to fund Black and female founders.VC opportunities for young people are elusive and confusing to navigate. Here are a few slides demystifying VC. Li Jin shares her community software wishlist. Nextdoor's CEO Sarah Friar wants to do for community what Jane Fonda did for fitness and is said to eye public listing at a $5bn valuation. 4 male allies share what they're doing to support women in their careers. Five ways to crush it when you're the only woman in the boardroom.
People
Longtime Femstreet subscriber GV Principal Terri Burns was promoted to Partner. At 26, Burns will be the firm's youngest ever partner. As a Black woman, Burns is also a rarity in an industry long dominated by white males. Lily Lyman of Underscore VC has been promoted to Partner. Leslie Kurkjian Crowe joins Bain Capital Ventures a their latest Talent Partner. Yuri Namikawa joins Expa as Principal. Leah Fessler, former at Chief, joined the investment team at Nextview Ventures. Angel investor Julia DeWahl joined SpaceX to work on Starlink. Meditation giant Headspace appoints Intuit Alum CeCe Morken to CEO.
---
Join the Femstreet Premium Club
You are building or working at a startup? Become a paid member for $100 per year or $10 per month, and connect with like-minded startup operators and investors on Slack, receive the complete suite of Femstreet resources, member-only online events, a member directory, and full archive with Q&A expert sessions + an additional weekly Member Briefing with a curation of community-sourced learnings, opportunities, and resources. Join the club today.
If you sign up for an annual membership you also get a slot to promote a job opening for free in the next Sunday newsletter.
---
From The Investor





"If the past was marked by massive onscreen lectures, static, pre-recorded content, and a limited pool of teachers, the future of education technology will be consumer- and product-led: interactive, engaging, and propelled by a global pool of instructors and peers."
Bonus: Thinking about launching a newsletter but don't know how to build a following? Lillian Li recently went from 6 to 500 Substack subscribers in 9 weeks. Here is a summary of what she did to grow her audience.
---
A quick reminder that this is the
last chance to make your voice heard in Atomico's annual State of European Tech survey before it closes tonight. 10 lucky respondents will get free membership to the 
Node by Slush platform
.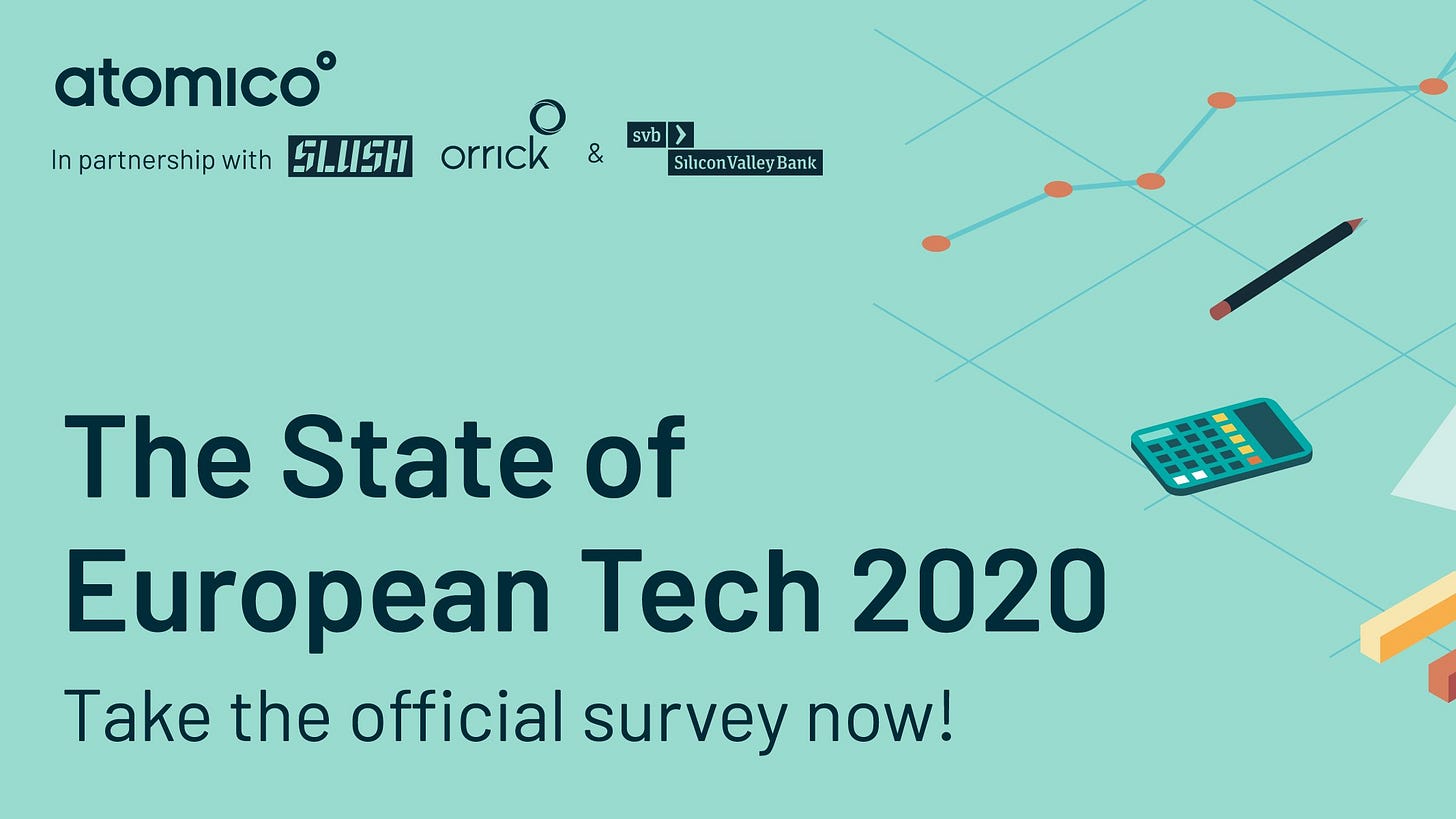 Atomico will be presenting the results on December 8th, in partnership with Slush and Orrick, and with support from Silicon Valley Bank. This is the largest annual survey of European tech, the results of which are read by 100K+ policymakers, founders, VCs, investors, and community organizers. This is a chance for the Femstreet community to have your voices heard on some of the most important topics such as diversity and inclusion and the impact of the pandemic. It takes <5 minutes to fill out.
---
From The Founder and Operator




---
Become a Femstreet contributor
You are a startup operator or investor and don't have a big audience yet? We'd love to bring your content to our platform. Each month we will publish a select number of articles written by our operator and investor community. Our subscribers include the most important and interesting women in technology and business. Here are some of them. If you want to join this incredible group of Femstreet contributors, please reach out.
Note: We can't guarantee you a spot but we will always consider your articles for our Sunday newsletter.
---
We're partnering with Dealroom to try and close the diversity data gap in tech.
Gender and particularly ethnicity data of founders, VCs and tech industry folks is notoriously difficult to gather, and can only really be done by self-identification. That's why they've introduced new fields in their people profiles, and they'd like all of our help in building the dataset.
Create your profile, update your info and claim your company to contribute to raising visibility and accountability in tech.
---
Opportunities



VP Engineering @SkuSpring (London or Remote)
SkuSpring is looking for an experienced and passionate software engineer to take a key role as VP of Engineering. If you are keen to join a small group of fast-moving characters that will change how brands and shoppers interact, please send your CV to us.
People & Ops Internship @ Northzone (Remote)
Northzone is looking for a proactive and driven intern to join our Operations & People team and help us build out our operator network. If you are a methodological researcher with demonstrable curiosity in the global startup ecosystem we'd love to hear from you here.
---
Events

💤 Sleep is one of many habits successful leaders have. They don't sleep more than everyone else, they sleep better.
Do you want to learn more about sleep densification, how to implement quick, easy, and strategic habits into your daily life to stay productive, and how to unwind in between your zoom marathons? Join me on October 27th for a Northzone event on strategic recovery for founders.

🗓️ October 21
Paradym x Her Hustle: Boost your self-awareness for success and growth.
Get 25% off with FEMSTREET25. 

🗓️ October 22
How to excel as a Data Scientist in any company - with Katie Critelli 
🗓️ October 27
Northzone x performance coach Chris Surel: Strategic recovery for founders
🗓️ October 27
All Raise VC Summit
🗓️ October 30
Underscore VC x Femstreet: How to Build a Performance-Driven Culture Amidst a Pandemic
🗓️ November 20
Playfair Capital's Female Founder Office Hours
---
And In Case You Missed It
---
You made it. Enjoy your Sunday. I'll catch you next week 👋
Comments, questions, tips? Send me a note
---
Written by Sarah Nöckel, Early-Stage investor at Northzone. All things workplace tech, data and enterprization of consumer. Born in Germany. Based in London. You can find me elsewhere on Twitter and Instagram.