Discover more from Femstreet
Femstreet is a media platform amplifying female voices, accelerating their success and creating a culture of empowerment - where women lead, shape, and fund the future.
Over 19,000 subscribers
How to run effective board meetings; #Angels; Essential elements for great story telling & More
Your weekly Newsletter on Women in Tech and Venture Capital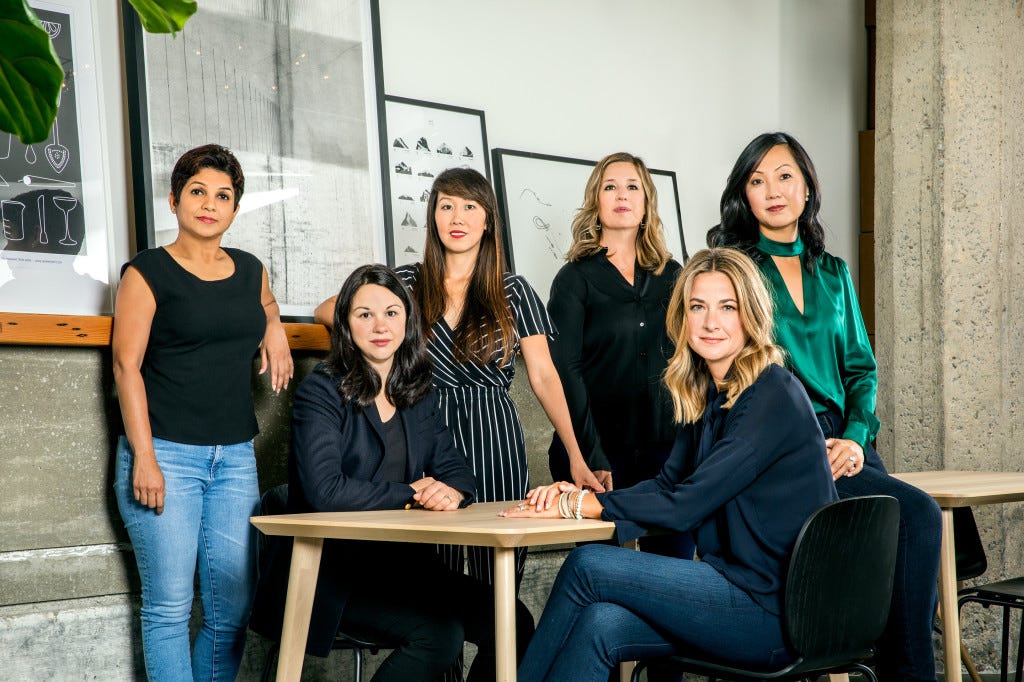 Welcome to issue No. 109. The top two articles from the last week's issue were:  
---
Insights 



Slack investor Sarah Cannon of Index Ventures backs Slack competitor Quill.

The Berlin-based Femtech startup Inne comes out of stealth with $8.8M in funding and gives a first glimpse of a hormone-tracking subscription product for fertility-tracking and natural contraception.

Meet The Wonder: The ultimate members-only family space.

Mathilde Collin of Front pays employees $200 a month to reduce their phone screen time.

Ethena is making customized sexual harassment training that it says employees won't hate (or forget).

Why Kirsten Green and a former LinkedIn exec think hobbies are the future of commerce.

A new analysis by Boston Consulting Group shows that if women and men around the world participated equally as entrepreneurs, global GDP could ultimately rise by approximately 3% to 6%, boosting the global economy by $2.5 trillion to $5 trillion.
---
From the Investor



Five years ago five Twitter alumnae and one current executive banded together to invest in startups as #Angels. Last year they were joined by F7—a group of seven former and current Facebookers—and a group of 10 women who worked at Uber and have since gone into venture at separate firms, sharing deals and opportunities across their network. With more women coming into liquidity through this year's IPOs, could there soon be more groups taking shape? Read more on how women from Twitter, Facebook, and Uber are teaming up to fund Silicon Valley's future.


6 Demand Gen playbooks from top enterprise startups.
— Priyanka Somrah / Work-Bench


Do you get enough value out of your board of directors? Here's how to run effective board meetings.
— Ines Streimelweger / Creandum


On why your data science tool hasn't made machine learning easier (yet).
— Kaitlyn Henry / OpenView Partners

European investors are now hyped up about something called 'VC as a platform'. What can you expect from a VC with a platform approach as a founder? Here are 6 questions to ask your potential investor to get more from them.
— Pauliina Martikainen / Maki.vc
---
We teamed up with Product Hunt to amplify the powerful voices of female founders, investors and operators with a startup story to tell. Have an idea for a story? Share it with us 

here

 and get featured on PH.
---
From the Founder & Operator



Code reviews at Google play an important role as an engineering practice. Even though the code review process looks similar to code reviews at Microsoft, there are some Google specifics that allow for a particular lightweight code review process. Here is how code reviews work at Google.
— Michaela Greiler / Microsoft
"I care about hiring the absolute best people who have the right skill set, a passion for our product, and desire to contribute to building a healthy and fun company culture – and those people could be anywhere."
Why I'm building a 100% remote company.
— Sarah Sled / Blush


Here is a 6-step approach this founder used to raise a $4 million seed round led by Andreessen Horowitz.
— Hayley Leibson / Lunchclub
"But iterating is fundamentally different from creation, and its urgency is greatly minimized. Having worked on my own projects and initiatives in the past, nothing quite slaps you across the face like the looming threat of imminent demise."
Why I left my dream job as a Product Manager at Twitter.
— Yehong Zhu / Twitter
The three essential elements for great storytelling.
— Nicole Kahn / WeWork


Career advice from a UC Berkeley Venture Capital professor.
— Patricia Mou / Stitch Fix
---
Want to connect with fellow founders, funders and experts in our community? Request your invite to the Femstreet Slack channel with a link to your Linkedin profile.
Eligibility criteria: You must be a subscriber for at least three months and you must have a minimum 60% open rate. We've got a waitlist and will add people in batches every few weeks and it may take some time.
---
Upcoming Events
🗓️November 5 San Francisco
Female Founders, Funders and First Employees Happy Hour with Amazon AWS
🗓️November 6 & 7 New York
The Riveter Summit - Women building the future
🗓️November 9 New York
Founders & Funders Summit - Use the code FEMSTREET10 for 10% off.

🗓️November 12-13 San Francisco
All Raise VC Summit
🗓️November 28 London
Women in VC Negotiation Workshop
---
Resources



---
Thanks for being part of Femstreet this Sunday. We recently asked a few of our readers what they value the most about Femstreet. We can always improve but are pretty proud of the responses we received:
"Tech can only fix its diversity and inclusion problem if we first have transparency about the state of play and share more information about female role models from all backgrounds to encourage and inspire the next generation. Femstreet has stepped in to play that essential role of information sharing. The publication and the Slack community have helped Atomico as a firm connect with a diverse group of individuals and gain new insights. The entire tech ecosystem is better with Femstreet."
- Tom Wehmeier, Partner and Head of Insights at Atomico.
"As a startup founder, Femstreet's newsletter is a weekly source of inspiration, a breath of fresh air,  a motivational oasis in a desert of hustle. Sarah manages to source content that never feels "deja vu" and makes readers think deeply. Sharing the perspectives of female investors, operator and founders is not just nice to have. Tech needs powerful platforms to allow the voices of this diverse group of women to be heard loud and clear. Femstreet is playing an active role in building a better future for entrepreneurs and VCs alike."
- Marie Outtier, Co-founder & CEO at Aiden.ai

You can read a few more here. If you enjoyed this newsletter so far but you aren't subscribed yet, sign up for a free subscription.
If you are a female investor, founder or startup operator, we'd love to feature your content.
Are you currently fundraising? Share the details with us here.
---
👋Comments, questions, tips? Send me a note!
Curated in London by Sarah Nöckel, Founder/Editor in Chief & B2B SaaS Investor at Dawn Capital - sarah@femstreet.com