Discover more from Femstreet
Femstreet is a media platform amplifying female voices, accelerating their success and creating a culture of empowerment - where women lead, shape, and fund the future.
Over 19,000 subscribers
How to build a performance-driven culture; Why successful founders are made, not born; What you need for your Series A pitch
Your weekly Newsletter on Women in Tech and Venture Capital
This is Femstreet, a weekly newsletter featuring must-read content by female operators and investors. I try to make this one of the best emails you get each Sunday morning. If you enjoy this issue, please like it above.

If you can't get enough, join our premium membership today to connect with and learn from peers and experts, leverage resources and discover career opportunities.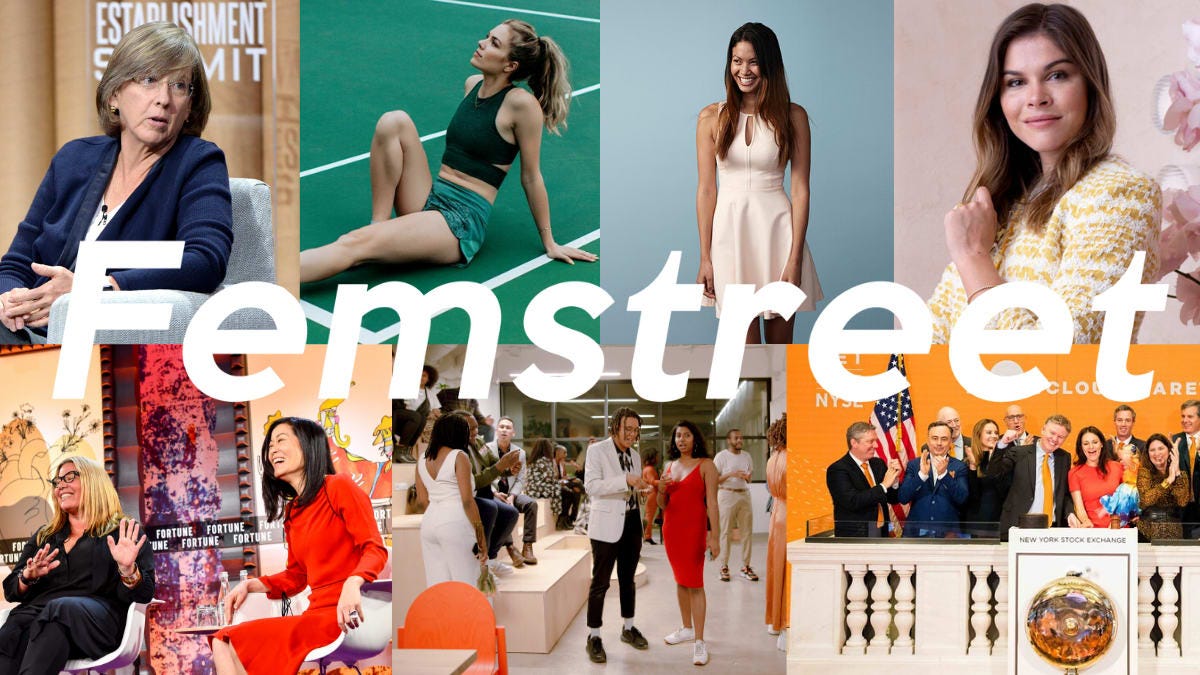 Good morning Femstreet fam, this is issue No. 154.
Many of us in the tech world are going 7+ months strong working from home. We miss seeing colleagues in person. Childcare and virtual schooling strain productivity and focus. There may be distractions galore in a home office. And there's no clear end in sight. But how can leaders keep employees engaged and effective during these trying times?
Femstreet teamed up with Underscore Ventures for an actionable discussion around building a performance-driven culture amidst a pandemic with Alison Eastaway (VP People at Sqreen), Katie Burke (VP People at Hubspot), Vitri Bhandari (VP People Ops at Klaviyo), and Tanya Bakalov (Founder of HelloTeam), moderated by Lily Lyman (Partner at Underscore VC). Join us on October 30th.

Here's what you'll learn today:
What you need for your Series A pitch.

Why successful founders are made, not born.

How to develop your brand as a developer.

How to use the CURE framework to figure out who owns contract renewal.
Let's get this started.


Insights
The former VP Sales of Intercom, Laurabeth Harvey, joined Front as their first Chief Revenue and Success Officer. Jaclyn Hester has been promoted to Partner at Foundry Group. Femstreet member Claire Díaz-Ortiz joins Magma Partners and launches an initiative to invest in female founders in LatAm. Quarterly VC funding for female founders drops to three-year low. Google is providing cash awards to 76 startups through a racial equity initiative. Lolita Taub of the Community Fund offering a Founder Mental Health mini-course for free. Women executives say the pandemic is exacerbating gender bias. Venture capital gets less diverse in 2020.
From The Investor




---
Join Femstreet Premium
You are building or working at a startup? Become a paid member for $100 per year or $10 per month, and connect with like-minded startup operators and investors on Slack, receive the complete suite of Femstreet resources, member-only online events, a member directory, and full archive with Q&A expert sessions + an additional weekly Member Briefing with a curation of community-sourced learnings, opportunities, and resources. 
---
From The Founder and Operator
---
Femstreet contributors
You are a startup operator or investor and publish your articles on Medium? We'd love to bring your content to our platform. Each month we will publish a select number of articles written by our operator and investor community. Our subscribers include the most important and interesting women in technology and business. Here are some of them. If you want to join this incredible group of Femstreet contributors, please reach out.
Note: We can't guarantee you a spot but we will always consider your articles for our Sunday newsletter.
---
Opportunities



VP Engineering @SkuSpring (London or Remote)
SkuSpring is looking for an experienced and passionate software engineer to take a key role as VP of Engineering. If you are keen to join a small group of fast-moving characters that will change how brands and shoppers interact, please send your CV to us.
---
Events
🗓️ October 14
Join me for a session on your sales playbook for 2020 at SaaStock EMEA with the code femstreet20
🗓️ October 14
Raising Cash Outside of VC
🗓️ October 15
#VCLeadLadies: Being an Effective Board Member
🗓️ October 27
All Raise VC Summit
🗓️October 30
Underscore VC x Femstreet: How to Build a Performance-Driven Culture Amidst a Pandemic
---
And In Case You Missed It
---
That's all for this Sunday. I'll catch you next time 👋
Comments, questions, tips? Send me a note
---
Written by Sarah Nöckel, Early-Stage investor at Northzone. All things workplace tech, data and enterprization of consumer. Born in Germany. Based in London. You can find me elsewhere on Twitter, Instagram and on my phone in the ☁️.