Discover more from Femstreet
Femstreet is a media platform amplifying female voices, accelerating their success and creating a culture of empowerment - where women lead, shape, and fund the future.
Over 19,000 subscribers
Heart work
Your weekly Newsletter on Women in Tech and Venture Capital
Hi all, welcome to Femstreet, a weekly newsletter featuring must-read content by female operators and investors. Join our premium membership today to connect with and learn from peers and experts, leverage resources and discover career opportunities.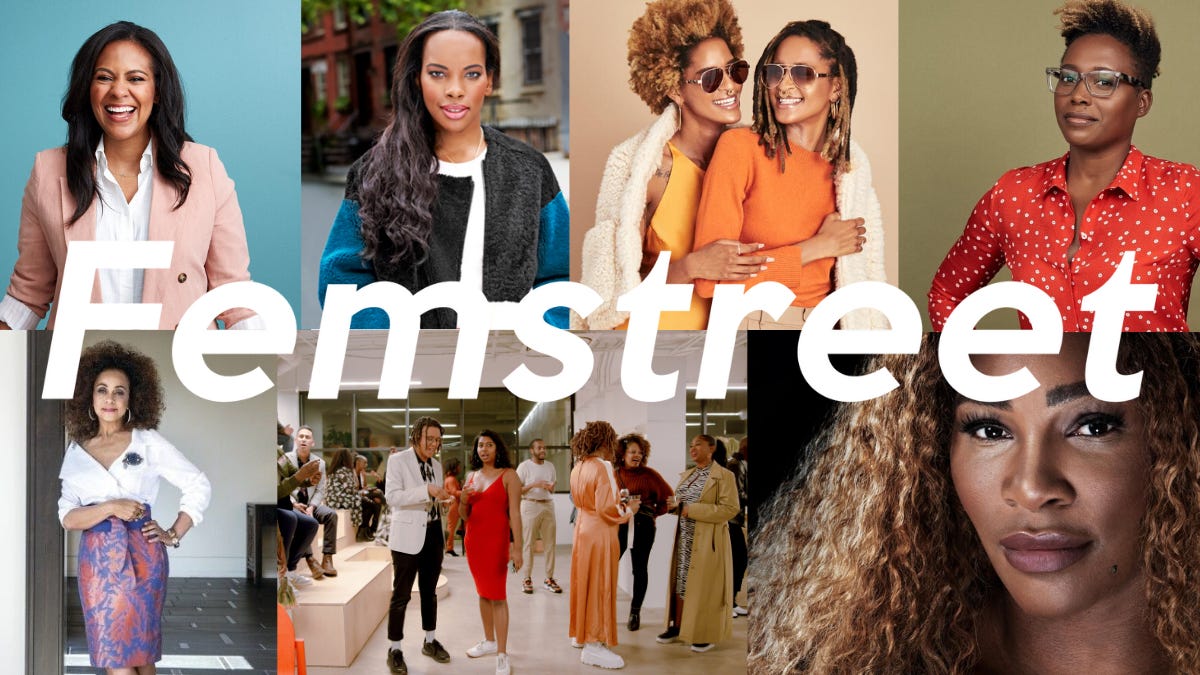 It has always been our mission to use this platform for change and build bridges in the tech ecosystem. In this week's newsletter, you are going to hear more from phenomenal black founders and investors and find links to educational materials and resources. I'm so inspired by their creativity, resilience, and potential. I invite you to join me in listening and learning.

In the pursuit of togetherness, we hosted a Femstreet Meet & Greet on Icebreaker for our members on Thursday. We also made our weekly Member Briefing, including The Femstreet BLM Allyship list of resources, public. Please do add to this.

Insights
Andreessen Horowitz launched the Talent x Opportunity Fund, a new $2.2m nonprofit fund to fund founders from underserved backgrounds without the network and the know-how to be scouted by Silicon Valley's blue-chip VC firms. SoftBank created a $100m minority-focused fund, but diversity has not been part of its larger vision. More venture firms rush to find ways to support Black founders and investors. Work-Bench commits to do more as one of the very few funds. Alexis Ohanian steps down from Reddit board and asks for his seat to go to a black board member. An interview Amy Errett of Madison Reed, one of fastest-growing D2C companies in the U.S. right now, with more than $100m in revenue. When Incredible Health's founder Iman Abuzeid, was out raising financing, she was mistaken by a VC firm for the Postmates carrier. She notes "Diversity isn't just a moral and human rights issue. It's also about building better businesses."
People
Sumaiya Balbale, formerly VP of e-commerce at Walmart, joins Seqouia Capital as CMO.

Priyanka Sharma, the director of Cloud Native Alliances at GitLab, is stepping into the general manager role.

Tala Al Jabri joins HOF Capital as Partner. She was previously at SoftBank Vision Fund. 



From The Investor
Reflecting on the experience with the pain consuming our community.
— Megan Holston-Alexander / a16z



"And while I do believe that most people are fundamentally good people, power constructs have led to a culture to enable rampant wrongdoings and complicity in police forces in America. Ultimately, power is consolidated in the hands of a few, and this isn't what most of America signed up for. […] A power construct that should worry you, as an entrepreneur, that most people don't know about: VC funds are only allowed to have 99 investors."
More on power constructs.
— Elizabeth Yin / Hustle Fund



5 things I've learned about getting a job and onboarding in the time of COVID-19.
— Elizabeth Davis /Anthemis




Some of my fellow venture capitalists are racists. Here is how you fix it with "The Underrepresented Pledge".
— Brian Brackeen / Lightship Capital 

---
Femstreet contributors
You are a startup operator or investor and publish your articles on Medium? We'd love to bring your content to our platform. Each month we will publish a select number of articles written by our operator and investor community just like this post from Justine & Olivia Moore of CRV on vertical social networks. Our subscribers include the most important and interesting women in technology and business. Here are some of them. If you want to join this incredible group of Femstreet contributors, please reach out.
Note: We review each person's profile when they apply to be a contributor. We can't guarantee you a spot but we will always consider your pieces for our Sunday newsletter.
---
From The Operator




Ethel's Club founder Naj Austin on creating virtual healing and grieving circles for black people.



"The key here is that Black people need the same room for failure, and repeated failure that our white peers enjoy. And can turn their failure into narrative, in which they've emerged on the other side more enlightened. […] The reality that we exist in — is that we can not change the spiritual conditions of racism that pervades the design of our systems. But we can seek transparency, to embody a new set of values."
The myth of blackness in venture.
— Reggie James / Eternal



Fueled by pressure Twitter and Facebook struggle to lead during a global crisis - a values vs. revenue analysis.
— Jessica Mendoza / Monad
Crowdsourced product strategy and road-mapping document templates.
— Natanya Montgomery / Naza Beauty
"As Founders and CEO's, change starts with you, and so I urge you, if you have not already to put together your company's Black Lives Matter Action Plan and share this with your stakeholders, from your team to your clients - now is not the time to be silent."
Here are a few examples of actions you can take as a CEO.
— Deborah Okenla / YSYS
Featured Jobs from the Community



Product Designer@ online events platform Hopin / Remote or London
The team has recently been funded by Accel, us at Northzone, Seedcamp and Slack Fund and is seeking a UX/UI Designer with 3+ years experience who is self-driven, passionate and ambitious.

Product Designer@ the collaborative BI platform Graphy / Remote or London
Backed by top tier VCs and Angel investors, my portfolio company Graphy is hiring its first full-time product designer. Send your CV to me.


Virtual Events
🗓️June 8
HustelCrew's Understanding Bias Virtual Workshop
🗓️June 9
All Raise - Lessons on Operating and Investing in Uncertain Times
🗓️June 11
The Founders building the communication tools for work and healthcare.
🗓️June 17
Apply for January VC's Virtual PitchCollective
🗓️June 17
Celebrating Female Entrepreneurs: Anne Wojcicki, 23andMe and Thorold Barker, Wall Street Journal

A group of well-known early-stage UK investors has launched a new (remote) pitching event for startups raising their first round. The 'Debut Sessions' will take place monthly until at least November, with the first session taking place on June 25.



More Things I Consumed This Week
Read: Why Peloton could become a clothing or a media company and is a Netflix competitor.
If you want to feel good after scrolling your feed: Join the first social network focused on personal development by Patricia Mou of Stitchfix.

And In Case You Missed It
Thank you for being part of Femstreet this Sunday. 
👋
Are you currently fundraising? Share the details with us here.
Comments, questions, tips? Send me a note
---
Written by Sarah Nöckel, Early-Stage investor at Northzone. Born in Germany. Based in London. You can find me elsewhere on Twitter and Instagram.