Discover more from Femstreet
Femstreet is a media platform amplifying female voices, accelerating their success and creating a culture of empowerment - where women lead, shape, and fund the future.
Over 19,000 subscribers
Guild Education; All Raise VC Summit; Ethel's Club; Inspired VC & The Femstreet membership
Your weekly Newsletter on Women in Tech and Venture Capital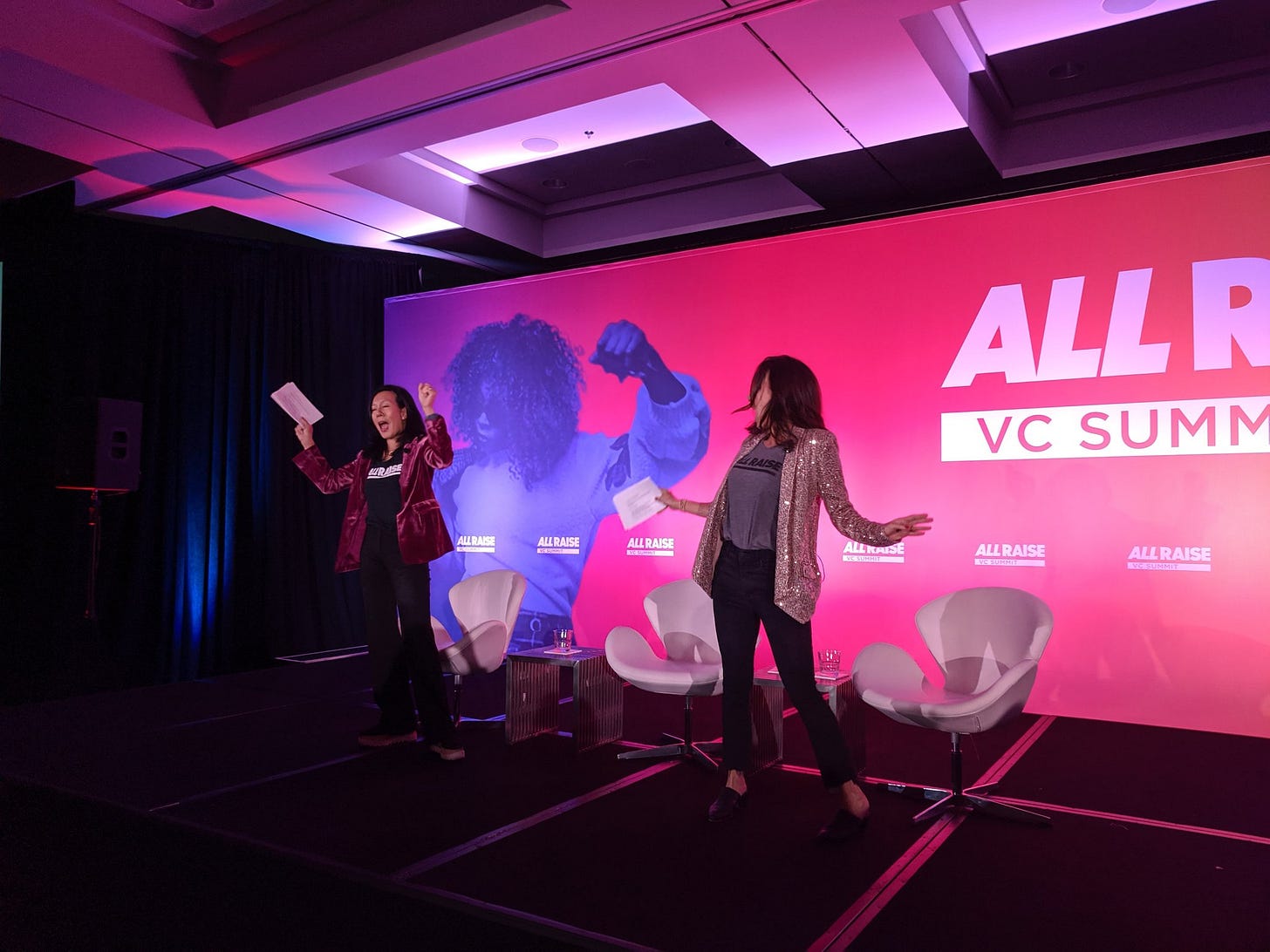 WOW! What a week it's been!
Welcome to issue No. 111. The top two articles from the last week's issue were:  
This week, we've launched the Femstreet Membership. We want you to not only be the most informed founder, funder or startup operator in the room (with this weekly newsletter) but also have access to the tools and network you need to thrive in tech and VC over the long term. Read more about why we are launching a paid membership and why you should join today.

Sign up for just $10 a month or $100 a year.
For more information, read our list of FAQs here.



Join the Femstreet Winter Warmer
We thought it's time to get together one more time in real life before the year ends. We've teamed up with our friends at Huckletree to host a Femstreet Winter Warmer on December 9 in London. I hope to see many of you there!
---
Insights



The education software startup Guild Education announced the close of its $157 million Series D round, making it one of the few female-led companies to join the elusive unicorn club this year.

Alexa von Tobel's Inspired VC firm just raised $200 Million.

Social network for motherhood Peanut raises $5M, and expands to include women trying to conceive.

Inside Ethel's Club, the new private club for people of colour with a 4,300-strong waitlist.

Diversity VC set up an internship programme to fix VC's diversity problem.

What Serena Williams has learned from venture investing.

PitchBook and All Raise released All In, a report about women in the VC ecosystem highlights global and US-focused trends surrounding female-founded companies and female-led VC funds throughout the last decade.

This week 600 female US VCs got together in Oakland for the All Raise VC Summit.

---
People



Natalie Sandman joined Spark as an early-stage investor.

Courtney Buie Lipkin joined Susa Ventures as a Partner.

Amanda Robson, formerly Norwest Venture Partners, joined Cowboy Ventures.
---
From the Investor



VC Cyan Banister, early investor in Uber and SpaceX, on her path into venture and who decides what at Founders Fund (and much more).
— Cyan Banister / Founders Fund

On why the 'smart' future of cybersecurity might lie in 'dumb' hardware.
— Evgenia Plotnikova / Dawn Capital


A modern guide to living in NYC and 10 easy steps to conquering friends, finance and apartments with mice.
— Sarah McBride / Shrug Capital


Navigating after takeoff: What startups should know about how best to build out the business you pitched through proof-of-concepts (POCs).
— Amy Burr / JetBlue Ventures


Why your GTM strategy matters.
— Jodi Sherman Jahic / Aligned Partners
---
Are you a female angel investor and/or an angel with a history of supporting female founders?
Founders in our community frequently ask us for introductions to angels and we decided to put a list together. Our hope with this list is that founders in our community can more easily find investors (female and male) that have a history of supporting female founders and can make meaningful connections with you. Please add yourself to the Femstreet list of angel investors by filling out this short form here.
---
From the Founder & Operator
"It's time for workplace policies to reflect the family structures and values of the future: giving equal benefits to primary and secondary parents, and all genders, regardless of how the child enters the family. I took maternity leave twice while leading my (now public) company. Here's what I learned."
— Katrina Lake / Stitchfix

How to get more people to read (and share) your content.
— Natalier Sportelli / Lerer Hippeau
"When You're A Black Female Founder You'll Hear A Lot More No's. Don't Let That Stop You."
Abadesi on learnings after three years of running Hustle Crew.
Why this founder hid her pregnancy as a startup CEO.
— Sage Franch / Crescendo


"To girls everywhere, may you know how much power you have to change the world."
Glossier CEO and founder Emily Weiss paid tribute to her fellow honorees at the TIME 100 Next event on Thursday in New York City.
Alexis Ohanian wrote the TIME 100 Next article on Emily Weiss.
---
Upcoming Events
🗓️November 21-22 Helsinki
Are you at Slush? - I'll be moderating a panel on distributed teams with Sandra Uddback, VP of Data Acquisition at Mapillary, who has built Mapillary's 50-person team across 18 countries to function remotely from day one. See you there 👋
🗓️November 21 Berkeley
How to Build the Future with Nicole Quinn of Lightspeed
🗓️November 21 San Francisco
The Violet Society: Startup Founder Fellowship Showcase
🗓️November 27 London
Female Founders: The Drivers of Corporate Innovation and Industry Disruption, in Partnership with WeWork Labs
🗓️November 28 London
Women in VC Negotiation Workshop
🗓️November 29 London
Next Gen Consumer by Talis Capital (Meet me there)
🗓️December 3 New York
Effective Communication for Women in Tech by Oscar Health
---
Thanks for being part of Femstreet this Sunday. If you enjoyed this newsletter so far but you aren't subscribed yet or want to become an official member, sign up here.
If you are a female investor, founder or startup operator, we'd love to feature your content.
Are you currently fundraising? Share the details with us here.
---
👋Comments, questions, tips? Send me a note!
Curated in London by Sarah Nöckel, Founder/Editor in Chief & B2B SaaS Investor at Dawn Capital - sarah@femstreet.com