Get involved in the Femstreet membership
Want to learn about our first premium product? Read on.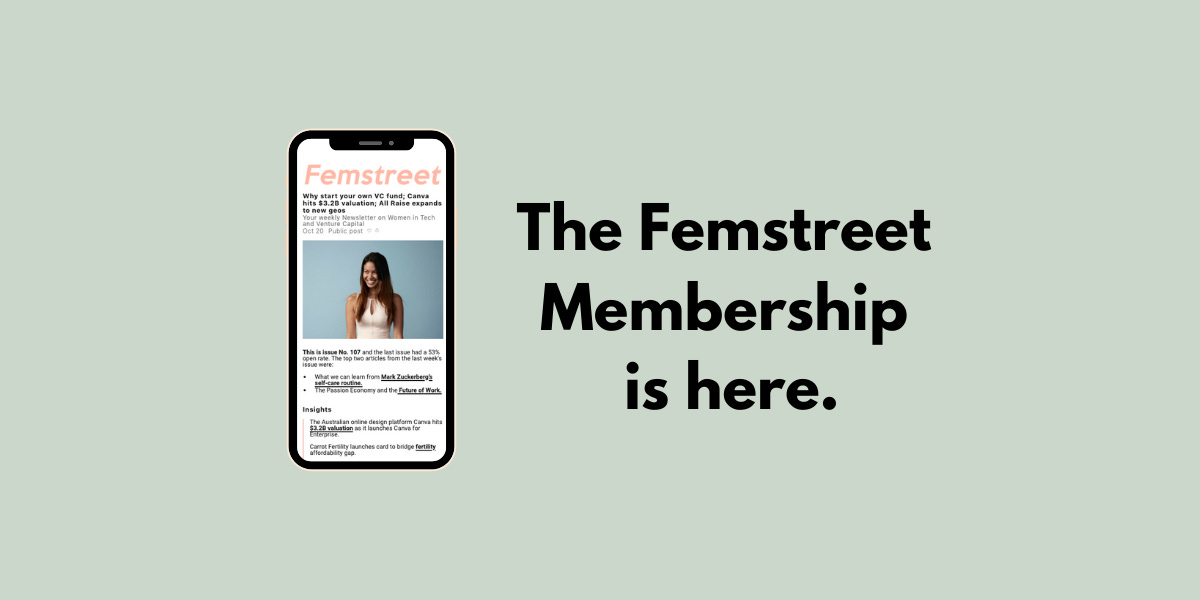 I am pleased to announce the launch of the Femstreet membership: a premium version of our platform, the goal of which is to create a curated community with access to the best content, connections and opportunities for women in tech and VC. 


Femstreet's 2 year anniversary in September marked an important milestone in our journey. I published a post about how far we've come and what we've learned: 
I've built a newsletter, a Slack group, a brand and an events programme. Femstreet turns two and these are the four things I learned: Niche doesn't mean small. Focus. Genuine personal brand is important. Create for the best readers, not all the readers.

Femstreet has grown from a newsletter to a global community for women in tech and venture capital. We also hang out IRL now, with over 10 community events held world over just this year, with many more to come.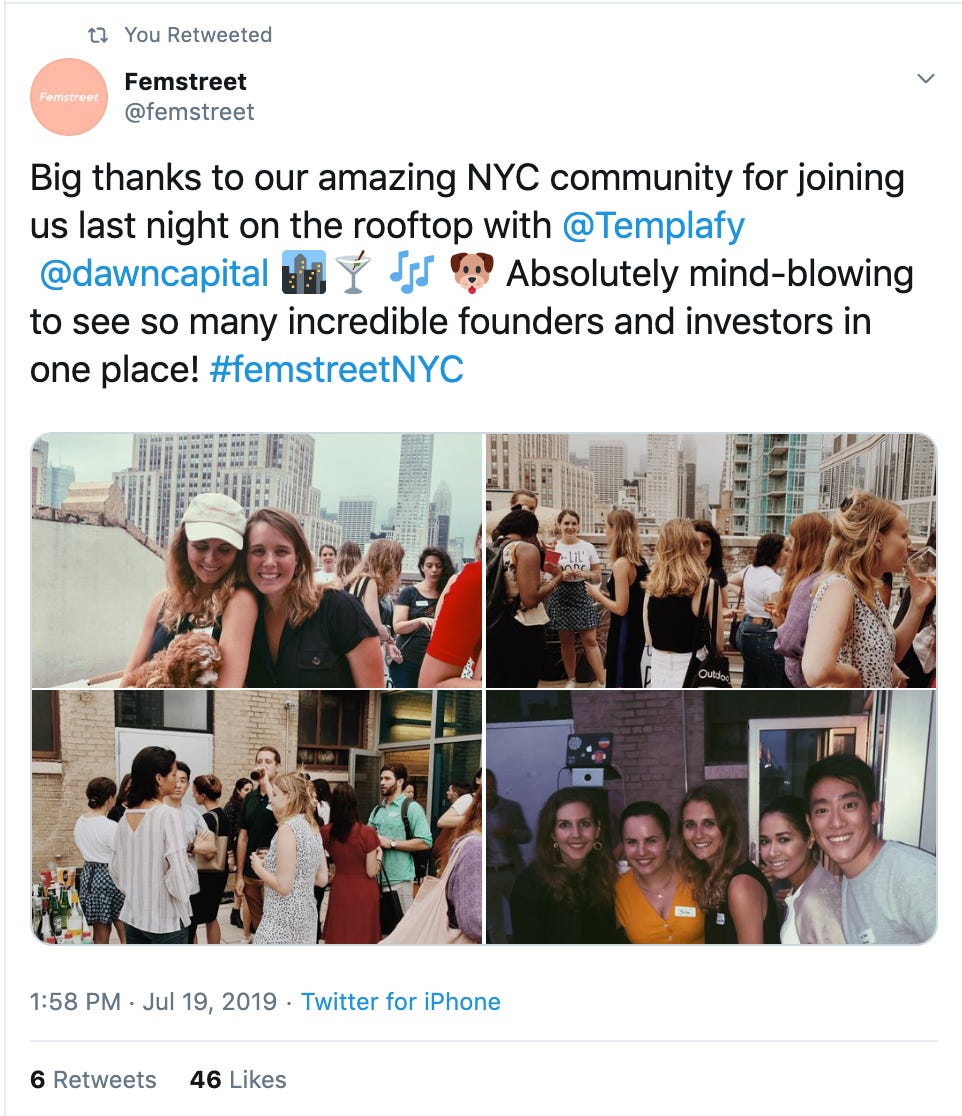 I've loved investing my heart, time and money into building Femstreet and preparing for this next chapter. Having met and listened to many incredible Femstreet supporters, I now have more ideas than ever about how to further our impact. However, in order to make good on our mission, we will need a solid and sustainable business model.  
Since its inception, the mission of Femstreet has been the same: 
To become the go-to place for news on women in tech and venture (with our newsletter)

To connect founders and funders and help more women navigate business challenges with no-fluff advice (with our online community on Slack & offline events). 
In this next chapter, we want to double down on these two things and do them really well.
Our current invite-only community on Slack consists of 750 highly engaged members, of which more than 45% are active every week. 80% of the conversations are taking place in DMs. Yes — people are connecting directly and meaningfully! Our members use our Slack channel to ask for advice, share their product propositions and pitch decks, post jobs, events, and wins–both big and small.
There is so much happening on Slack and we are constantly trying to improve our members' experience. To make all the activity on Slack more digestible, we have created these weekly highlights for our members, a curation of the best content and exchanges in our community over the past three months.
We believe that our Slack channel has been successful because it's focused on two core principles that unite our community: 
Helping others
Because we are all in this together. When our members support each other, our community strengthens and progresses. We want to enable you all to meaningfully converse and connect with each other. 
Quality over quantity
Instead of substantially expanding our online community, we prefer to have a highly engaged base of 1,000 members for whom our platform is a daily habit. We care about curated, high-quality content, and a continuous and consistent exchange of value.

Alongside these principles, we want to embrace a growth mindset and find ways to serve our community better. What if we connected in person more? What if we were able to get more of you in front of the right industry experts, investors, or potential customers? What if we can actually help you hire talent or land the job of your dreams in tech or VC? 
To do all this right, we need time, effort and resources. Besides, as a VC, I know how much productivity will be unlocked with some funding, enabling us to make Femstreet the golden source for women in tech and VC.
So what is the next step and what does it mean for you?
Introducing the
Femstreet Membership
: an opportunity to tap into and be part of the growth of our curated community. 
We want you to not only be the most informed founder, funder or startup operator in the room, but also have access to the tools and network you need to thrive in tech and VC over the long term.

What benefits does this membership have? We are excited to offer our membership community the following: 
Access to the community - We currently have members from top tier investment and entrepreneurial ecosystems all over the world in our Slack channel. Tap into the community to receive and share advice, resources and learnings with fellow investors, operators and founders. 

Weekly member's briefing - In addition to our Sunday newsletter (which will always be free), subscribers will receive an additional curated Members Briefing with community highlights — an efficient and effective way to keep up with all the amazing engagement and activity on Slack. 

Live Q&A - Opportunities to participate in subscriber-only live Q&As and mentoring sessions with experts held on Substack. Members have their say on who we bring in to these sessions.

Fundraising & investment - Looking for funding or to invest in female-led businesses? We will showcase investment opportunities every week to facilitate connectivity between founders and funders. 

Career opportunities & people directory - Access and post-startup jobs, VC investment roles and take advantage of our member's directory.
Events will continue to be open to all. Existing Slack members have already been informed and will be given time to upgrade.
And hey guys/men, this isn't just by women for women–it's about women. Having inclusive discussions and making diverse connections with everyone is critical to our mission. 
Sign up for just $10 a month or $100 a year.

For more information, read our list of FAQs here.
The first subscriber-only post will be sent out to official Femstreet members next week. I am hugely excited to embark on the next chapter of Femstreet and hope you will join me as we continue to build this community and realise our shared vision. Your support means everything.
Hugs,
Sarah