Discover more from Femstreet
Femstreet is a media platform amplifying female voices, accelerating their success and creating a culture of empowerment - where women lead, shape, and fund the future.
Over 19,000 subscribers
Angel investing returns and takeaways; How to prepare for an enterprise sales pipeline review; Lessons from a failed startup
Your weekly Newsletter on Women in Tech and Venture Capital
This is Femstreet, a weekly newsletter featuring must-read content by female operators and investors. I try to make this one of the best emails you get each Sunday morning. If you enjoy this issue, please like it above. If you can't get enough, join our premium membership today to connect with and learn from peers and experts, leverage resources and discover career opportunities.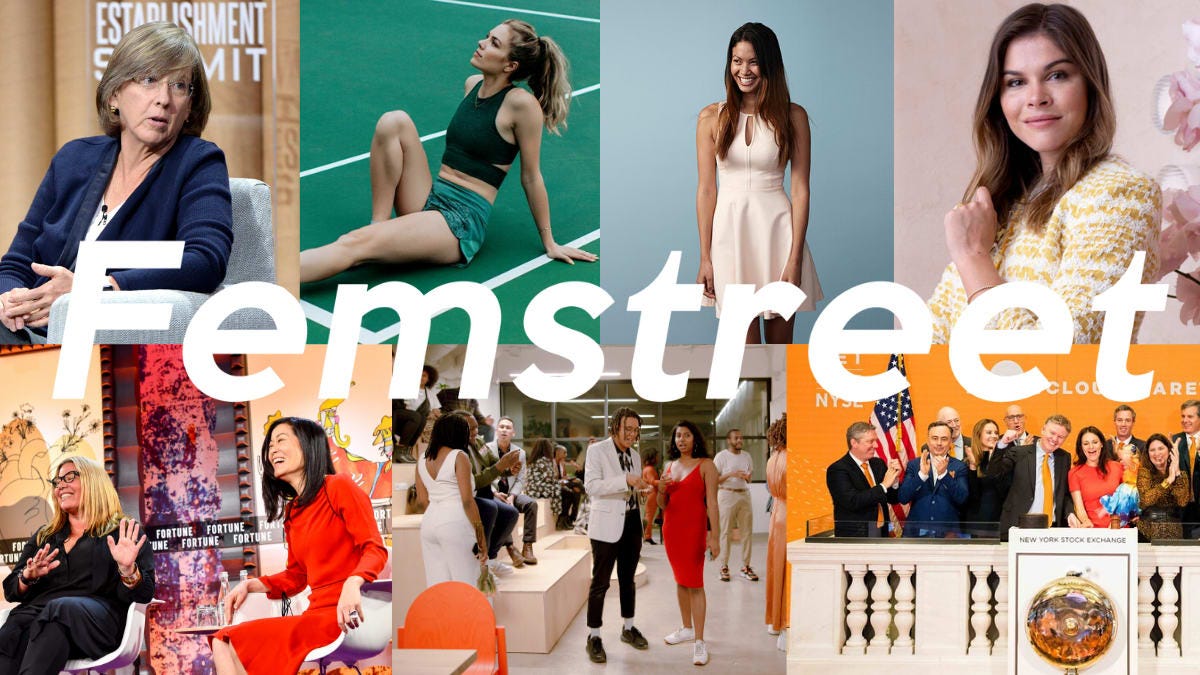 Good morning from London. This is issue No. 156 and here's what you'll learn today:
How to find a technical co-founder.

Real-life angel investing returns and takeaways.

A guide to successful onboarding for consumer product companies.

How you can best prepare an enterprise sales pipeline review for your investors.



Insights
Yale may have just turned institutional investing on its head with a new diversity edict. VC funds backed by Yale's endowment will "be measured annually on hiring, training, mentoring and retaining women and minorities on their investment staffs." A map of the top female founders in each country. We have more women-led VC funds but a new report from Women in VC shows there's a long way to go. Chelsea Clinton's venture capital firm Metrodora makes more investments in health and edtech. Yin Wu of Pulley is taking on Carta. Ready Set Raise, an accelerator for women built by women, announces its third class. Cyan Banister on her relationship with money and the future of Silicon Valley. Katelin Holloway, former Head of People at Reddi, is joining Alexis Ohanian's new fund Seven Seven Six as Founding Partner.
---
Join the Femstreet Premium Club
You are building or working at a startup? Become a paid member for $100 per year or $10 per month aka 2 pumpink spice latte, and connect with like-minded startup operators and investors on Slack, receive the complete suite of Femstreet resources, member-only online events, a member directory, and a full archive with Q&A expert sessions + an additional weekly Member Briefing with a curation of community-sourced learnings, opportunities, and resources. Join the club today.
If you sign up for an annual membership you also get a slot to promote a job opening for free in the next Sunday newsletter.
---
From The Investor




"Onboarding can be the most welcoming part of your product. It can turn people who are curious about your app into your most committed users. It can turn doubters into superfans. Great onboarding is a superpower of your app." — Josh Elman
---
From The Founder and Operator




---
Become a Femstreet contributor
You are a startup operator or investor and don't have a big audience yet? We'd love to bring your content to our platform. Each month we will publish a select number of articles written by our operator and investor community. Our subscribers include the most important and interesting women in technology and business. Here are some of them. If you want to join this incredible group of Femstreet contributors, please reach out.

Note: We can't guarantee you a spot but we will always consider your articles for our Sunday newsletter.
---
Opportunities



Want to promote a job opportunity to the 10k strong Femstreet family? Book your slot

here.

VP Engineering @SkuSpring (London or Remote)
SkuSpring is looking for an experienced and passionate software engineer to take a key role as VP of Engineering. If you are keen to join a small group of fast-moving characters that will change how brands and shoppers interact, please send your CV to us.


People & Ops Internship @ Northzone (Remote)
Northzone is looking for a proactive and driven intern to join our Operations & People team and help us build out our operator network. If you are a methodological researcher with demonstrable curiosity in the global startup ecosystem we'd love to hear from you here.
---
Events
💤 Sleep is one of many habits successful leaders have. They don't sleep more than everyone else, they sleep better.


Do you want to learn more about sleep densification, how to implement quick, easy, and strategic habits into your daily life to stay productive, and how to unwind in between your zoom marathons? Join me on Tuesday for a Northzone event on strategic recovery for founders.


🗓️ October 27
Northzone x performance coach Chris Surel: Strategic recovery for founders

🗓️ October 27
All Raise VC Summit

🗓️ October 30
Underscore VC x Femstreet: How to Build a Performance-Driven Culture Amidst a Pandemic

🗓️ November 1: Beautystack Business Summit - The Winter Edition
Join an online marathon comprising of talks, workshops and inspiring sessions to help you level up your work post-lockdown. Hosted by Beautystack Founder, Sharmadean Reid, with guest speakers from the worlds of beauty, entrepreneurship, coaching, media and technology, this is a must-attend event for any freelance beauty, wellness or business professional. Secure your spot here.
And In Case You Missed It
---
You made it. Enjoy your Sunday. I'll catch you next week 👋
Comments, questions, tips? Send me a note
---
Written by Sarah Nöckel, Early-Stage investor at Northzone. All things workplace tech, data and enterprization of consumer. Born in Germany. Based in London. You can find me elsewhere on Twitter and Instagram.