Discover more from Femstreet
Femstreet is a media platform amplifying female voices, accelerating their success and creating a culture of empowerment - where women lead, shape, and fund the future.
Over 19,000 subscribers
Why there are no giant Chinese SaaS companies; Bumble prepares for IPO; Measuring Happy GMV & More
Your weekly Newsletter on Women in Tech and Venture Capital
This is Femstreet, a weekly newsletter featuring must-read content by female operators and investors. I try to make this one of the best emails you get each Sunday morning. If you enjoy this issue, please like it above. If you can't get enough, join our premium membership today to connect with and learn from peers and experts, leverage resources and discover career opportunities.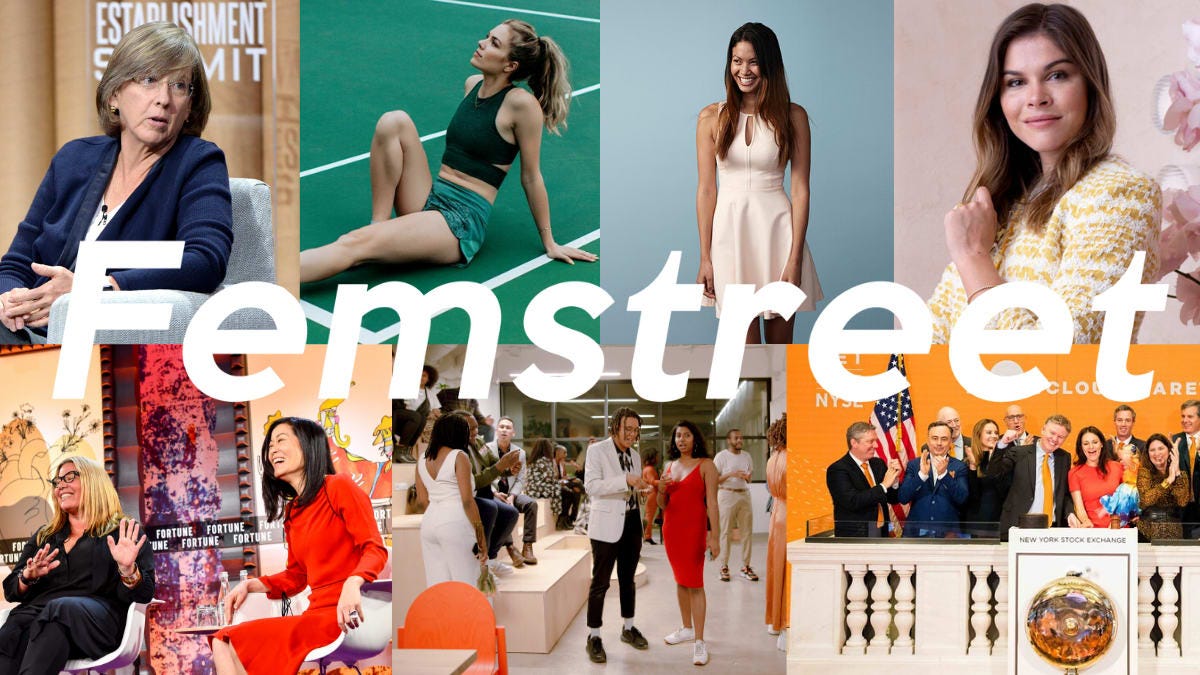 Happy Sunday, everyone. This is issue No. 149 and it's 🔥
I hope our US readers are having a good looooong weekend. Make yourself a cup of coffee, get ready to scroll and click.

I'll meet you at the bottom.
Insights
The bee is flying high: Blackstone-backed dating app Bumble is preparing for US$6 billion-plus IPO for next year. Alice Lloyd George, former investor at RRE Ventures, launches a fund for deep tech. Girlboss changed owner again and is now part of Tiny Capital. Femstreet member Lolita Taub and Jesse Middleton launched The Community Fund. And our friend and super angel Cindy Bi has raised more than $3M within a month since the public launch of her Rolling fund. Venture capital LPs are the missing link to solving Silicon Valley's diversity problem. Why the startup world needs a 'Black Minds Matter' awakening and the paths to funding for Black female founders. An Interview with Alison Rapaport of Serena Ventures. Serena Williams is a fan of the SEC this week since changes to accredited investing rules mean that "VC is no longer exclusively for individuals who have extremely high income or net worth." How to market to women in 2020. All Raise launched the Visionary Voices speakers bureau, an easy resource for reporters and event organizers to connect with female and non-binary founders, funders, and operators.



From The Investor




On measuring happy GMV, and why you should be skeptical of NPS's utility. — Sarah Tavel / Benchmark

"Tracking the percentage of GMV that is Happy GMV is a useful day-to-day proxy to tell you whether you're on the right path to Minimum Viable Happiness. The higher your % of GMV that is Happy GMV, the better your "liquidity quality", as my partner Bill Gurley calls it."
`
On European tech valuations - and why not all recurring revenue is created equal. — Laura Connell / Balderton Capital




Why are there no giant Chinese SaaS companies? "For Chinese SMBs, who account for ~60% of China's production GDP, adopting SaaS is difficult as it's not a learned reward loop to invest in software of any kind. Historically, cheap labour in China has meant that manual execution is still very feasible for most tasks, so automating or documenting through software is not a frequent behaviour. Coupled with this, Chinese SMBs generally don't have enough cash reserves to invest in upgrades systematically. When they do have the investment capacity, the prevalence of software piracy in the '00s has led to a general lack of desire to pay for software, and many do not often see value in utilising software. This mindset makes SaaS adoption in China particularly hard as the well-capitalised mid-sized firms are traditionally the landing point for SaaS companies in both the US and Europe. Without a firm client base to build upon, a lot of SaaS companies end up having to tackle the daunting enterprise customers straight away."
— More here by Lillian Li / Eight Roads




Should you do an accelerator or not? Here's what to consider. Elizabeth Yin / Hustle Fund




Mental health 2.0 companies re-built the traditional models of care — provider directories and marketplaces — in a digital way. Mental health 3.0 solutions will be interactive, adaptive, and buttery — more like Duolingo or Peloton than a MOOC or Rosetta Stone. Here's how they can achieve unmatched scale and category creation. — Hanel Baveja / USV




On value of high-quality onboarding and why entrepreneurs who invest in prescriptive onboarding and community very early are more likely to succeed. — Sarah Guo / Greylock




We have been diving deeply into the Devops space at Northzone. My colleague Wendy explains why the future looks bright for devs, and through them, all of us.

"One of the reasons we're seeing more innovation than ever in the developer space is because the existing landscape of software development is undergoing seismic shifts, at a faster pace than ever before. This not creates more opportunities for new products to solve new problems, carving out both wallet-share and mind-share from developers, it also creates new building blocks and dynamic infrastructures for developers to experiment with."
---
You are building or working at a startup? Become a paid member for $100 per year or $10 per month, and connect with like-minded startup operators and investors on Slack, receive the complete suite of Femstreet resources, member-only online events, a member directory and full archive with Q&A expert sessions + an additional weekly Member Briefing with a curation of community-sourced learnings, opportunities, and resources. 
---
From The Founder and Operator




---
Events
🗓️ September 9-10
Women in Games Global Conference 2020
🗓️ September 9
How to hire a good CTO?
🗓️ September 9 deadline
All Raise Seed Bootcamp
🗓️ September 9 deadline
Humans in the Wild, a unique, 100-day incubation program by Human Ventures for founders who are in the early stages of developing their next big idea in the Future of Work. Apply here.
---
Opportunities



Apply for the Chapter One Scout Program to help Chapter One explore more open-source, consumer and future of work trends. Scouts receive carry and attend investor meeting.

Catherine Dockery of Vice Ventures launched The Young VC Mentorship Program to raise the next generation of young investors by teaching them about our industry, and showing them that teamwork, honesty, and rooting your fund in good guiding values can breed success. The hope is to create a new class of investors everyone here would want to co-invest with. If you are interested in participating, they will pair mentees with mentors for a 6 month period. Apply here to become a mentee with your resume and a brief paragraph of why they're interested.

Investment Partner @ The Community Fund (US)
The Community Fund is a $5 million early-stage fund that invests in community-driven companies through an Investment Partner team. We believe that companies with community at the center of all that they do will become unicorns and produce outsized returns. Learn more and apply by Sept 15.

Investment Partner @Blockchain.com Ventures (US)
Blockchain.com Ventures in SF is looking for an investment partner via a blind application process - all applications will be anonymous and they will interview only the candidates who provide the best 1-page investment ideas. The future team member will source, diligence, and lead deals into the best new crypto companies and projects that are at the earliest possible stage. Passion for crypto is a must. Apply here.
---
And In Case You Missed It
---
If you're new around here, I'd like to thank you from the bottom of my little old heart for being part of Femstreet this Sunday. I hope you learn something new every time you open this email. See you next week!
👋
Comments, questions, tips? Send me a note
Image credits: Banner (Fortune, Forbes, Glossier, All Raise, Canva, Ethel's Club, OV, NYSE); Insights section: Bumble CEO Whitney Wolfe Herd
---
Written by Sarah Nöckel, Early-Stage investor at Northzone. All things workplace tech, data & analytics and enterprization of consumer. Born in Germany. Based in London. You can find me elsewhere on Twitter and Instagram.