Discover more from Femstreet
Femstreet is a media platform amplifying female voices, accelerating their success and creating a culture of empowerment - where women lead, shape, and fund the future.
Over 19,000 subscribers
TikTok's secret weapon; The future of work for women; Data-driven approaches to understanding people and their stories & More
Your weekly Newsletter on Women in Tech and Venture Capital
This is Femstreet, a weekly newsletter featuring must-read content by female operators and investors. I try to make this one of the best emails you get each Sunday morning. If you enjoy this issue, please like it above. If you can't get enough, join our premium membership today to connect with and learn from peers and experts, leverage resources and discover career opportunities.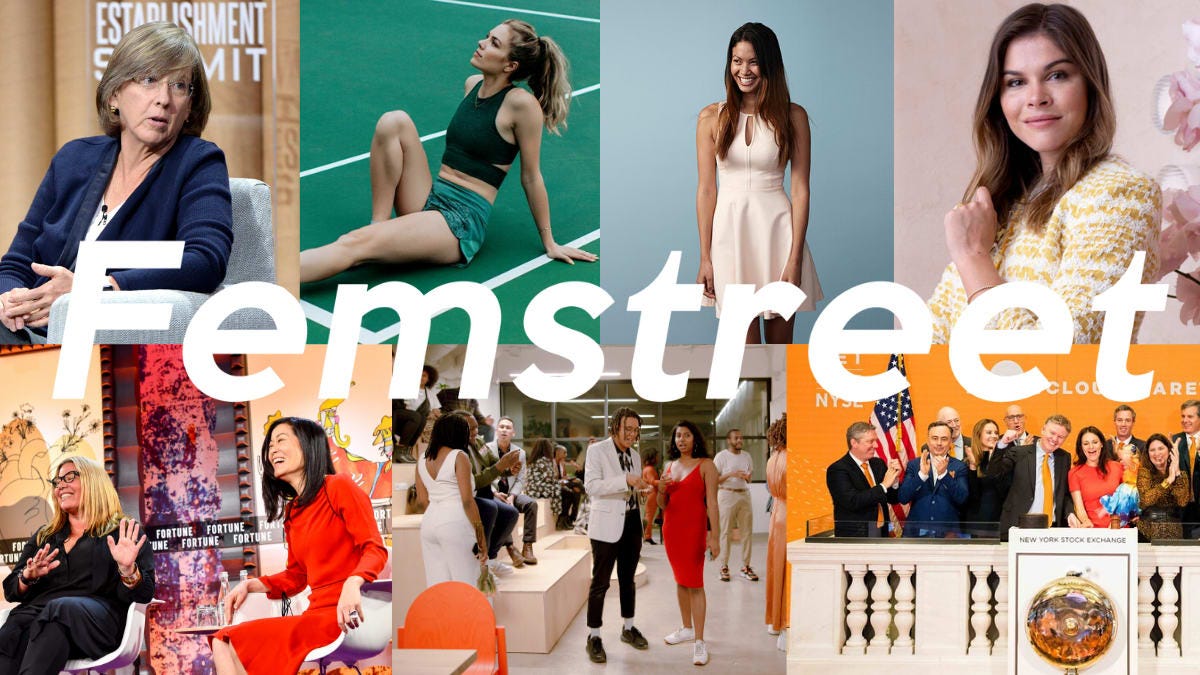 Good morning, friends 👋 This is issue No. 148.
This week, I've been speaking with a founder about the difference between second-order thinking and just being a contrarian. While the former is about analyzing/predicting subsequent implications of our decisions beyond the obvious ones and the latter is about just taking the other side of the bet. We then went a lot deeper.
What exactly is second-order thinking?
Almost anyone can easily anticipate the immediate effects of their actions. First-order thinking is fast and easy. Second-order thinking—being able to examine the long-term consequences of our decisions—is profound and complex.
Second-order thinking takes a lot of work, patience, and composure. Those who know best how to take risks, when it comes to their career, happen to be masters at handling second-order thinking.
"The internet has massively broadened the scope of careers. Most people haven't figured this out yet."

— Naval Ravikant
The main reason behind this is that the Information Age is not about immediate payoffs. To be a winner, you need a different mentality. To prosper as a founder, product manager, musician, teacher, engineer, or lawyer in the Information Age, you need second-order thinking. "Most of the extraordinary things in life are the result of things that are first-order negative, but second-order positive", said Shane Parish
Most people prefer instant fulfillment. Second-order thinkers push harder and don't accept the first conclusion. Few are willing to invest their time and effort in projects that yield "delayed" dividends. However, that's how we get ahead: in our career, relationships, and life in general.
What is the most straight forward way to start training second-order thinking?
Ask yourself and others "What could happen after we YES to that?" on decisions that are being made. It's that simple.



Insights
How to be a fair-pay CEO. Ex–Glossier employees describe a company that failed to support Black workers—even as it donated $1 million to racial justice causes. More Venture capital firms wan to include "diversity riders" in term sheets. Why institutional investors must help close the race and gender gaps. Morning Brew's podcast host Kinsey Grant launched a Sunday column. Natalie Sportelli of Lerer Hippeau launches Found Objects, a newsletter for brand people. Femtech is more just fertility. Brynne Kennedy could be the first female tech founder to serve in Congress. MIT CSAIL grad Manasi Vartak launches machine learning platform Verta, with $10M Series A. Vanessa Pappas, now interim CEO, is TikTok's secret weapon.



From The Investor




---
You are building or working at a startup? Become a paid member for $100 per year or $10 per month, and connect with like-minded startup operators and investors on Slack, receive the complete suite of Femstreet resources, member-only online events, a member directory and full archive with Q&A expert sessions + an additional weekly Member Briefing with a curation of community-sourced learnings, opportunities, and resources. 
---
From The Founder and Operator




A-Z of pipelines: Machine learning pipelines automate workflows and ensure there is no data leakage between train, test, and validation sets. Here's more about the three different types of pipelines. Gaurika Tyagi / Allscripts




Finding fulfillment in coding: Which programming role is right for you? Samiha Amin / Pipedrive


"Do not be concerned about whether the startup will go anywhere, but rather, how far it can go."
It's no secret that women's economic empowerment will be a massive driving force behind global development and sustainability and with the drive to close the Gender Pay gap over the last few years, we can already feel the beginnings of that change. Here's more on the future of work for women. Sharmadean Reid / Beautystack
---
Events
🗓️ September 1
Founder Playbook: Raising a Series A 
🗓️ September 9-10
Women in Games Global Conference 2020
🗓️ September 9
How to hire a good CTO?
🗓️ September 9 deadline
All Raise Seed Bootcamp
🗓️ September 9 deadline
Humans in the Wild, a unique, 100-day incubation program by Human Ventures for founders who are in the early stages of developing their next big idea in the Future of Work. Apply here.
---
Opportunities
Blockchain.com Ventures in SF is looking for an investment partner via a blind application process - all applications will be anonymous and they will interview only the candidates who provide the best 1-page investment ideas. The future team member will source, diligence, and lead deals into the best new crypto companies and projects that are at the earliest possible stage. Passion for crypto is a must. Apply here.
---
And In Case You Missed It
---
Thank you for being part of Femstreet this Sunday. 👋
Comments, questions, tips? Send me a note
Image credits: Banner (Fortune, Forbes, Glossier, All Raise, Canva, Ethel's Club, OV, NYSE); Insights section: Tiktok
---
Written by Sarah Nöckel, Early-Stage investor at Northzone. All things workplace tech, data & analytics and enterprization of consumer. Born in Germany. Based in London. You can find me elsewhere on Twitter and Instagram.