Discover more from Femstreet
Femstreet is a media platform amplifying female voices, accelerating their success and creating a culture of empowerment - where women lead, shape, and fund the future.
Over 19,000 subscribers
This is 💯
Your Weekly Newsletter on Women in Tech, Entrepreneurship and Diversity in Venture Capital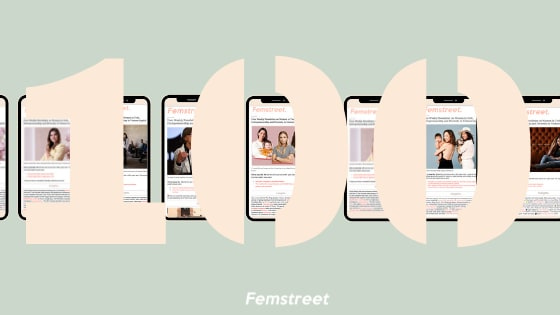 This is issue No. 100 and the last issue had a 48% open rate. The top two articles from last week's issue were:
💯 Newsletters later, I thought it's time to share a bit of a recap on how, when and where it all started back in September 2017. Here are some stats, demographics and the top 4 things I learned from curating 100 issues and building the Femstreet community.

I am currently in Greece for 10 days. There won't be any newsletter next Sunday, nor a newsletter takeover by a guest writer because downtime is important. For those that are based in the UK, enjoy the Bank Holiday and for those based in the US, have a fantastic Labour Day next week! We'll be back on September 8th!
---
Insights.
Axios reports Cleo Capital, led by entrepreneur Sarah Kunst, raised $3.5 million for a debut fund that will invest in female entrepreneurs who act as scouts.

YC S19: A Gender Breakdown.

Female founded company Tala, a company that offers loans for as little as $10, just raised $110 Million.

Why are revenue-based VCs investing in so many women and underrepresented founders?

Wework: No women directors and no equity for employee #17. Prior to its IPO, WeWork red flags the size of a stadium. WeWork's all-male board is pretty typical of IPOs these days.

Meet DormRoom Fund's Female Founder Track 2.

---
From the Investor.
How to handle inbound investor interest when you are not raising.
Natalie Sandman/ Shasta Ventures

After a breakout year, looking ahead to the future of podcasting: International expansion, ad attribution and celebrity shows.
Justine & Olivia Moore/ CRV

The Game of Venture Marriage: Founders, should you date or just quickly marry your VC? Unable to decide then read on.
Shruti Gandhi/ Array VC

For the geeks: A Cloudflare S-1 Analysis — Do they have an edge?
Astasia Myers/ Redpoint Ventures

6 mistakes to avoid when faced with a hard choice.
Louise Rix/ Forward Partners

For the crypto nerds: Where stablecoins are headed based on their different attributes.
Linda Xie/ Scalar Capital
---
From the Founder & Operator.
Inside Cameo: The rocketship making influencers money.
Taylor Mawjeski/ Product Hunt

Expectations people have from work have evolved over the past few decades. Here's how to motivate a happy, productive workforce.
Mathilde Collin/ Front

If you're a founder considering selling your company or a buyer considering purchasing another, this post is for you: While Instagram was valued last year at more than $100B, Tumblr was sold for 1/333 of what Yahoo paid for. So what makes a good acquisition?
Bo Ren/ Samsung NEXT, ex PM at Tumblr and Facebook

No university degree, lots of job-hopping and a career narrative that's tenuous at best. Not Good on Paper - How I got my job as the Head of People at a cybersecurity startup.
Alison Eastaway/ Sqreen

How to determine whether your startup has potential or not.
Suzy Ryoo/ Q&A & Atom Factory

Tips for how to overcome the fear of publishing your content.
Natalie Sportelli/ Lerer Hippeau
---

Upcoming Events.
10x10VC is hosting an event for black and mixed-race people who want to explore a career in the VC industry. We know how tough it can be to understand the VC world from the outside so if you'd be keen to attend then please apply here.
---
📝Resources.
The Fundraising Bible
The essential Venture Capital database for women entrepreneurs.
A practical list of resources about venture.
Global directory for women in venture capital.
A database of 200 Black & Latinx Venture Capitalists & 100 Latina founders
Elpha - The leading women-only forum

👉Access the Femstreet Female Founders Power List here. Are we missing someone? Send them our way!
---
👋See you in September!
Comments, questions, tips? Send me a note!

Sarah Nöckel, Founder / Editor in Chief
@femstreet & B2B SaaS Investor @dawncapital
👉Guide To Crushing Enterprise Sales.
👉My latest blog post on how workplace tech learned to win friends and influence people.

** If you are a female investor, founder or startup operator, we'd love to feature your content.

Having trouble seeing this email in your inbox?