Discover more from Femstreet
Femstreet is a media platform amplifying female voices, accelerating their success and creating a culture of empowerment - where women lead, shape, and fund the future.
Over 19,000 subscribers
The Great Reset; How to raise a $2m Seed; The 90 year old gamer grandma & More
Your weekly Newsletter on Women in Tech and Venture Capital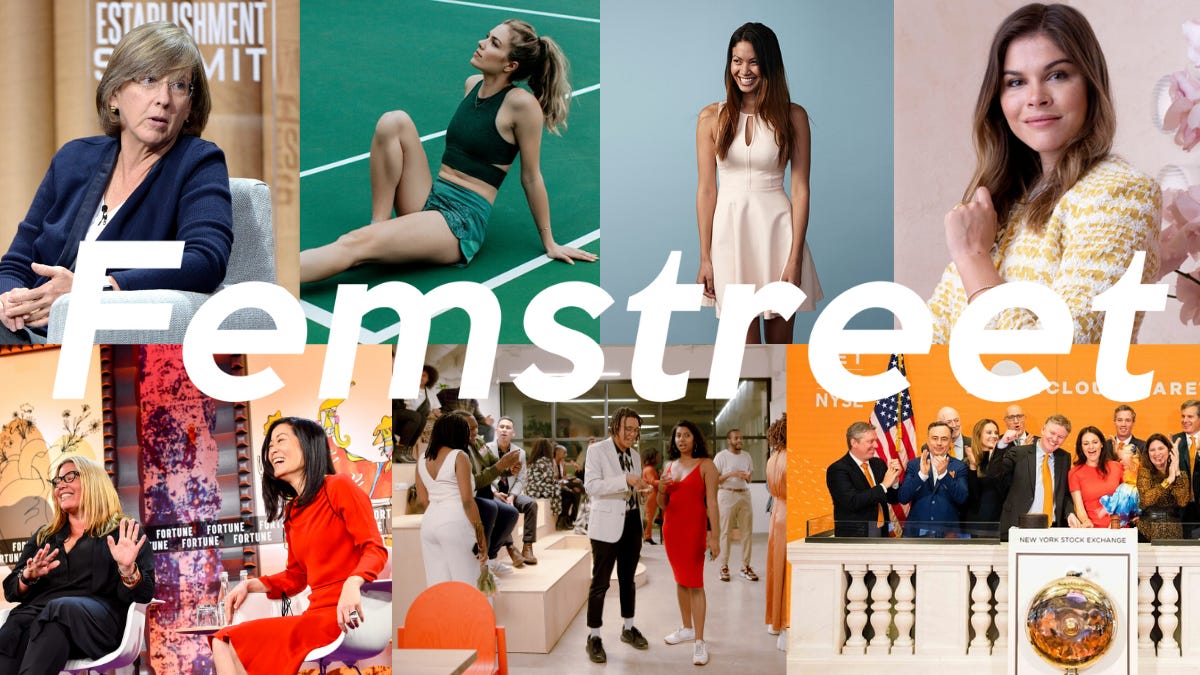 Welcome to issue No. 137. For those just joining the party, I am so excited to have you all here this Sunday morning! Femstreet is the go-to, curated editorial featuring must-read content by female operators and investors. Our community allows professionals to connect with and learn from peers and experts, leverage resources and discover career opportunities.
If I went back in time to describe this week on the internet to the 2019 version of myself, I wouldn't have believed it. Let's all be part of the change.


Femstreet contributors
You are a startup operator or investor and publish your articles on Medium? We'd love to bring your content to our platform. Each month we will publish a select number of articles written by our operator and investor community just like this post from Justine & Olivia Moore of CRV on vertical social networks. Our subscribers include the most important and interesting women in technology and business. Here are some of them. If you want to join this incredible group of Femstreet contributors, please reach out.
Note: We can't guarantee you a spot but we will always consider your articles for our Sunday newsletter.
And onto other news...

Insights
Tia Health gets over $24M to build a network of holistic health clinics and virtual services for women. Jenny Gyllander reflects on "One Year of Thingtesting". Are you a passionate writer and reviewer? Become a Thingtester. Pleasure and Pain on HBO Max. How a former ballerina Jinnett Putnam turned Mirror into a buzzy $300M exercise phenomenon. Sallie Krawcheck has some good money advice for you.

Meet the 90 year old gamer grandma. Forbes uncovers that Kylie Jenner has been inflating the size and success of her business for years. One avocado at a time. Female founder representation on the Forbes' Next Billion-Dollar startups list didn't improve, but we still have lots to celebrate, like the Queer 50 list by Fast Company. Instagram finally adds new monetisation features for creators — great news if you have built an audience and want to monetize individuality. The outdoors are deeply divided by race and we must address it. How this 27 year old ex-google ux designer is replacing fans with cults with Stepchickens on Tiktok.



People
Notion Capital promotes Itxaso del Palacio to Partner.

Chian Gong is being promoted to Partner at Reach Capital.



From The Investor
A cheat sheet on scaling (and fundraising for) your SaaS startup.
— Parul Singh / Founder Collective


Why the next Amazon competitor is likely going to look like a social or video app, not a shopping app.
— Connie Chan / a16z

The problem of raising a $2m seed and advice on how to fundraise.
— Elizabeth Yin / Hustle Fund



What's next for software development and the future of work for individual builders and contributors? Learn more about the JAMStack and the startups building it.
— Brianne Kimmel / Work Life Ventures
How to design a better remote reality.
— Meera Clark / Obvious Ventures


How to cold pitch a VC in the time of covid-19:
✍🏻Personalize it
💥Nail one-liner
📈Traction bullets
👩‍💻Founder market fit
▶️Clear CTA
— Maren Bannon / January Ventures



We learned that great founders won't wait for a better economic moment to start a company.
COVID-19's impact is uncertain, longterm, and potentially undulating, affecting every facet of our lives. Here is more on what the Great Reset means.
— Ann Miura-Ko / Floodgate
---
Join Femstreet Premium
If you become a paid member for $100 per year or $10 per month, you can connect with like-minded startup operators and investors on Slack, receive the complete suite of Femstreet resources, a member directory and full archive with Q&A expert sessions + an additional weekly Member Briefing with a curation of community-sourced learnings, opportunities, and resources.
We also just introduced a number of new benefits and features for our members community:
---
From The Operator




How do you build a marketing function from scratch? What should you focus on and how do you make marketing measurable and grow your revenue? 5 lessons from starting revenue-driven marketing.
— Lidia Lüttin / Happeo



CEO Therapy: Why it's important to "separate yourself from your company".
— Deborah Okenla / YSYS
5 essential learnings from 6 months of tackling the mental health space as a Product Manager.
— Laura Yang / Spring Health


How to create an introvert-friendly way for your teammates to connect that doesn't require an extra zoom meeting or pants.
— Mariah Driver / Webflow


Here is why a thoughtful NPS methodology unlocks detailed customer insights that, in turn, can be leveraged to drive business growth.
— Cassie Young / Primary Venture Partners


On candidates, companies, and the matchmaking problem.
— Julie Zhuo / Inspirit




Featured Jobs from the Community

Product Manager @Bleach London / Remote or London
Having recently raised a £7M Series A, Bleach London is looking for a Product Manager to join their Growth team. Reporting to and working closely with the CMO, you'll be point person for product-driven growth, working across Engineering, UX/UI, CX, Brand Marketing and Creative to develop and deliver Bleach's new digital platform, before localising for new markets. If you've got experience in a product or growth role which had a strong emphasis on retention or subscription, Ellie would love to hear from you.

Product Designer@ online events platform Hopin / Remote or London
The team has recently been funded by Accel, us at Northzone, Seedcamp and Slack Fund and is seeking a UX/UI Designer with 3+ years experience who is self-driven, passionate and ambitious.

Product Designer@ the collaborative BI platform Graphy / Remote or London
Backed by top tier VCs and Angel investors, my portfolio company Graphy is hiring its first full-time product designer. Send your CV to me.


Virtual Events
🗓️June 3
SaaS Office Hours with Tomasz Tunguz and Hollie Wegman, former CMO at Segment and EIR at Redpoint
🗓️June 3
Leaders in Product Roundtable
🗓️June 4
Hierarchy of Marketplaces with Sarah Tavel of Benchmark
🗓️June 11
The Founders building the communication tools for work and healthcare.
🗓️June 17
Apply for January VC's Virtual PitchCollective


More Things I Consumed This Week
Listen 🎧 David Ulevitch and Kristina Shen of a16z look at the SaaS go-to-upmarket with a focus on how to navigate the transition to larger accounts. Tennis legend Venus Williams on how to keep a winning mindset regardless of the circumstances.




And In Case You Missed It


Thank you for being part of Femstreet this Sunday. 
👋
Are you currently fundraising? Share the details with us here.
Comments, questions, tips? Send me a note
Banner image credits: Fortune, Forbes, Glossier, All Raise, Canva, Ethel's Club, OV, NYSE
---
Written by Sarah Nöckel, Early-Stage investor at Northzone. Born in Germany. Based in London. You can find me elsewhere on Twitter and Instagram.