Discover more from Femstreet
Femstreet is a media platform amplifying female voices, accelerating their success and creating a culture of empowerment - where women lead, shape, and fund the future.
Over 19,000 subscribers
The golden source for open source; The 3 goals of an operator-angel round; Ginni Rometty; HeyMama & More
Your weekly Newsletter on Women in Tech and Venture Capital
Happy Sunday, everyone and welcome to issue No. 120. I can't believe it's already February. When I am not in London this month, you can meet me in Berlin, Stockholm, San Francisco and San Diego.
If you are in SF on February 26th and want to join our invite-only Femstreet Social at Kleiner Perkins, ping us with a link to your Linkedin, we have a few spots left.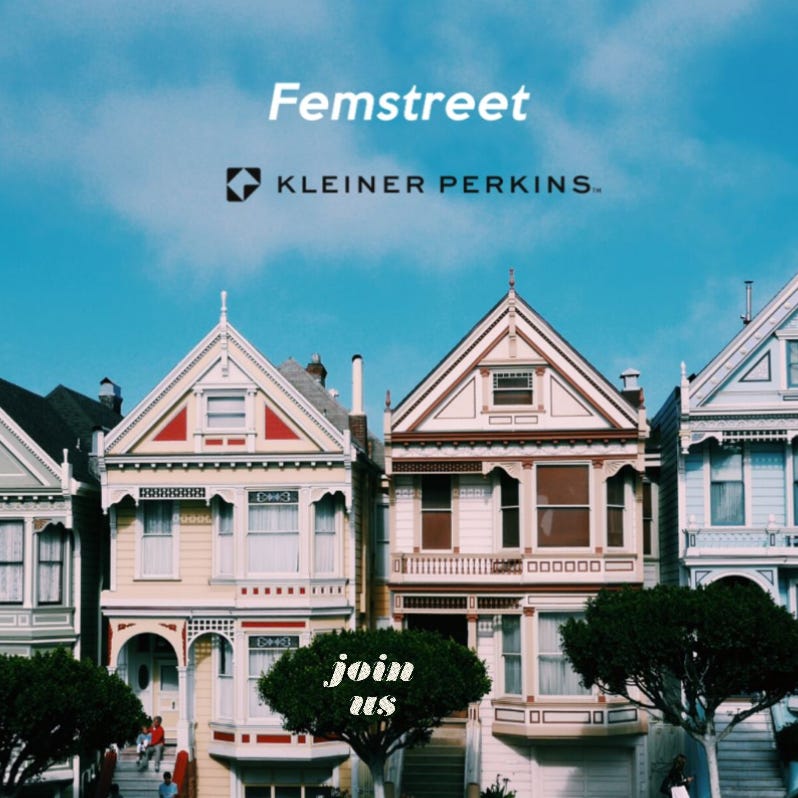 Our next Q&A session will take place on Feb 10th with Julia Enthoven, Founder & CEO of Kapwing - an online video creation and editing platform for modern creators backed by CRV and Kleiner Perkins. Everyone can participate in our live Q&As but from now on only paying members have access to the full archive.
Insights
Former BET Networks CEO Debra Lee hints at launching a tech fund to back women of colour.

Melinda Gates wants to invest $50 million to create more tech opportunities for women—outside of the industry's usual power centers.  

HeyMama, a premium social network for working moms, raised $2 million.
People
WSJ reports that Crypto Investor Arianna Simpson will join Andreessen Horowitz.

Ginni Rometty will step back after more than eight years on the job as IBM CEO and Arvind Krishna will replace her in April. While the leadership change was largely expected, Wall Street analysts were surprised by the timing and the choice of Krishna as the CEO.

Bessemer promotes Tess Hatch to Vice President.

Elisabeth von Lichem joins German VC firm Acton Capital.

---
No subscription? You're missing out.
Join the high-powered community to access our Q&A expert sessions and to meet and talk with fellow founders and funders – online and offline. Subscribers are asking other members for #advice, sharing #wins, #job opportunities, #fundraising details and connecting 1:1 on our Slack channel.
---
From the Investor




The golden source on all things Open Source.
— Anna Khan / CRV


Why founders killed the friends and family round and the 3 goals of an operator-angel round.
— Brianne Kimmel / Work-Life Ventures


Ever seen a company where customers loved the product but the company STILL failed? Why you should focus on cultivating your minimum viable company before attempting to scale your minimum viable product.
— Ann Miura-Ko / Floodgate


On why every new consumer brand needs an Amazon strategy.
— Andrea Hippeau and Caitlin Strandberg / Lerer Hippeau
A new wave of software is emerging to reimagine how businesses and teams operate. Here's a roadmap on Remote Work.
— Talia Goldberg / Bessemer Venture Partners
On building tomorrow's diverse boardroom, how to manage a board with a day job, onboarding and training new board members, and many more examples of invaluable real-world experiences.
— Nicole North and Jana Rich / Lightspeed Venture Partners
Elizabeth Yin of Hustle Fund on why startup investors take a LONG time to decide.

A different way to think about Apple in 2020.
— Anu Hariharan / Continuity Fund

---
Raising a venture fund?
Need to model expected returns and multiples for different fund sizes, GP commitments, and expected win/loss probabilities? GoingVC's Venture Capital Fund Model was developed through extensive research and collaboration with VCs throughout its global community. Click here to learn more and get your copy of the model.
---
From the Founder & Operator
Bhavika of Pluralsight on less learned from early career days.

4 ways to balance growing a startup and having a baby.
— Sara Mauskopf / Winnie



How I went from zero coding skills to data scientist in 6 months: The 4 tools I used to teach myself data science without spending a dollar.
— Kate Marie Lewis



I left my cozy consulting job and 2+ hours commute to redesign my life.
— Steph Smith
2020 Enterprise Forecast: The biggest enterprise trends and technologies that are emerging in the year ahead.
— Kira Colburn / Work-Bench

---
Upcoming Events



🗓️February 4 New York
Product Strategy: Disrupting Consumer Finance

🗓️February 13 Dublin
Huckletree Female Founders' Breakfast 
🗓️February 20 New York
Listing Bootcamp for those that are preparing to go public

🗓️February 20 London
Playfair Capital Female founder investor office hours

🗓️February 27 London
Navigating the Partner Track in VC

🗓️February 27 London
10x10 VC: Getting into Venture Capital

🗓️March 5 London
Secret Leaders: International Women's Day's Leadership & Entrepreneurship Extravaganza - Secure your free ticket with the code femstreet

Colorintech announced their Rise instructors who hail from Facebook, Microsoft, Balderton Capital and Founders Forum. If you're an underrepresented entrepreneur who wants to accelerate your business and widen your network - apply now.
Did someone send you this link? You can get Femstreet every Sunday straight to your inbox by subscribing! Just click that button below.
---
Thanks for being part of Femstreet this Sunday. 🙏
If you are a female investor, founder or startup operator, we'd love to feature your content.
Are you currently fundraising? Share the details with us here.
Follow me on Twitter, Medium, and Femstreet on Instagram.
---
👋Comments, questions, tips? Know a founder of a B2B company I should meet? Send me a note!
Curated in London by Sarah Nöckel, Founder/Editor in Chief & B2B SaaS Investor at Dawn Capital