Discover more from Femstreet
Femstreet is a media platform amplifying female voices, accelerating their success and creating a culture of empowerment - where women lead, shape, and fund the future.
Over 19,000 subscribers
The Chief among us
Your weekly Newsletter on Women in Tech and Venture Capital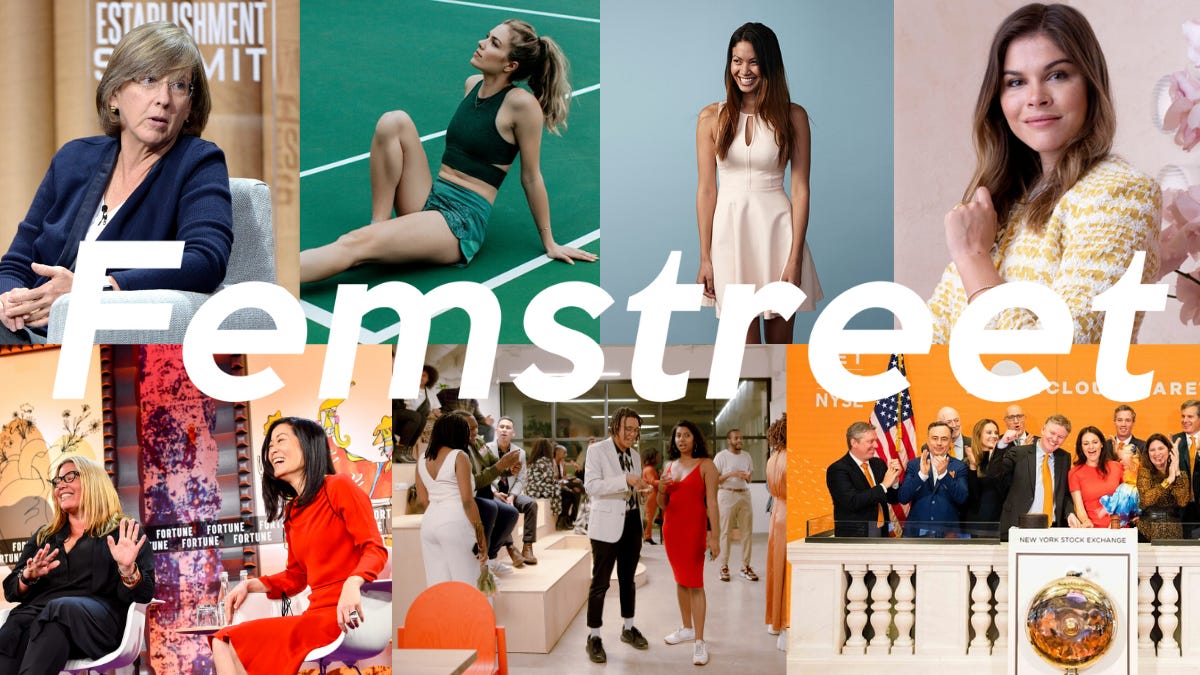 Happy Sunday, and welcome to issue No. 136. For those just joining the party, I am so excited to have you all here! Femstreet is made for you if you want to learn from incredible female startup operators and investors, stay on top of tech news, and maybe get your next job. If you enjoy this issue, please like it above, share it with anyone you think may find it useful.
If you are in the US, I hope you have the chance to kick back this Memorial Day weekend and connect with friends and family.


Femstreet contributors
You are a startup operator or investor and usually publish your articles on Medium? We'd love to bring your content to our platform. Each month we will publish a select number of articles written by our operator and investor community just like this post from Justine & Olivia Moore of CRV on vertical social networks. Our subscribers include the most important and interesting women in technology and business. Here are some of them. If you want to join this incredible group of Femstreet contributors, please reach out.
Note: We can't guarantee you a spot but we will always consider your articles for our Sunday newsletter.



Insights
The Yes, founded by the former Stitchfix COO, launched last Wednesday and wants to replace personal shoppers with AI. How 10 Founders landed great advice, investment, and support from other, successful women. Megan Kelly joins First Round. Our friends at Chief, the leadership network for women, raised $15 million in funding. Congrats Carolyn, Lindsay and Leah! Chief has more than 2,000 members, who are at the VP or executive level, in New York, LA and Chicago, from companies like Google, IBM, HBO, Chobani, Walmart, Visa, Teladoc, Doctors Without Borders and The New York Times. I guess Femstreet is preparing women for Chief in the future. In the video above Chief remind us that women have always been powerful.



From The Investor

Why VCs are obsessed with Unicorn companies? This math exercise will help you understand what you'll need to think through.
— Elizabeth Yin / Hustle Fund



The next $1B consumer startup will be a vertical social network — here's why.
— Justine and Olivia Moore / CRV


Challenges and opportunities for B2B marketplaces.
— Julia Morrongiello / Point Nine Capital



Here is a framework to think through the opportunities and risks for consumer companies in a social distancing world.
fully dedicated but highly selective;

atomized and in-between the seams of activities;

paired with other activities
— Sarah Tavel / Benchmark



On a few big opportunities for fintech businesses.
— Louise Samet / Blossom Capital



Starting A VC Fund? These are the 7 key criteria to consider.
— Miruna Girtu / Syndicate Room

Li Jin published another must-read post and this week she's covering the 4 major implications of disruption theory on the Passion Economy:
1) Multiple industries are under siege
2) The TAM of the Passion Economy is huge but unknowable
3) Success isn't guaranteed
4) Incumbents aren't going to build for the Passion Economy; startups will.
More here.



Nikhil at Shasta Ventures recently made a great point about how more startups are serving both consumers and enterprises. The most interesting companies such as Zoom, Canva and Notion don't fit into either bucket and "The next big thing is both a consumer and enterprise technology company."
I recently moved from a B2B specialist fund to a generalist venture firm counting many consumer and enterprise success stories. While I love B2B SaaS, I am also running my own consumer subscription business with the Femstreet membership and actually collected many learnings from all perspectives that help me to evaluate companies. Interestingly, Nikhil also pointed out that "The best two venture capital firms in the world, Benchmark and Sequoia, do not have separate consumer and enterprise groups; just one early-stage focused investing team at each firm." Food for thought. Shripriya Mahesh of Spero Ventures believes there is an even more important lens to evaluate companies: mission.
---
Join Femstreet Premium
If you become a paid member for $100 per year or $10 per month, you can connect with like-minded startup operators and investors on Slack, receive the complete suite of Femstreet resources, a member directory and full archive with Q&A expert sessions + an additional weekly Member Briefing with a curation of community-sourced learnings, opportunities, and resources.
We also just introduced a number of new benefits and features for our members community:
---
From The Founder & Operator

Great thread from April Dunford: Don't pitch features.

The most common scaling mistake leaders accidentally make.
— Suzan Bond / Executive coach


From crisis to struggle.
— Deborah Okenla / YSYS


7 basic rules to make the developer's life better.
— Ilona Codes / FellowWage



A guide to setting up your first Google ads campaign.
— Ashley Luk / Unbounce



The best advice on finding, closing, and growing incredible startup talent.
— Jess Li / Elpha & Soma Capital

For my enterprise tech gurus: What is resilience in security? Kelly Shortridge of Capsule8 lays out what it is and why despite claims by many vendors, it doesn't exist.
I firmly believe resilience is the future of information security. Alas, the term is actively being bastardized by some vendors to serve their pestilent purposes. To the practitioners reading (whether you build systems or secure systems), remember that attackers are continuously evolving their methods based on changing context, and it is imperative for you to evolve your methods, too.
Featured Jobs from the Community

Product Designer @ online events platform Hopin / Remote or London

Product Designer @ the collaborative BI platform Graphy / Remote or London

VC Internship at a New Fund for Female Founders: We're launching a new fund for female founders next month and are looking for a VC intern to provide support on deal flow and operator network management. You will be working alongside a remote team of 10+ folks. This is a short-term, unpaid position and your part-time hours are very flexible. Spanish language ideal but not required. If you are interested, please send a short note with your resume. Rock on!



More Things I Consumed This Week

The next big thing will emerge from the EFH era. It's time to build, from home.
Read 📰 WFH is ushering in an EFH era, and everyone can participate.
A Co-founder dating questionnaire. 4 rules for identifying your life's work. Investor and team update templates to bookmark. Public SaaS valuation update & post-Q1 earnings.
Entrepreneurship from Home (EFH) startups on my radar: 📹Dive 💲Stir 💄Supergreat 🧑‍🍳Shef
Watch 📺 Dropbox launched Until We Meet Again, a collection of Dropbox folders from artists and makers that you can send as a digital care package to someone you love. Oprah is hosting a free virtual tour on wellness and happiness.

And In Case You Missed It
Thank you for being part of Femstreet this Sunday. 
👋
Are you currently fundraising? Share the details with us here.
Comments, questions, tips? Send me a note
Banner image credits: Fortune, Forbes, Glossier, All Raise, Canva, Ethel's Club, OV, NYSE
---
Written by Sarah Nöckel, Early-Stage investor at Northzone. Born in Germany. Based in London. You can find me elsewhere on Twitter and Instagram.