Discover more from Femstreet
Femstreet is a media platform amplifying female voices, accelerating their success and creating a culture of empowerment - where women lead, shape, and fund the future.
Over 19,000 subscribers
Lululemon acquires fitness brand Mirror; Ty Haney returns to OV; Hardware as a moat; Why female founders get cancelled more harshly when they fall short & More
Your weekly Newsletter on Women in Tech and Venture Capital
Welcome to Femstreet, a weekly newsletter featuring must-read content by female operators and investors. I try to make this one of the best emails you get each Sunday morning. If you enjoy this issue, please like it above. Join our premium membership today to connect with and learn from peers and experts, leverage resources and discover career opportunities.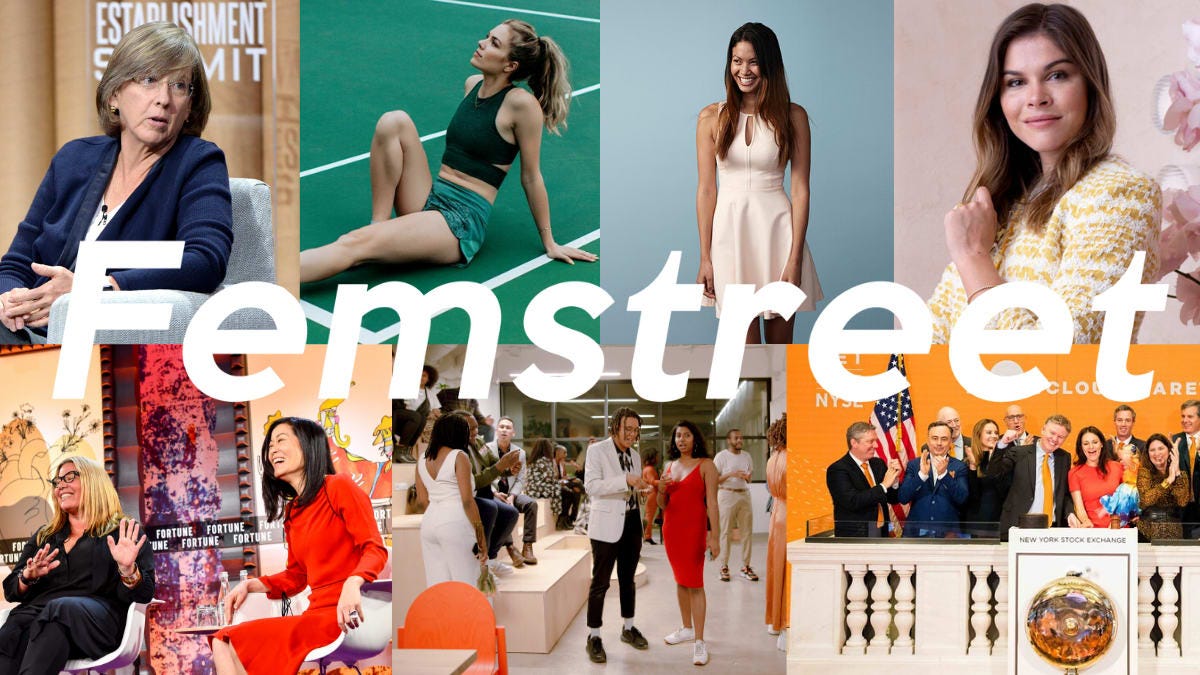 Hi friends. This is officially the second half of the year. It didn't go as planned for most of us. Many of us had goals, dreams, big projects, and life events planned which didn't happen. Let's see what the second half of the year brings.
Here's what you will learn today:
Lessons for founders from reviewing ~1000+ pitch decks.

Why marketing is eating the world.

Why female founders build personal brands as well as product brands.

Why Lululemon acquired Mirror.
Insights
It's been a busy week. The Mom Project raised $25M for its job site aimed at working mothers. Tyler Haney has (sort of) returned to Outdoor Voices to help find a new CEO, Mickey Drexler left the board and Ashley Merrill, founder and CEO of the women's sleepwear brand Lunya, will become chairperson of Outdoor Voices' board of directors. Merrill founded Lunya in the same year Haney founded Outdoor Voices but with more focus on profitability. 👉More here.

The athleisure and activewear giant Lululemon is betting on the future of personalised remote exercise as a way to reach customers by acquiring Mirror for $500m. Mirror sells a giant mirror that sits in your home and streams interactive fitness classes. The classes are produced by Mirror and run the gamut: yoga, boxing, HIIT, etc. Welcome to tech, Lululemon. 👉 More here.

Brynn Putnam founded Mirror founded Mirror in 2016 and launched in 2018 after 2 years in stealth mode. Investor Hayley Bay Barna shared some reflections on how it got started:
"Reflecting back, the story of Mirror is particularly inspiring, as it is a reminder that founder talent comes in many forms. When we invested in Brynn, she was a former ballet dancer and small business owner, not a typical tech startup founder. On top of that, Brynn was 9 months pregnant when she pitched the Firstround partnership. She signed the docs for our investment in Mirror while at the hospital to give birth."
People
Bozoma Saint John leaves Endeavor and will join Netflix as the streaming platform's new CMO. Netflix hired arguably the most experienced young marketer in an increasingly saturated industry.

One of Femstreet's first ambassadors and active angel investor in the European ecosystem, Sophia Bendz, is leaving Atomico to join the Berlin-based firm Cherry Ventures as Partner to invest at Seed.

Away says co-CEO Steph Korey will step down this year (again) and Stuart Haselden will be taking over as CEO.

Uber has added Flex CEO Revathi Advaithi to its board.



From The Investor



For most software businesses in the US, the problem isn't technical knowledge anymore. The problem is getting a wedge into distribution — also known as marketing. Here's why marketing is eating the world. Elizabeth Yin / Hustle Fund



"Simplicity boils down to two steps: Identify the essential. Eliminate the rest."
— Leo Babuata




Fundraising is a six month, full time job for at least 1 founder. Most of the effort is spent perfecting your teaser deck, intro email and getting your first investor meetings. So here are a few lessons for founders from reviewing ~1000+ pitch decks. Samantha Wong / Blackbird


So what's Lululemon, a retailer, going to do with their acquisition of the fitness brand Mirror?

Lululemon customers can now take classes in stores and there's an opportunity to create digital and physical communities around Lululemon and Mirror products.

Lululemon can establish a recurring billing relationship with its customers.

Store associates can become Mirror ambassadors.

More by Zhenni Liu / Commerce Ventures



We've all attended numerous online events in the past months. Here's why virtual events are the future, from an attendee and organizer's perspective. Julia Morrongiello / Point Nine Capital




Why in a crowded software market, hardware can actually be your moat. Shripriya Mahesh / Spero Ventures




How COVID-19 is accelerating the evolution of customer support. Cathy Gao / Sapphire Ventures
What will be the new normal? Using this framework, we can anticipate what trends may accelerate with COVID. Additionally, trends that accelerate to a tipping point will be more likely to stick. Jackie DiMonte / Hydepark Venture Partners
---
We recently held a Marketing Circle (a perk of being a paid subscriber) co-led by premium members Alexis Contos (Softbank Vision Fund) and Emma Bates (Diem & formerly Away).
If you become a paid member for $100 per year or $10 per month, you can connect with like-minded startup operators and investors on Slack, receive the complete suite of Femstreet resources, a member directory and full archive with Q&A expert sessions + an additional weekly Member Briefing with a curation of community-sourced learnings, opportunities, and resources.
---
From The Operator
"Unpaid work is valued to be 10 and 39 per cent of the Gross Domestic Product and can contribute more to the economy than the manufacturing, commerce or transportation sectors."

Required reading for anyone in a leadership role:
Why female founders build personal brands as well as product brands, and why female founders get cancelled more readily and more harshly when they fall short. Sharmadean Reid MBE / Beautystack


"We must allow women to build companies, and fail quietly, with the same frequency and fervour as men."
Founder and co-founder relationships are often compared to romantic relationships. They're full of ups and downs. When it works, it's amazing, but when things don't work out, it's an entirely different story. What happens when the person you thought you could rely upon the most, is the one that makes you want to run away? Monique Baars / Fineazy




Last week, the value locked into the Compound protocol reached a staggering $1 billion, making it the "most valuable" decentralized finance protocol. Here is more about the money market on Etherum and the key characteristics of the dynamic money markets run by Compound. Julia Wu / Brex




Biggest lessons from Opendoor's scaling journey, how to implement systems for growth and the right way to structure customer discovery. Julia DeWahl / ex Opendoor & Angel investor
---
Virtual Events



🗓️July 6 Beautystack Demo! Get Your Beauty Business Back on Track After Lockdown
🗓️July 14 For women. By women. VC Office Hours

Apply for All Raise's Post-Seed to Series A Program to learn industry-specific best practices and actionable insights to operate your business, achieve product-market fit, and plan for your Series A raise.



Job Opportunities
Quorum is a chat platform with built-in privacy, payment, and user management features. We're a team of 3 looking to hire a founding engineer to lead our Mobile App development. We participated in the Y Combinator S19 program and are backed by some pretty great investors. Feel free to send your application to us.



And In Case You Missed It


Thank you for being part of Femstreet this Sunday. Please share the ❤️.
Comments, questions, tips? Send me a note
Image credits: Banner (Fortune, Forbes, Glossier, All Raise, Canva, Ethel's Club, OV, NYSE); Melanie Perkins portrait (The CEO Magazine)
---
Written by Sarah Nöckel, Early-Stage investor at Northzone. All things workplace tech, data and enterprization of consumer. Born in Germany. Based in London. You can find me elsewhere on Twitter and Instagram.