Discover more from Femstreet
Femstreet is a media platform amplifying female voices, accelerating their success and creating a culture of empowerment - where women lead, shape, and fund the future.
Over 19,000 subscribers
How workplace tech learned to win friends and influence people
Why businesses are now investing in helping us work smarter, not harder.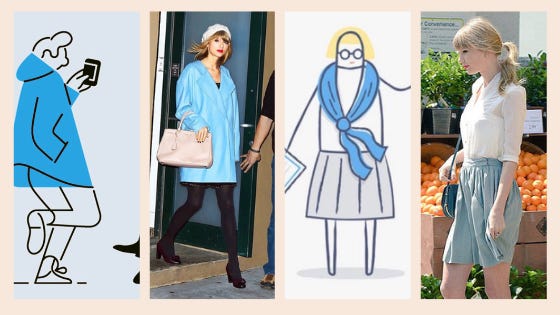 Workplace technology was for a long time a blight on the world of work. Even as personal devices and gadgets grew more intelligent, our experience with technology at work remained painful. Prohibitive company policies combined with awkward clunky products resulted in a much-maligned category of tech.
But things gradually started changing. Companies became more accepting of technology, particularly as security improved. Products in turn improved. While employees, growing accustomed to tech which actually worked, demanded more. This became a virtuous cycle which drove rapid advances in the category. Today, the landscape for workplace tech couldn't be more different.
With Slack's IPO, Dropbox's launch of its new enterprise collaboration workspace, Superhuman's (the "Marie Kondo for email") $33M fundraise by A16z and Notion's $10M angel (!!!) round at a valuation of $800M and Monday's $150m raise, the category has confirmed its position as a space with serious growth potential.
So how have we come this far, and where will the industry go next?
The answer to both questions lies in collaboration. In short, workplace tech learned how to win friends and influence people. And if we are to rebuild work in a way that's better for businesses and employees, it needs to keep doing so.
Modern organisations are using an increasingly diverse set of communication and storage tools. The content employees need is often scattered across multiple apps, collaboration is ad-hoc and limited visibility on colleagues' work leads to duplicated efforts. This fragmentation has paved the way for a new generation of enterprise search and discovery, collaboration and knowledge management tools, like our portfolio company Onna, to help tackle these issues.
Collaborative tools can help drive the culture change required to enable a frictionless enterprise as they provide better integration across workflows, allowing information to be more easily shared and providing workers with deeper context around their activities. They are the building blocks of company culture, particularly as they look to create transparency and accountability.
So far, we have seen collaboration tools for:
📄Docs (Docs, Paper, Notion)

📊 Sheets (Sheets, Airtable)

🎞️ Slides (Slides, Pitch)

🎨 Design (Figma, Adobe)

👩🏽‍💻 Code (VS Code, Teletype for Atom)

📧 Email (Front, Consider, Superhuman)

💽 Drive (Box, Dropbox)

💬 Chat (Slack, Threads)
What's driving the shift?
1. Feature gaps and unclear road maps create headwinds for major cloud providers.
Major cloud providers, particularly Google and Microsoft, offer a wide range of technologies that generally break into two categories:
a) Content development:
Office productivity: MS, Google

Content services: Box, MS, OpenText

Collaborative work management: Workfront, Wrike, Smartsheet
b) Communications
Unified communications: Cisco, Microsoft, Unify, 8x8

Enterprise Social: IBM Connections, MS Yammer, Jive

Team messaging: Cisco Webex Teams, MS Teams, Slack
Their portfolios and road maps are complex — in some cases, overlapping — and user needs are diverse and evolving. Employees within modern companies no longer use the same set of tools and need to collaborate not only with each other but also with external parties. Apart from the ability to connect, a good enterprise collaboration implementation allows employees to locate people via skills-based searches so they can solve problems. As a result, feature gaps have surfaced, creating opportunities for hundreds of mainstream and point solution providers.
2. The rise of the gig economy and remote work (changing workforce): demand for transparency and 24/7/remote access to information
The gig economy is changing the nature of work and creating a new set of expectations and attitudes to work. These days employees have their own tools and workspaces. Companies are going global, and tech companies expand internationally faster than any other industry. The environment organisations operating in is changing and there is a greater need to respond to agility through organisational alignment. Mary Meeker's latest Internet Trends Report shows that 5% of the American labour force works remotely (nearly double the 3% in 2000), representing over 8 million Americans and nearly 50% of the US workforce has spent at least some time working remotely. This is driving demand for better workplace collaboration tools that are easy to use, understood and can be integrated across all the applications that companies may use.
3. Empowering the end-user: freemium models allow niche solutions to sneak past the top decision-maker
The growing adoption of cloud applications is adding new complexity to the work environment as different teams use different tools to communicate. According to Symantec, enterprises on average use up to 928 cloud apps but their CIOs think their organizations are using just 30 to 40 apps. The adoption of workstream collaboration tools frequently enters the organizations from a "bottom-up" usage pattern. Employees have more power and control over the tools they use on a daily basis and pick what works best for their specific needs.
4. Improved coding skills: command-line interfaces
We are currently experiencing a new "devsumer" wave as the average knowledge worker has gotten more savvy and hands-on. People are more willing to build things and are more likely to take on lighter versions of developer-like work and products e.g.: Superhuman's shortcuts and commands are a core part of the experience and Airtable turns business users into self-sufficient citizen developers.
Collaboration technology options are spread across multiple markets and embedded in various applications, making a single-vendor approach increasingly difficult. There's room for multiple cloud platforms in the enterprise but vendors are being forced to maintain essential partnerships with the likes of Microsoft, Google and Slack, while at the same time aiming to supplant themselves as the go-to platform in their space.
Making sure enterprise collaboration works
However, collaborating is easier said than done. Great products have ensured great progress have been made in these areas. But products, whether great or not, don't always thrive in the workplace.
Digital workplace rollouts usually fail for two key reasons: either the teams meant to use the tool aren't involved in developing them, or the goals of rolling out the new tools aren't clearly communicated.
The tools that win will expand the partner ecosystem, integrate with a broad range of enterprise software and APIs and will be built with collaboration at the core, within and across organisations — rather than a one-size-fits-all solution.
What does this mean for enterprises and their collaboration platform choices? To support effective digital collaboration, successful players will build out a platform for participants to digitally share, organize, track and progress the work of a team with the following 8 core capabilities:
Messaging — content — sync — search — applications — people — permissions — workflow
Messaging: quickly resolve queries, helps to foster companionship among team members & use as an interface into applications and other AI-enhanced resources
Content: making access to content and integrating that connection back to any messaging e.g.record notes and comments, embed shared files, and link out to messaging
File sync: making sure that everyone's on the same page
Search: comprehensive search capability is essential to search for content, context, policy and many other resources
Applications: seamless connections into applications are a crucial component of any effective collaboration
People: teams are people working together to achieve outcomes — consider the human dynamics of teamwork to achieve optimal performance
Permissions: Identity and access management — manage and track who has access to what
Workflow: a framework for sharing and tracking progress towards the intended outcome of collaboration; audit trails and version control; visibility into what needs doing next and who is responsible for making it happen
The companies blazing a trail in this area
In the following, you will find an overview of some workplace tech companies that I was looking at for Dawn and for general interest, which is putting collaboration at the heart of everything. It is by no means a complete landscape.
If you are an entrepreneur building your company in this area in Europe, please get in touch via email, I'd love to learn more!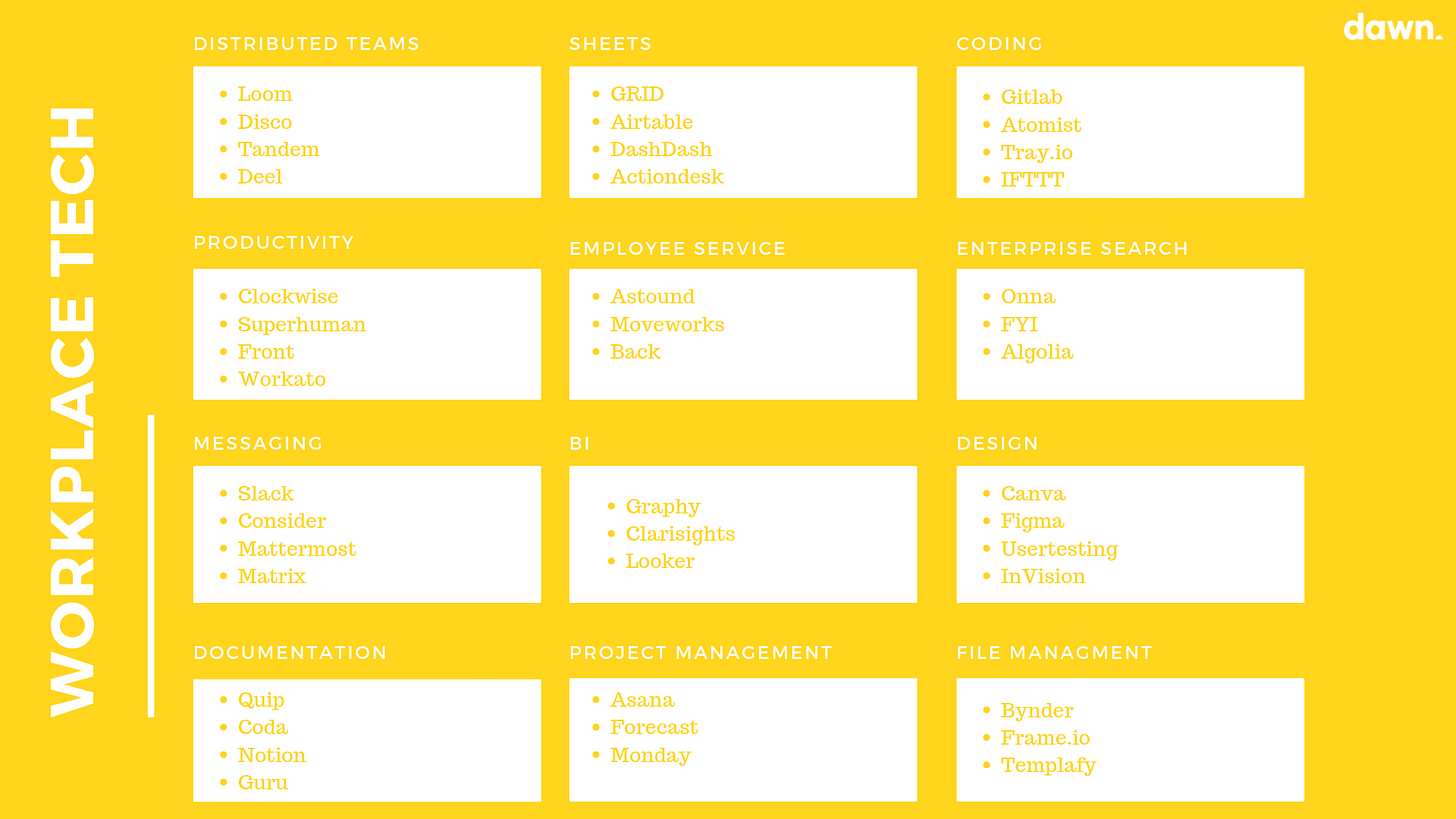 I am an investor at Dawn, Europe's largest B2B focused fund. Check out my Guide to Crushing Enterprise Sales, a list of external resources to demystify the process of selling enterprise software.
I also run Femstreet, the leading newsletter on women in tech, entrepreneurship and diversity in VC. Sign up here: