Discover more from Femstreet
Femstreet is a media platform amplifying female voices, accelerating their success and creating a culture of empowerment - where women lead, shape, and fund the future.
Over 19,000 subscribers
How to make distributed work work
5 lessons from Mapillary
When Sandra Uddbäck came across fully distributed Mapillary, she wasn't sure that way of work would suit her. She had spent the past ten years working for companies with offices and was used to being around her colleagues. But Mapillary wasn't an offer to pass too quickly. The company had set out to solve mapping, a huge problem that fascinated Sandra from day one, and they had already recruited several notable people with impressive backgrounds. So she decided to give distributed work a go.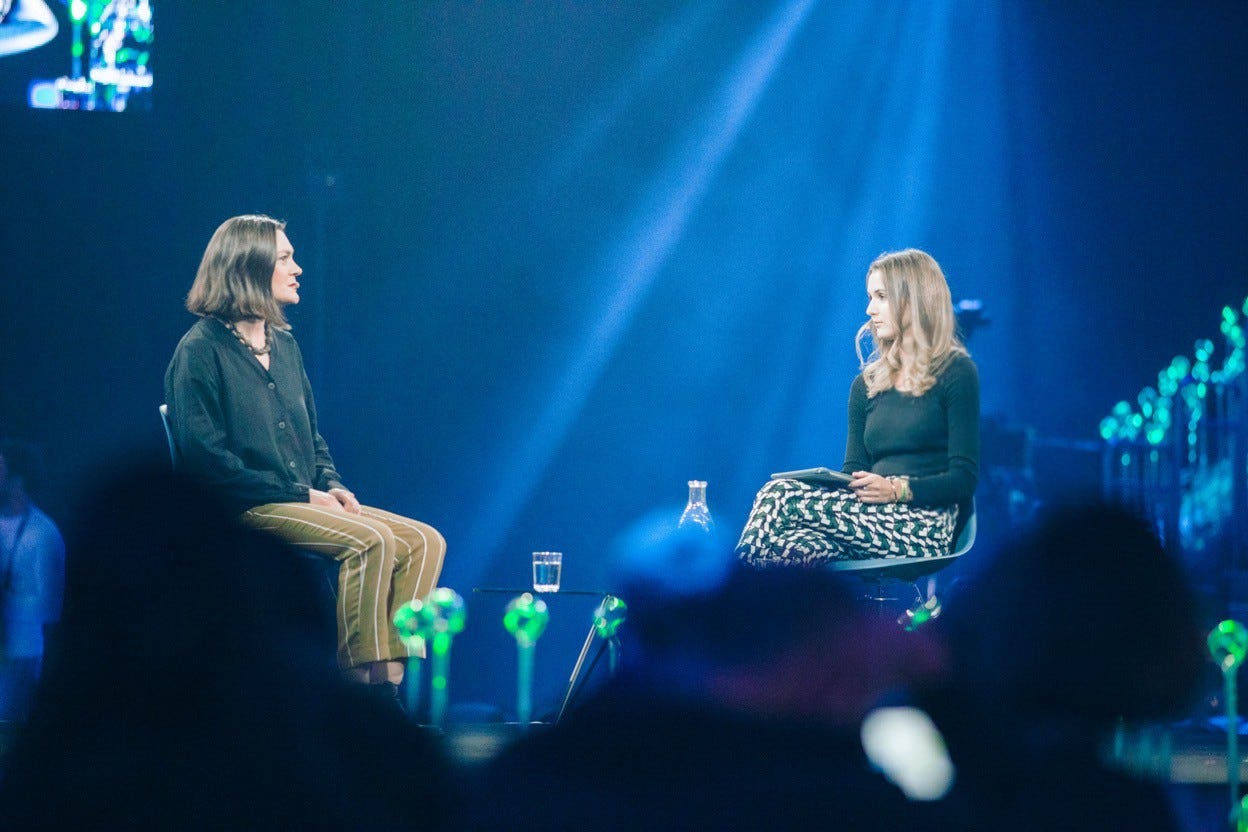 Fast forward five years, Mapillary helps some of the world's largest mapping companies keep their maps updated, and Sandra leads significant parts of that work as the company's VP of Data Acquisition. She manages a team of six, split between Europe, the US, and Australia. I sat down for a fireside chat with her at Slush in Helsinki last week, and these are the five key lessons she shared with me about making remote work work.
Look for people who get excited about the vision and the set-up
Distributed work requires everyone to be flexible. Sandra has direct reports split across Melbourne, Helsingborg, Buffalo, Chicago, and Milan, so finding a suitable time for a team call would have been difficult if not everyone had been fully on-board with the distributed set-up. That's why it's crucial to find people who are excited about the company's vision and understand the reasoning behind being distributed. To Mapillary, it's about solving mapping through computer vision, which requires a global hiring pool.
Talk about the pros and cons of being distributed already in the hiring process, and be transparent about what it's actually like.

Look for people who get excited about what the company is trying to achieve and make sure that the reasoning for being distributed is obvious from the start.
Find your way of communicating
With a team of 65 people across 18 countries and eight time zones, excellent means of communication is key in making sure that everyone is on the same page — even though people might be thousands of miles apart. There are plenty of digital tools to make communication seamless and asynchronous, so the important part is finding ways to make it work for your colleagues and your organization. Here's how they do it at Mapillary:
In lieu of in-person standups, have a standup channel on Slack where you list what you did yesterday and what you're focusing on today.

Prioritize two shorter 1:1s with your reports every week as opposed to having one longer session.

Document meeting notes, decision logs, and everything else that others might need to know, and share your notes in public channels to avoid blockers.



Transparency is key, trust is great
Transparency and trust are important in every company, but it's particularly important in distributed teams where it's difficult to know exactly what others are working on and when. That's why you have to trust your colleagues to always have the best intentions, that they put in their best efforts, and that they will raise questions and concerns when they arise.
Mapillary communicates in open channels — anyone at the company can join any channel they want and see exactly what different teams are working on and talking about. Direct messages are only sent when it's strictly personal.

Foster a culture of great trust by being transparent about mistakes and, ultimately, learnings.

Lead by example — transparency, trust, and vulnerability start and end with the leadership team. If the leadership team is transparent, others will follow.
Have a clear framework for decision-making
When you don't have daily face-to-face interactions, having crystal clear frameworks and processes for goal-setting and decision-making becomes particularly important. This minimises the risk for confusion and blockers, and allows the organisation to move fast — even when half of the workforce is asleep. That's why Sandra advises having clear processes for making decisions that accommodate asynchronous communication.
Trust and empower everyone to make decisions in relation to their goals. To make this work in practice, set expectation frameworks for every employee that relates directly to their team's expectation framework, which, in turn, relates directly to the organisation's current priorities and focus. You don't need complicated software for this — a simple spreadsheet is enough.

Create cross-disciplinary teams whenever needed, where roles and responsibilities are outlined from the get-go. And trust your colleagues to make the right decision within the scope of their work.

Be flexible to do quick video syncs in case someone needs your help in making a decision. Sometimes it could be as short as two-minute sync. Use video rooms that you do not have to dial into but instead jump into as it creates the feeling of just leaning over the desk to ask your colleague a question.
Create a sense of community
There are many advantages to running a distributed team — having a global hiring pool, improved flexibility, and higher levels of productivity are some of the things Sandra mentioned.
But running a distributed team also means that you have to take greater care to mitigate loneliness among your colleagues and more actively create a culture that underpins a sense of community.
Create non-work related Slack channels. For example, Mapillary has channels named things like Family, Wellness, and Moviebuffs, where they share pictures from weekend outings with their families, updates on training or other health-related pursuits, and discuss the latest film or series they watched.

Encourage people to go to co-working spaces, and cover the costs for it by default.

Try to always have your video on in internal calls, regardless of whether you're in your pyjamas or if you're having a bad hair day. Being flexible goes both ways — if you have to take a call at 11pm, no-one will judge you for working from bed. On the contrary, it creates a sense of vulnerability and it's how colleagues can become close even though they're thousands of miles apart.

Do offsites twice a year. This is the time to reflect on the past six months, set the strategy for the coming six, but it's also the time to hang out with your colleagues in person.
To make remote work work, the Mapillary team has put in a lot of thought and conscious effort. That started with a clear why, as to the reason for being a distributed team. It has paid off. Since the company launched in 2014, only four people have left, and the team is currently 65 people. Being distributed from day one has allowed the company to build some of the world's best technology for understanding street scenes. The trend of remote and distributed employment is only going to grow, so we hope you are now better suited to make it work for your company.
---
As a VC at Dawn, I look into technologies related to the "future of work" — automation/machine intelligence, collaboration/productivity, and much more. If you're working on anything in this space, I'd love to chat with you!
sarah@dawncapital.com