Discover more from Femstreet
Femstreet is a media platform amplifying female voices, accelerating their success and creating a culture of empowerment - where women lead, shape, and fund the future.
Over 19,000 subscribers
Hollywood in B2B: Marketing tactics to grow from pony to unicorn — Part 1
How to tell a compelling story
At Dawn, we have observed that within our portfolio of B2B startups, there is one topic that is on everybody's mind: Marketing. It's something that many founders have an idea about, but when it comes to execution, things get fuzzy. Founders would often come to us wanting help in building brands, telling a compelling story, attracting leads more effectively, explaining their vision to customers, prospective employees, regulators, and investors alike. They ask us questions like: How do I successfully communicate value as a B2B startup? How do we build an enterprise and SME lead generation machine to capture value as we grow?
What we have noticed is that with the increasing consumerization of B2B, marketing needs to step beyond practical and analytical reasons and enter the realm of human emotion. Looking for the best answers possible, we recently co-hosted a B2B Marketing event with our friends at Speedinvest in Berlin, and a B2B Brand themed dinner with Slack alongside a select group of founders in London to discuss all things B2B Marketing. To emphasize how important it is to tell compelling stories and win hearts, we borrowed the institution that does it best: Hollywood.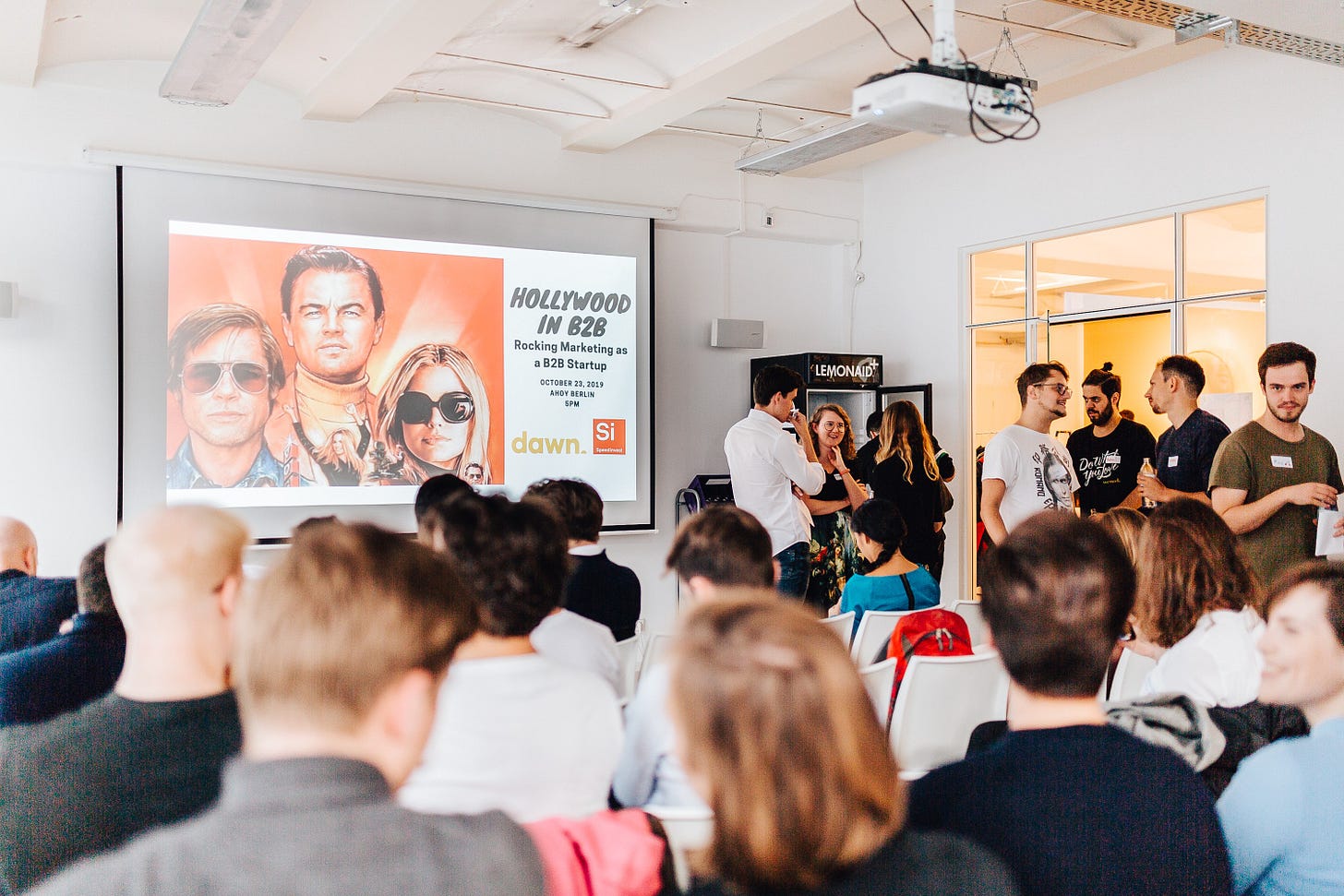 In a series of three posts, we will tell you about the vital marketing lessons that the operators, storytellers and thought leaders shared with us to help you grow from pony to unicorn. First up let's start by the campfire for some storytelling with James Greenfield, Founder of Koto and Tim Williams, Creative Director of Koto.
Tell a compelling B2B story
When B2B founders first sit across from James and Tim, their brands often look the same as that of the competition. The words are often painfully similar and the features are indistinguishable unless you look deep into the minutiae of the offering. So what helps to differentiate a company is a brand that standouts that has a compelling story. A good script is as vital in Hollywood as it is in a B2B setting. So how should we write good B2B story scripts?
Own your story
Story is everything. Think about how you perceived WeWork and its CEO, Adam Neumann, as recently as last year, compared to how they have been depicted in the past couple of months. Or how you felt about Mark Zuckerberg when he appeared on the front cover of Time magazine in 2015 as a person of the year. Four years later, no one would look at him with that same reverence or admiration.
According to Koto, both are cases of what happens when a company doesn't own its story.
"Facebook never invested enough in their brand and story. They never took the time to explain their origin story, why the company exists, and why anyone should care that they do."
By not doing that, they never gave people a reason to love them or have any form of strong emotions towards them. Instead, the media, and Hollywood, for that matter, took over the narrative of Mark Zuckerberg. Unlike Facebook, you have to take your story in your own hands.
A good story follows a structure
A good story needs as much fabric in Hollywood as it does in startups. Such a story has a beginning, middle, and end. The way this translates into a startup story is outlining the purpose, mission, and vision.
Purpose — why you started the company and what guides you. You have to have an inspirational reason to exist. Any good story begins with a useful purpose. Think about brands like Nike, Patagonia, and Airbnb. They lead people to their components (sneakers, rainproof jackets, bedrooms) with a higher purpose, like bringing out the athlete in everybody, saving our home planet and belonging anywhere. According to a 2017 research by Havas, meaningful brands outperform on the stock market by 206%. Valuable questions to ask yourself as you develop your purpose:

How high do you want your brand purpose to be?

Consider how practical vs. aspirational your brand strategy should be.

What's your 'reasonable reach,' and how important is it?

Mission — what gets a company off the ground and drives it forward.

Vision — the impact you want to make on the world.
Understand how the human brain processes information
You have heard it all before — people won't remember what you said or did, they will only remember how you made them feel. To fully understand that statement, Koto study the theories of economist Daniel Kahneman. According to him, the human brain processes information through two distinct systems. Intuitive and automatic in its approach, System1 relies on feelings, which makes it the faster one. Analytical and reasonable in its approach, System 2, on the other hand, relies on thinking and analyzing, which makes it slower.
System 1 switches on when people first land on a website, open the product, see the logo. That immediate reaction is significant and shouldn't be underestimated. System 2 fires up when they start using the product and read the story the company has to tell. Why is this important? Most B2B brands rely only on System 2 and disregard System 1, which is a missed opportunity. Start considering what your user's System 1 tells them when they first come across you.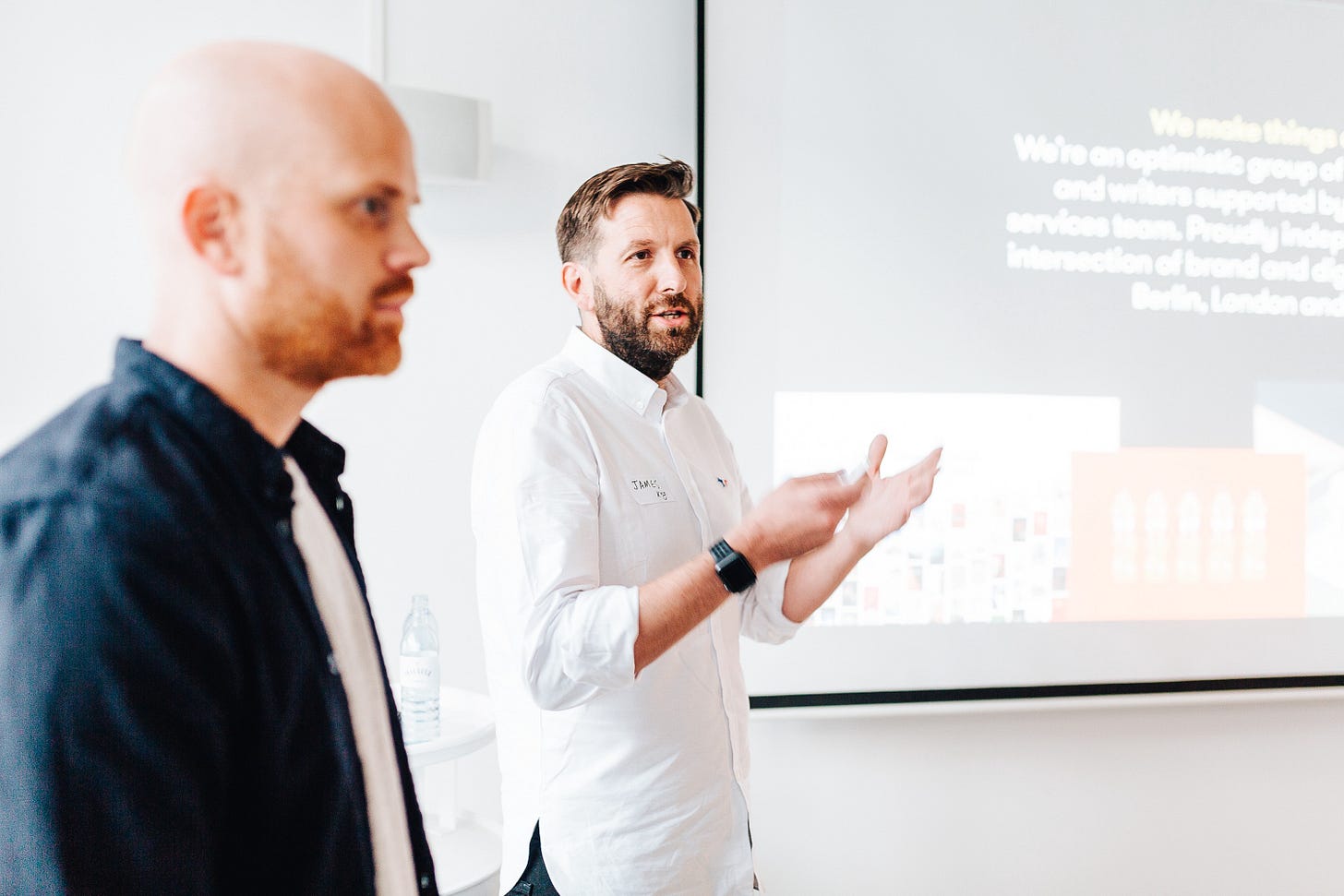 Have a personality
A well-told story, however, isn't enough. You also need a personality, a set of human characteristics that inform the things we say, create, and should feel. In most startups, people take up the personality of the founder, which is why it's so important to codify it.
The personality embedded in your story will be the combined set of characters within the organization. Especially for early-stage startups, the importance of everyone doing the Jung or Myers Briggs personality tests is essential.
"Understanding what type of B2B company you are and how you project yourself in the world can really help with the consistency of your story and communication."
Knowing what identity you carry will advise the sort of story you should be telling.
Five principles for a good brand story:
Make it relatable — know your customers intimately. Still, too many founders invest in their own story and do not think what about is relatable to the outside world

Give it energy — even if you are working in a dull part of B2B, give your story energy and enthusiasm because people like to buy from brands that have it

Bring out the details — don't use the same words as anyone else, what's unique

Stay on point — overcommunicate and say everything you are doing, it will be easier for everyone to understand you

Keep it short
The best thing any startup can do is write their story before they ever sit down to talk about what will be on the website or sales materials. Not only will that put you ahead of the game of a lot of other companies but it will also spare you some crucial problems:
Having trouble recruiting people because the company doesn't evoke any interests or emotion on potential hires

Failing to take off in the US where the expectation of what a B2B brand should look like and what story it tells is vastly different from Europe.

Missing the queue when it might be time for a rebrand.

Bonus: Three filters to help you discover what makes a brand positioning genuinely unique:

Is it true? (can they credibly claim it about their business?);

Is it compelling? (Will audiences care?);

Is it distinctive? (Is it different from what their competitors offer?)
---
You have the branding nailed, then what? In the next part of our series B2B in Hollywood we are going to learn how to nail the SME market with laser focus with Billie and Julian Koster, VP Marketing & Sales. Tune in next week.