Discover more from Femstreet
Femstreet is a media platform amplifying female voices, accelerating their success and creating a culture of empowerment - where women lead, shape, and fund the future.
Over 19,000 subscribers
Femstreet's Top 10 Stories of 2019
The most defining moments for women in tech and venture capital
As 2019 ticks down its final day, let's take a moment to reflect on a year of women making headlines.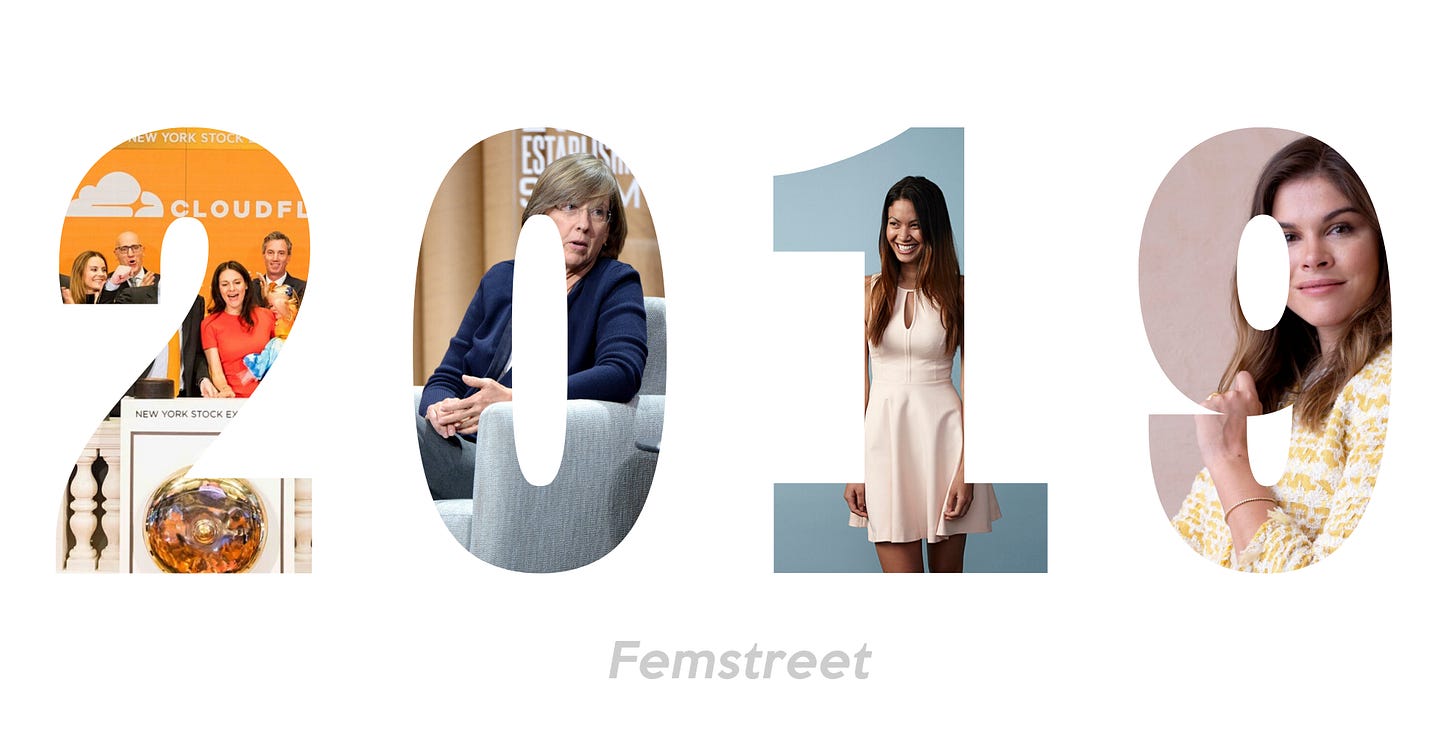 10. Leading tech firms increased diverse leadership within their organisations but diversity reports show only small gains in retention
WeWork added the first woman, Frances Frei, to its board. Indra Nooyi, formerly CEO of PepsiCo, joined Amazon's board as the fifth woman and second person of color on the current board. Uber is still predominantly white and Asian, but the company has made notable headway in the representation of black and Latinx people among its employees for the next three years. However, we still have a long way to go. Intel recently revealed its racial and gender pay discrepancies. Among 52 top executives at Intel, who all earn more than $200,000, 77% are white or Asian men and eight are white women. The representation of women working at Google globally increased by 0.7 percentage points year over year. Tech companies have boosted their efforts to diversify their workforces in 2019, but advocates have emphasised that the true measure of those efforts is whether employees from underrepresented groups stay after they've been hired.
9. Venture firms made it a priority to hire and 

promote women
Venture capital firms have had a busy year. Many ventures funds in the US made hiring and promoting diverse individuals to partner and general partner a priority in 2019. Almost every other week we reported on another promotion in our weekly newsletter. European venture funds still have more work to do and we hope to see more women getting promoted in 2020.
8. Global Women in VC grew to 2,000+ members and launched a Slack channel
Sutian Dong and Jessica Peltz-Zatulove are venture capital investors who introduced the Global Women in VC Directory, the world's largest global directory for women in venture capital to find each other, connect, and collaborate. The database, which is free to join, is password-protected and only available to those investing in institutional and corporate funds, as well as family offices. It also launched a Global Slack group which now includes 1,800+ women, with 50+ active channels to choose from.
7. All Raise expanded and hired a CEO
All Raise, the non-profit advocate for diversity in startup founders and funders, founded in 2017, hired its first CEO Pam Kostka. All Raise has also launched new chapters in Boston and Los Angeles. With a focus on female venture capitalists and founders, All Raise hosts an annual conference, several in-person and virtual fundraising workshops and networking sessions and, recently, the group began creating curated peer groups for investors. This year more than 600 female US VCs got together in Oakland for the All Raise VC Summit.
6. The $1bn+ club: More

female-founded unicorns were born in 2019 than before
This year, there were 21 startups (6 more than in 2018) founded or co-founded by a female that became unicorns. Rent the Runway scored a $1Bn valuation with a $125M fundraise, travel company Away landed a $1.4Bn valuation, beauty company Glossier is now valued at $1.2Bn and the education software startup Guild Education hit $1bn valuation following a $157M fundraise. Beyond beauty, commerce and education, female founded and co-founded unicorns born this year include Hims, Airwallex and Scale.
---
No subscription? You're missing out. Get 20% off for one year until 23:59 GMT on Wednesday, 1st January 2020.
Join the high-powered community to meet and talk with fellow founders and funders – online and offline. Subscribers are asking other members for #advice, sharing #wins, #jobopportunities, #fundraising details, scheduling meetups at #events and connecting 1:1 on our Slack channel.
---
5.

This year's IPO market has seen more women CEOs than usual take companies public
In April, Jennifer Tejada took PagerDuty ($1.08Bn mkt cap) public. PagerDuty exists to help companies deal with incidents within corporate networks including issues like service outages. It hit the public markets at $24 a share. The most impressive IPO in China has been Luckin Coffee ($8.76Bn mkt cap) led by Jenny Qian Zhiya. The Chinese challenger to Starbucks raised $561M in its IPO. The company's stock has been on an absolute tear, debuted on May 17 at $17 per share and trades now at $36 per share. Luxury online consignment shop The RealReal ($1.57Bn mkt cap), founded by Julie Wainwright, raised $300M in an initial public offering in June. In July, Medallia ($4.06Bn mkt cap) - a SaaS company specialising in real-time business intelligence co-led by Amy Pressman - executed an incredibly successful IPO, as measured by the 76% Day 1 pop. Cybersecurity company Cloudflare ($5.01Bn mkt cap), co-led by Michelle Zatlyn, rakes in $525 million after pricing its IPO higher than expected in September.
4. The

new generation of venture funds 

— founded, raised and led by experienced women
Why wait for the next promotion? More women are now raising their own funds. There's a fundamental shift in the inner workings of Venture Capital happeing right now and we are seeing a new generation of venture capital funds that are founded, raised and led by women and minority investors. In 2019, the diversity issue in VC expanded beyond women. This is by no means a complete list but here are the new funds born in 2019:
3. …With Bond, Mary Meeker made history in launching the first female-led venture capital fund to cross the billion-dollar threshold
The author of the Internet Trends Report raised $1.25Bn in capital commitments for her debut growth fund, Bond Capital. Meeker spun-out from the Kleiner Perkins growth investing practice in September 2018 to form Bond after an internal power struggle between her and another partner. Meeker, in her Kleiner tenure, was responsible for several of the firm's most-prized investments, including Airbnb, Uber, Houzz, Slack, Peloton and, more recently, fintech platform Plaid and subscription lifestyle brand FabFitFun. Bond so far led growth rounds of Canva, Nextdoor, Hippo Insurance and Relatively Space.
2. The proliferation of professional networks with shared interests and emphasis on peer education
In 2018, female-focused co-working started to become a thing. In 2019, most of these networks have also moved online. We are now seeing more and more communities aiming to encourage more meaningful connections - both online and offline - where women entrepreneurs, investors, and creatives can connect with like-minded peers: The Wing, Chief, Girlboss (now part of Attention Capital), Elpha, Bumble…and of course Femstreet. One oberservation we made is that any online platform with functionality to like, comment, or share one's work can these days lead to new career opportunities.
Another trend we are seeing is that high-profile entrepreneurs like Stitch Fix's Katrina Lake and The Riveter's Amy Sterner Nelson are using Stories on Instagram to mentor the next generation of entrepreneurs.
1. What Femstreet readers achieved in 2019
Just to name a few wins in 2019: MarTech Aiden.ai, co-founded by Marie Outtier, was acquired by Twitter. Meme editor Kapwing, co-founded by Julia Enthoven raised $11M. Check Warner launched Ada Ventures with a $34M debut fund to invest in overlooked founders. Valentina Milanova, Founder of "femcare" startup Daye, raised $5.5M in seed funding from Khosla Ventures and Index. Apprenticeship startup WhiteHat led by Sophie Adelman secured $16M in Series A financing led by Index and Lightspeed.

We held 12 events across London, San Francisco and New York this year. Members have found new jobs, investment opportunities and made new friends through Femstreet. More than 25,000 messages were sent on our Slack group since March, and we launched a membership, a premium version of our platform.



Thanks for being part of Femstreet this year.
We have big plans for 2020 and as you know, the growth of this platform has always been powered by YOU. If you have a few minutes, take this
very very short end-of-year survey.
Thank you!
We're ending 2019 with a lot of optimism about the year, and decade, ahead. We will be back with our weekly newsletter on January 12th.
Have a great start to 2020, friends!
👋Sarah