Discover more from Femstreet
Femstreet is a media platform amplifying female voices, accelerating their success and creating a culture of empowerment - where women lead, shape, and fund the future.
Over 19,000 subscribers
FemStreet22 Issue #9 - October 29, 2017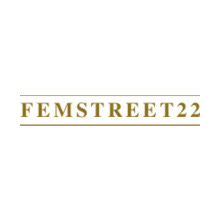 Your weekly newsletter on women in VC, STEM, female founders & femtech startups
FemStreet22 - Issue #9
👋🏻Happy Sunday from London and welcome to this week's FemStreet22!
Have you asked yourself why 22 and not FemStreet21? In Numerology 22 is the most powerful of all numbers and often called the Master Builder. The 22 can turn the most ambitious of dreams into reality. Positive Characteristics: great potential as a leader, organizer, builder, politician, entrepreneur or manager. It is confident, pragmatic, ambitious and disciplined. Negative Characteristics: When unaware of its own potential, the 22 will miss out on or shy away from necessary opportunities. It must work toward the realisation of goals that are larger than personal ambition.
Now you know why 22...What is your favourite number?
Here is what people were talking about in the 🌠Fem-universe 🌠this week:
---
Raising the ratio in VC 💸 👩🏽

- The group investing platform SheEO, founded by Vicki Saunders, is connecting crowdfunding with microfinance to back five female-led startups a year. The name SheEO might bring to mind the failures of a few "feminist" CEOs, but this investment fund's ideas have enough potential to outstrip its branding. SheEO has a plan to build a $1 billion fund for female founders

-Sequoia Capital hires First U.S. Female Partner. Jess Lee, 33, co-founder and CEO of the online fashion company Polyvore, will be the 11th partner and one of the youngest investing partners at the firm. Top Silicon Valley VC Firm Hires First U.S. Female Partner — And She's Badass

- Who is the first female partner at Union Square Ventures? Rebecca Kaden joins Union Square Ventures as general partner.

- Venture capital is well-known to be dominated by white men, causing many of the industry's few people of color to raise their own funds. Only 2% of senior venture investors are black or Latino, per a 2015 analysis by Social Capital. The (slowly) changing face of VC's next generation

- VC firms with women partners are twice as likely to invest in companies with a woman on the management team and three times more likely to invest in companies with women CEOs. Not only are they more likely to invest in women, but recent research shows that when women VCs do invest in women-led startups, they have a 32.1% greater chance of an exit. So, what do we believe will start to change this dynamic within this next decade? Answer: Women investing in women-run funds. Sexual Discrimination, The State Of Venture Capital And How To Fix It

- "We have to get more women into venture capital and through the ranks of technology companies. They're the next generation of founders. Don't make money for a**holes." For Women In VC, A New Mantra: Don't Make Money For Bad Men

---

Funds 📈 💸

- Social Capital announced an operating system for early-stage investing called "capital-as-a-service." Put simply, Social Capital will invest in startups without having to go through the process of a traditional pitch. It evaluated nearly 3,000 companies during its private beta and committed to funding several dozen across 12 countries. An interesting byproduct of the data-oriented approach was that CEO demographics skewed 42% female and majority non-white. (For context, female founders received 2.19% of venture capital funding in 2016.) Social Capital Will Let Data Decide Where It Invests

- Companies run by women and those that improve the lives of women represent a largely untapped multi-trillion-dollar market. Suzanne Biegel, a longtime gender lens investor and advisor, and the team over at the Wharton Social Impact Initiative have pulled together one of the most comprehensive lists of private equity, venture capital and debt funds explicitly investing with a gender lens. Meet 58 venture capital funds that are betting on women around the world

---
Women in STEM (science, technology, engineering and mathematics) 👩‍💻

- Tech's women are perhaps singled out and applauded, which is good. But what's especially helpful is to hear directly from women in tech about how they got there, and how others can get there too. How Women Fit into Tech: Insights From Expert Women Across the Technology Spectrum

- Is it that difficult to imagine a woman in STEM? Do people just stop listening when a woman starts talking tech? Why do I have to keep reminding people that even though there's a male in my company, I'm actually the one writing the code? "Under-promise, over-deliver" is one of the most important things I've ever learned about managing expectations. Dealing with Underestimation as a Woman in STEM

- Gender diversity is an undeniable variable in successful teams. How to hire more women in tech sales

- The aim shouldn't be to hire more women; it should be to find and hire the right female talent. SAP, for instance, increased its percentage of female managers from 18 percent to 25 percent by examining its "blind spots." Simply Hiring More Women Isn't Enough to Fix Tech's Gender Issue.

- It's not just movie moguls and politicians; the problem is rampant in STEM fields as well. But recent moves by major organizations could mark a sea change in addressing this entrenched, degrading behavior. Confronting Sexual Harassment in Science

- Mapping gender diversity at MIT. Data visualization map explores two decades of enrollment trends among female students at MIT.
---


Female founders
👩🏽
- In an effort to support more women entrepreneurs, a new all women-led accelerator has launched in Toronto with the specific purpose to get women founders investment-ready. The Big Push Accelerator wants to prepare women founders for their Series A

- These female entrepreneurs will give you #goals. 12 Women-Owned British Startups That Are Totally Killing The Game

- La French Tech: 10 startups founded by female founders in Europe you should follow in 2017 according to StartHer (in french)

- What skills should an aspiring founder prioritise? How to become a successful non-tech founder. Your passion and belief is the key, not your coding skills.

- Stitch Fix, founded and led by CEO Katrina Lake, files for IPO. It has won favor with women seeking to buy clothes regularly without having to go to stores. Stitch Fix may be the most cash efficient e-commerce marketing machine since the start of the modern Facebook marketing era. You love numbers? Read this and learn: Unboxing Stitch Fix's S-1

- Meeting with investors is nerve-wracking, but could lead to a life-changing opportunity. With so much on the line, it's important to come to the meeting prepared not only to show them your pitch deck, but to wow them, start to build a relationship with them, and give them confidence in how you'll solve problems that arise in the future. 4 Tips for a great first meeting with an investor
---


FemTech Startups ⚕👩
- The German smart fertility tracking startup Ovy has raised six -figure seed funding.

- Founded in 2013, Chinese femtech startup Meiyou has taken in $201 million in 5 rounds of funding to develop a menstrual cycle app that provides period prediction, female health analysis and individualized tips.
---


Events 🎉
- How she got there: an evening with female entrepreneurs at GA London on November 1

- Are you looking for investors, co-founders, entrepreneurs and also want to hear startups pitching their innovative products and services? Female Founders Pitch Female Funders #FFPFF on November 8th in San Francisco

- So, if you're thinking about a career in tech and wondering if it's right for you, come along to ASOS HQ in London on 13 November for an evening of inspiration and motivation. Women in Tech Presents: Girls Can Do It Too by ASOS Technology

- TBE ( The Building Entrepreneur) Round Table is a brand new innovative way of enhancing your startup by talking to likeminded female founders in a focussed evening of discussion. Female Founders Round Table Discussions on November 13

- Some of the Nordic's most successful female investors come together for a conversation on their experiences, and what they can do to encourage more female investors and entrepreneurs to join in on the fun. Nordic Female Investor Meeting 2017 #NFIM17 on November 21 in Malmö

- Virgin StartUp Networking: Female Founders Breakfast on November 28 in London

- Discussing femtech from head to toe at Disrupt Berlin with Chiaro, Clue, and Natural Cycles. Tickets are now available at a 30% discount. Grab yours here.
---

Off topic but Gold

- Venture-backed startups face great pressures to perform. The more money raised, the more pressure. One of the challenges well-funded startups face is defining performance. Toxic VC and the marginal-dollar problem

- New Direct-to-Consumer brands, also known as digitally native vertical brands (DNVBs) or V-Commerce brands, are trailblazing entirely new approaches to retail. Andreessen Horowitz partner Jeff Jones famously named this new era 'e-commerce 2.0.' DTC brands are very different from their e-commerce predecessors. They are financed, designed, produced, marketed, distributed and sold by the same company. Mapping V-Commerce - The Rise of Digital Vertical Brands by Aline Vedder, Director Comms at Acton Capital

I hope you enjoyed this issue. Wanna share the wealth? Please forward it to a friend and encourage her to sign up. This will make my Sunday.
Sarah

⬇️