Discover more from Femstreet
Femstreet is a media platform amplifying female voices, accelerating their success and creating a culture of empowerment - where women lead, shape, and fund the future.
Over 19,000 subscribers
FemStreet22 Issue #8 - October 22, 2017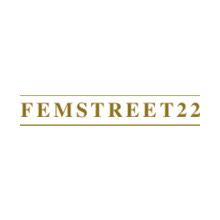 Your weekly newsletter on women in VC, STEM, female founders & femtech startups
FemStreet22 - Issue #8
👋🏻Hej hej from Stockholm and welcome to this week's FemStreet22!


#METOO
Do you think making noise is making change? From #MeToo to Now What? 7 Actions That Could Actually Help Stop Sexual Harassment
Here is what else people were talking about in the 🌠Fem-universe 🌠this week:
---
Women in VC 💸 👩🏽

- Experiential 'venture community' the Helm is supported by AirBnB's Joe Gebbia; aims to fight sexism in the age of Harvey Weinstein while delivering returns - Meet the women behind a new venture capital fund for female startup founders

- Campus Capital is nothing like your usual venture capital fund. The brainchild of Michael Howe and Samantha Deakin Hill, Campus Capital is based across Manchester, Sheffield and now Lancaster Universities where it operates as part-investment fund, part-student society. This groundbreaking VC fund is 50% women and staffed by students.

- EU-Startups has been working on the 2017 edition of their overview regarding Europe's most influential women in the startup and venture capital space. In total they have screened over 200 potential nominees. TOP 50: Europe's most influential women in the startup and venture capital space

---
Women in STEM (science, technology, engineering and mathematics) 👩‍💻

- Even as California's Silicon Valley struggles with diversity and discrimination, most of the area's tech companies won't share that basic data with the public. Companies are under no legal obligation to release the reports, and the government keeps them confidential. But a recent push for transparency led some tech giants, including Google and Facebook, to share their raw numbers. Hidden figures: How Silicon Valley keeps diversity data secret

- Lego and its community are paying tribute to four female pioneers of space exploration, with a Women of NASA Lego set to inspire of a new generation of scientists and engineers. Lego's official 'Women of NASA' set goes on sale November 1

- Google the word "doctor," and you'll see thousands of pictures of men. If you're a woman looking for a job, you're less likely to see targeted ads for high-paying roles than your male counterparts. Lack of Women in STEM Could Lead to AI Sexism

- Coding is a big part of the tech industry, but it isn't the only way to build a career in the field, executives say. Here are some other inroads. 5 ways women can build a career in tech without learning how to code

- Millennial women are well aware of the potential challenges associated with being a woman in tech from the start of their careers — for example, 82 percent of women go into the industry believing in the wage gap — nearly 90 percent would still recommend a career in tech to young women. Despite Wage Gap And Fewer Raises For Women, Professionals In Tech Still Encourage Young Women To Join The Industry

- 7 Things I Learned From the hErVolution Canadian Women in STEM Conference 2017
---


Female founders
👩🏽
- Do women have less access to investors than their male peers? Would more women found startups if they had better access to those networks? The key relationships that female founders lack

- "Women seem to start many different kinds of companies. They are starting commerce businesses of all sorts, from flowers to undergarments. Women entrepreneurs may also lack a financial background, which hampers them when they are considering how to raise money and expand their business" Innovating while female: Women entrepreneurs face long odds

- Will there be a female only WeWork soon? With the co-working industry projected to account for 10-15% of Southeast Asia by 2030 however, female-centric co-working spaces may be the next frontier that co-working conglomerates are turning to. We still don't know yet whether this model is sustainable for the long term, with no empirical evidence suggesting its efficacy. Why Female Co-Working Spaces Have Yet to Gain Traction In Asia

- New McKinsey research shows a gender and ethnic mix at senior levels is most effective and examples of how some multinationals have applied successful strategies: Female leaders boost the bottom line

- From self-driving cars to upscale cannabis, these entrepreneurs are building the next wave of innovative companies. Meet the Female Founders Behind America's Hottest New Companies

- Female entrepreneurs are not seeing their fair share of funding. Is it because most venture funds are predominantly or all male managed? Or are they just not asking for funding? omen led startups need to be made aware of various resources they can access to aid their ability to launch and grow their companies. Funding Sources for Women Entrepreneurs

- StartHer, formerly known as the French chapter of Girls In Tech, hosted Europe's biggest startup competition for female founders on October 19 with a record number of applicants from 30 countries. Vive La France: More Female Entrepreneurs Are Moving To Paris For Funding And Support

- Mental models are to your brain as apps are to your smartphone. Just like apps, there are a ton of mental models. They help you make decisions, solve problems and see the world in an entirely new way… they basically make your brain more useful. 13 Mental Models Every Founder Should Know
---


FemTech Startups ⚕👩
- O.School, a virtual classroom launching November 3 that provides shame-free, troll-free sexual education for women in the hope of changing the way we talk about the female body online and off. How This Former Venture Partner Is Using Sexual Wellness As A Tool To Empower Women

- Ovia Health, a leader in women's health, is fundamentally improving the way families are supported in the workplace. Their mobile apps, Ovia Fertility and Ovia Pregnancy, have helped millions of women start their families and live healthier lives.

- Prelude is a comprehensive fertility company focused on providing proactive fertility care to improve people's chances of having healthy babies when they're ready.
---


Events 🎉
- Women in STEM Welcome Event on October 24 hosted by OxFEST and Oxford Women in Computer Science Society.

- Women in Cloud: Munich on October 25. The event is open to everyone, but has a dedicated focus on engaging with technical women in the local Cloud community.

- Debbie Wosskow Founder Of Love Home Swap And Allbright Speaks At The TELL Series Events on October 25 at LBS

- Grind Female Founders Breakfast on October 26th at Grind NoMad in New York

- On November 3, Blooming Founders is hosting the Housewarming Launch Party for Blooms! It's a invite-only event just for Blooming Founders community members / newsletter subscribers, and their guests. The password to unlock the sign up page is "keepblooming".

- GTEC Open Lecture: Tanja Bogumil, Founder and CEO of Kisura on November 8th in Berlin

- Capgemini Insight Event: Women in Tech- 16th of November- London

- Women in Business: Breaking through your glass ceiling on November 20, is taking place in the beautiful glass fronted Royal Bank of Scotland in London.
---

Off topic but Gold

- How do you compare to your competition? Mixpanel found the average and best-in-class benchmarks in four popular industries for product innovation: financial services, media & entertainment, software-as-a-service (SaaS), and e-commerce & retail. The Product Benchmarks report 2017

- AI will affect different age groups, genders and employment sectors differently. What about geographical location? The impact of AI in UK constituencies. Where will automation hit hardest?

- A simple framework for understanding the impact of data network effects and incumbents' advantages in your industry. Routes to Defensibility for your AI Startup
---

I hope you enjoyed this issue. If you have some suggestions as to topics I should look at, interesting people to follow or even specific articles, then please contact me.

Have a great day and keep going on your path! 🛤 See you next week on FemStreet 22.
Sarah
If you enjoyed this newsletter, please forward it to a friend and encourage her to sign up.
⬇️