Discover more from Femstreet
Femstreet is a media platform amplifying female voices, accelerating their success and creating a culture of empowerment - where women lead, shape, and fund the future.
Over 19,000 subscribers
FemStreet22 Issue #7 - October 15, 2017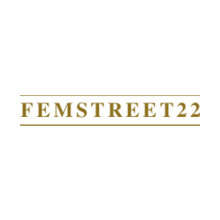 Your weekly newsletter on women in VC, STEM, female founders & femtech startups
FemStreet22 - Issue #7
👋🏻Happy Sunday and welcome to this week's FemStreet22!
I am writing from my hometown Erfurt in Germany today. I am in Stockholm end of next week, so let me know if you are based there.
Last week, I wanted you to think about what you've failed at. I like asking founders about their failures and things they would do differently if they had known them earlier. Why? A lot of entrepreneurs are held back from the fear of failure. The key to being great is the willingness to not be great along the way. The desire to fail on the way to a bigger goal is the secret to success. Most people think successful people are right all the time. This is not true. Always be willing to be wrong and learn. Adapt, change and persevere.
But here is what people were talking about in the 🌠Fem-universe 🌠this week:
---
For Women in VC 💸 👩🏽

- A Quarter of Fun. . .ds - XFactor Ventures, the name that Flybridge Capital has given to its $3 million fund aimed specifically at female entrepreneurs, on Thursday announced its first round of investments. The eight startups each have at least one female founder and are focused on tech ranging from digital scheduling assistant to financial planning software for the middle class. XFactor Ventures announced its first round of investments you can see the full list of investments here.
My favourite is Court Buddy, a legal tech platform that instantly matches consumers with vetted solo attorneys for flat rates based on their a-la-carte court-related needs and budget.

- Venture capital is known to be a boys' club—and while a few women have managed to join in, others are asking, "Why don't we just start our own?" The Helm is one such attempt. Launching to the public this week, the idea behind the female-led firm is to create a "venture community" in lieu of a traditional fund. Can 'Experience Investing' Help Female Entrepreneurs? The Co-Founder of Airbnb Thinks So

- When you ask a VC what's his number one criteria for investing in a company, you can be sure he will tell you that everything is about the team's quality! As we are all looking for the best founders, is there any common personality trait to all good founders? The entrepreneurship DNA: Are entrepreneurs born or made?

- The venture industry can seem like a black box — if you don't have connections, it's tough to figure out who is hiring and how to get a job. Justine and Olivia Moore on How to find a VC internship

- Extremely interesting: Preqin has compiled the inaugural Women in Alternative Assets Report using a database of over 200,000 industry professionals to highlight the trends in the workforces of active fund managers and investors.

---


For Women in STEM
(science, technology, engineering and mathematics)
👩‍💻
- Coding and digital literacy are a fundamental modern language and it is crucial to equip children with the skills and knowledge they need for their futures. England is the first nation in the world to make coding compulsory for five-year-olds and above. More in: Inspiring a generation of female coders

- Debbie Sterling, the founder of GoldieBlox, has made it her mission to inspire girls to love STEM to contribute to closing the gender gap in STEM fields. GoldieBlox is an award-winning children's multimedia company that creates toys, books, apps, videos and other products to "empower girls to build their confidence, dreams and ultimately, their futures." How The Founder Of GoldieBlox Is Creating The Next Generation Of Women In STEM

- The push for more diversity at tech companies has ignited a public debate about hiring and performance. The notion that hiring diverse talent 'lowers the bar' in any way is simply false, and it's harmful. When Silicon Valley Seeks Women, Some Men Fret About a 'Lower Bar'

- At Sephora, women make up the majority of its 350-person digital and engineering staff and hold all but one of the roles on its six-person digital executive leadership team. Women lead everything from digital marketing and customer experience in apps to back-end programming of the company's e-commerce systems. What Sephora Knows About Women in Tech That Silicon Valley Doesn't

- DIT launched a unique mentorship programme for female students in Engineering bringing students together with professional women mentors from Arup and Schneider Electric, two of the largest multinational engineering companies with operations in Ireland. Closing the gender gap – DIT launches programme for female engineering students

- Almost everyone in our mobile dev community uses Twitter. And if you're just starting a journey into iOS development following the right people can set you up for success. You can get dozens of fresh guides, hacks or video-tips. Awesome Ladies iOS Engineers to Follow on Twitter and 12 Inspiring Female Architects in Software and Data!

- Pay attention to women who have stories to tell about how STEM has failed them, and learn how you can make a difference. How Men Can Help Women in STEM: Shut Up, Sit Back and Listen

- One question I asked myself once: How do you report sexual harassment when there's no HR?

---
For Female founders
👩🏽
- Getting funded can be the biggest barrier to women's entrepreneurship. Advice For Pitching Investors From Female Founders Fund, an early stage investment fund just for women.
"What I find helpful is for people to have a very good grasp of the numbers and the unit economics behind the business that you're trying to build."

- "Remember that your best opportunities are in the spaces other people have decided are impossible." Anne K. Halsall, Co-founder & CPO of Winnie on Six Impossible Things Before Breakfast A look at entrepreneurship through the lens of uncertainty.

- Writing software is the easy part. Building a company that scales isn't. Aaron Batalion, Partner at LightSpeed Venture Partners. Co-Founder and 1st CTO, LivingSocial on Knowns vs Unknowns — Are you building a successful company or just typing?

- London's first female focused workspace and members club, Blooms, opened last Monday. Blooms offer super flexible, credit-based workspace memberships, a supportive community of founders & advisors, an on-site crèche and much more.

- Debbie Wosskow on how Successful leaders don't chase the day, they tackle it head-on

- Entrepreneurs rarely discuss this side of starting a successful business. We all tend to practice the mantra of "fake it till you make it" and showing vulnerability is thought of as a sign of weakness. The Emotional Cost Of Being A Female Millennial Startup Founder

- October is National Women's Small Business Month, and as a gift to themselves, I want female small business owners and entrepreneurs to give themselves a gift: Greater confidence: It's time to brag, women entrepreneurs

- I shared my visual list of the best readings with you last week. Here it is again in a different format: Collection of the Best Readings For Founders (& Anyone Interested in Scaling Companies)
---


FemTech Startups ⚕👩
- The Kindara App that empowers women to better manage their fertility goals counts 1.4M downloads, 160K active monthly user, is currently crowdfunding.

- Mental health costs the global economy $1 trillion a year. Recently, entrepreneurs have started seeing it as a commercial opportunity rather than just a chance to do good. How startups are using tech to tackle mental health – and when it's better to just switch off

---


Events 🎉
- Interested in coding and programming, but have no previous technical experience? You can still sign up for the Girls Only-Sky Technology Insight Evening - October, 16

- Festival of Female Entrepreneurs 2017 in Bristol on October, 20 will bring together some of the UK's most influential female entrepreneurs, business leaders and brightest start-ups to provide you with detailed and practical insight to grow your business!

- THE FEMPIRE COLLECTIVE: PYJAMA PARTY LAUNCH on October 21, London

- Celebrating Women in Business, in association with Telegraph Women, Veuve Clicquot and Devonshire Club on Wednesday November 1

---

Off topic but Gold

- Unilever acquired Carver Korea for $2.7 billion. Estee Lauder purchased Too Faced Cosmetics for $1.45 billion. CVC Capital Brands bought PDC Brands for $1.43 billion. L'Oreal purchased a trio of skincare brands for $1.3 billion, and also IT Cosmetics for $1.2 billion. E.l.f. Beauty did an IPO. They're not technology companies. But neither are shoes, glasses, athletic wear, razors, mattresses or the other consumer investments that VCs have been making in recent years. It's partly because everything now has an online distribution platform. So why have they missed out on this wave of beauty acquisitions? Should VCs be investing in beauty brands?

"The reality is that most VCs are male, and it's hard for them to see the value in a solution for a problem they don't personally experience. What all VCs do see is ROI, and that's what has given the beauty space the attention it deserves lately."

- This week the Carlyle Group, a big private equity firm, bought a stake in the one-of-a-kind brand Supreme for $500 million, valuing it at over $1 billion, making it the most valuable privately-held streetwear brand. An interesting question: how much upside is there for investors to capture when Supreme's entire brand is predicated on low retail prices and high product scarcity? This means that most of the liquidity for the brand's products is in the secondary market, which Supreme doesn't directly make a dime from. Why invest in Supreme when its secondary market is more valuable?
---

I hope you enjoyed this issue. Get your peers and colleagues into the conversation. If you have some suggestions as to topics I should look at, interesting people to follow or even specific articles, then please contact me.

Have a great day and keep going on your path! 🛤 See you next week on FemStreet 22.
Sarah
If you enjoyed this newsletter, please forward it to a friend and encourage her to sign up.
⬇️