Discover more from Femstreet
Femstreet is a media platform amplifying female voices, accelerating their success and creating a culture of empowerment - where women lead, shape, and fund the future.
Over 19,000 subscribers
FemStreet22 Issue #6 - October 8, 2017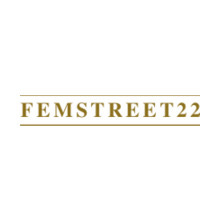 Your weekly newsletter on women in VC, STEM, female founders & femtech startups
FemStreet22 - Issue #6
👋🏻Happy Sunday and welcome to this week's FemStreet22!
For those who are following my travels, I am actually writing from London today and believe me, it feels so good to be home. I am in Berlin next week, so drop me a line if you're around.
In the first FemStreet22 issue, I asked you to write down your goals for the following week. Now I want you to think about: What have I failed at last week?
If you can't think of anything, go find something to suck at. If you can, give yourself a high-five. Then go fail at something else.
"Failure is another steppingstone to greatness."
Oprah

But let's get to the 6th edition of FemStreet22...
---
For Women in VC 💸 👩🏽
- In the first Crunchbase Women in Venture report (April 2016) the key finding at the time was that 7 percent of the investing partners at the top 100 venture firms were women. Crunchbase has announced the 2017 update to the Crunchbase Women in Venture report. What follows are the somewhat encouraging results from that updated analysis, as well as a detailed analysis of the firms that are making the biggest impact on the women in venture equation.

- 📚A visual list of the VC & business books I have read in the last year and my favourites are: The hard things about hard things, Good to Great, Startup, Angel, Outliers, Mastering the VC game and Rich dad poor dad and I am currently reading Principles by Ray Dalio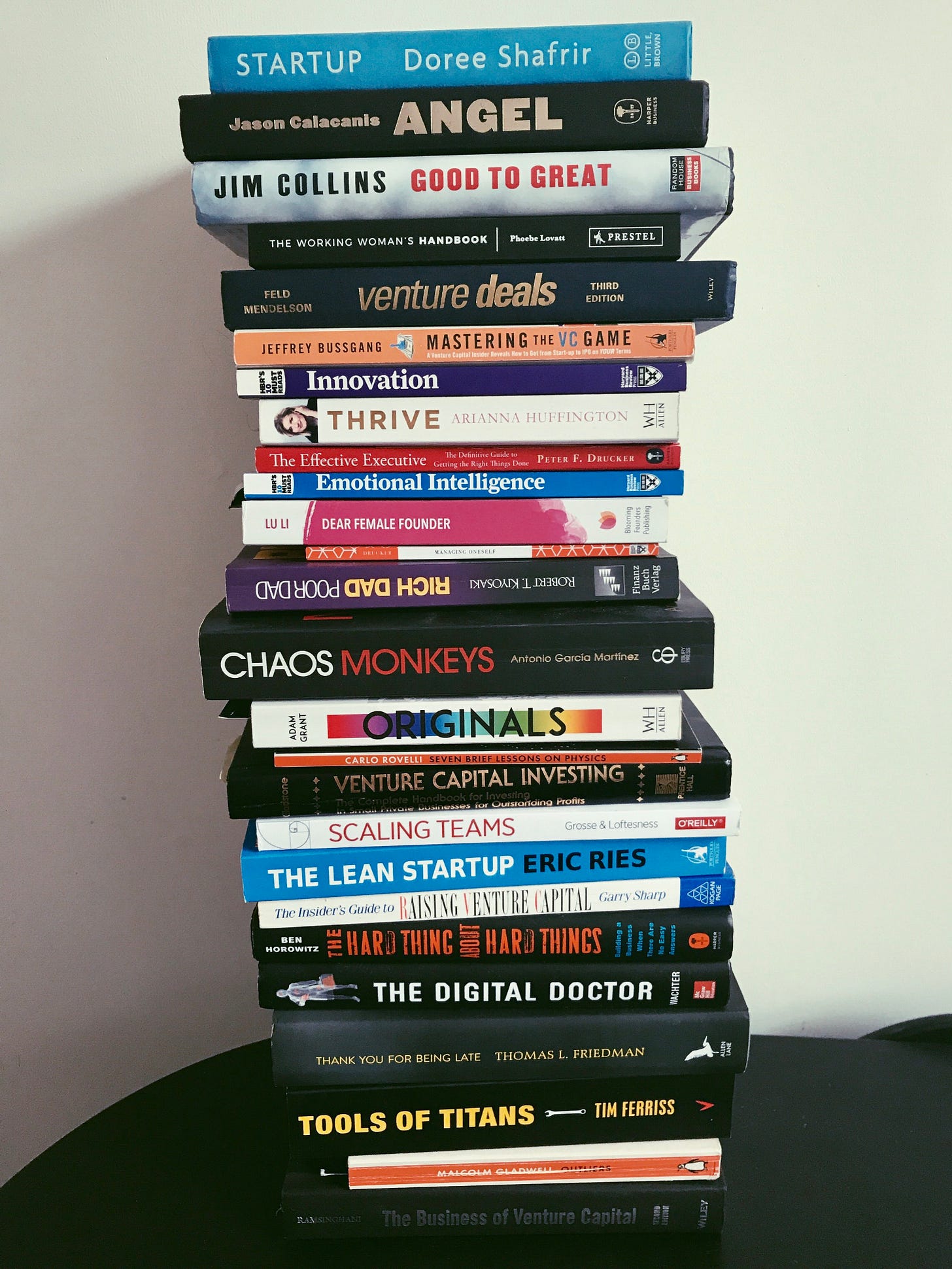 - As the venture industry grows and becomes more competitive and founder focused, capital alone doesn't create success stories. Here's what matters now: How the firm helps you build the community and ecosystem around your idea. That's where "the platform" comes into focus. The Rise of "The Platform" for Venture Capital Funds
- What makes a good VC? What's important to venture firms, limited partners and founders? Who are the best VCs and what makes them special? Decoding the Qualities of a Great VC
---


For Women in STEM
(science, technology, engineering and mathematics)
👩‍💻
- June Angelides set up Mums in Tech in 2015, as a way to give women both the digital skills and the confidence to build a career in tech. Her courses provide on-site nannies to help with childcare while the women learn, and have been hosted by organisations including Moo, Marks and Spencer and the Ministry of Justice. Interview with Mums in Tech founder June Angelides

- For the software engineer 💻 A cheat sheet for Laravel's Eloquent ORM version 5.5.

- As Vice President of Product at Facebook needed to manage her team remotely while on five months of bed rest during her pregnancy. Her continued success depended on rigorous prioritization and execution. How Facebook's VP of Product Finds Focus and Creates Conditions for Intentional Work

- Computer Weekly has announced the winner of its list of Most Influential Women in UK IT 2017, and is showcasing 50 of the top women in UK's technology industry.

- "I was supposed to be a software developer, if only because I looked and acted the part." Confessions of a Failed Female Coder by Caroline McCarthy

- If you consider yourself a STEMinist there's a growing list of women to look up to: 10 Girlboss Women in Tech and Their Advice For You

- Erin fisher of Boom Supersonic on how can we get more women to pursue aerospace engineering? Inspire them


---


For Female founders
👩🏽
- So how do you scale your business and grow without losing your (sense of) self? These six female founders shed light on slaying without burning out. Founder Burnout Is Real: 5 Ways To Prevent It

- If you're looking to launch or want to grow an existing business, you don't have to go it alone. Here are some incredible resources for female entrepreneurs: 10 great resources for women entrepreneurs

- "For me, and I think many women today, there's a need to have control over your destiny. Life is precious. It's easy to think you're not smart enough, or creative enough, to start your own business, but if I stopped every time I thought I had failed, I wouldn't have made it this far." Inspired or Frustrated, Women Go to Work for Themselves

- What happens when you find yourself in a new, traditionally male, position with no clear blueprint? 6 Leadership Tips for First-Time Female CEOs

- Three women leaders in the booming cryptocurrency industry are choosing to bypass the traditional venture funding route by capitalizing on a new fundraising mechanism known as "token sales" or Initial Coin Offerings (ICOs). ICOs Are Hot, But Can They Change the Fundraising Game for Women?

- Joseph Floyd of Emergence Capital Partners spoke with co-investors from other seed-stage firms, asking them a number of questions focussed on what it takes for founders to raise seed - How to Raise Seed Capital: Top Enterprise Seed Investors Share How They Analyze Investment Opportunities & What Founders Should Expect in Fundraising

- Megan Groves, Founder of InterimCMO on how to create a winning pitch deck: slide-by-slide guide on how to make your pitch deck what VCs want to see

- Elizabeth Kraus of MergeLane has a step by step guide for founders to keep documents and information organised while going through a diligence process - Organizing Your Docs to Prep for Investor Due Diligence

- Understanding the math of being a VC will help explain some of the questions entrepreneurs may have including - VC Math
---


FemTech Startups ⚕👩
-What's your fertility score? ModernFertility, is a YC backed company and the 23&me for fertility. ModernFertility allows fertility information more accessible for women and offers the first comprehensive ovarian test

- 100 percent virtual Maven Clinic gives you anytime, anywhere access to a variety of health professionals who can provide everything from a UTI prescription to mental health care and fertility support.

- Well-known tech entrepreneur and venture capitalist investor Saul Klein has launched Zinc, London's newest company builder. It will bring together 55 entrepreneurs from around the world to tackle this issue inside six months. Founders taking part in the first Zinc mission will be immersed in expertise on women's emotional and mental health.

---


Events 🎉
- Northern Stars, the biggest startup competition in the North, want to find 10 Northern Tech companies and help build their network, profile and meet investors - Applications close at 11.59pm on Tuesday 10 October 2017

- The first TBE Female Founders Club event takes place on October 18th in London where you will be hearing from high profile female entrepreneurs as well as giving you the opportunity to meet other interesting female founders. Emily Brooke, the founder of Blaze, a front laser bike light which projects a green laser image of a bicycle 5m (16ft), is going to be there as well.

- Fem Tech is an emerging tech industry on the rise. It takes digital health and targets the female market. The market is saturated with products for men yet 50% of the world's population are women. Yep, you can still sign up for the Blooms The Future is #Femtech event hosted by London's first business club for female founders and entrepreneurs.

- Matches Fashion and Mums in Tech will partner to bring tech,flexible working, confidence and mumpreneurship to more mothers in the UK. Mums in Technology and Matches Fashion invite for a morning of Fashion, Technology, Entrepreneurship and Self Development. MatchesFashion X MumsinTech - Fashion Recoded Tickets, October 14

- Women in Computer Science @ TUM Munich Welcome, October 26

- Startup Spritzer #34: Women Edition in Graz, Austria

---

Off topic but Gold

- "LPs have a license now to ask questions that are uncomfortable"
- In a terrific new report, Richie Siegel writes: "The direct to consumer economy is built on the promise of taking many commodities [socks, underwear, luggage, bedding, razors], building brands around them and then charging a significant premium for the products." But as Amazon begins to step over into the territory of modern luxury brands like, say, Away, how will this DTC economy fare over the long term?
---

I hope you enjoyed this issue. If you have some suggestions as to topics I should look at, interesting people to follow or even specific articles, then please contact me.

Have a great day and keep going on your path! 🛤 See you next week on FemStreet 22.
Sarah
If you enjoyed this newsletter, please forward it to a friend and encourage her to sign up.
⬇️