Discover more from Femstreet
Femstreet is a media platform amplifying female voices, accelerating their success and creating a culture of empowerment - where women lead, shape, and fund the future.
Over 19,000 subscribers
FemStreet22 Issue #4 - September 24, 2017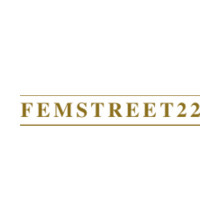 Your weekly newsletter on women in VC, female founders, operators and femtech startups
FemStreet22 - Issue #4
👋🏻Welcome to this week's FemStreet22!


I hope you had a good weekend so far. I am writing from Italy today, where I enjoyed the last days of summer with a group of friends from Germany.

Here is what people were talking about in the 🌠Fem-universe 🌠 this week:

This is the 20th year FORTUNE published Fortune's Most Powerful Women list. The 2017 ranking is comprised of 26 CEOs controlling $1.1 trillion in market cap, seven newcomers, one returnee, and nine women in the tech industry. Here are the names behind the numbers.
There is a lot of female talent in the UK as well. Do you also know anyone on the 'Women of the Future Awards shortlist 2017'? Congrats to my friend Nileeka, Founder and Creative Director of the Bollywood Co.
---
Women in VC and funds 💸 👩🏽
- We have heard it before but only 8% of venture capital (VC) firms in the U.S. have female partners, and that lopsided gender composition may be hurting venture capital performance portfolios. But what much of the VC world might not realize, is that female-led firms may have a higher rate of return on average than male-led firms. The Comprehensive Case for Investing More VC Money in Women-Led Startups

- Canaan Partners investor Maha Ibrahim says the lack of obvious female founder role models is setting women back. Ibrahim also praised former Kleiner Perkins Caufield & Byers partner Ellen Pao for "putting a nuclear bomb on her career"in 2015. There's no 'female Mark Zuckerberg,' and that's a problem for women in tech

- There's a shortage of women, non-binary people and men of color in the venture capital world. That's why Pipeline Angels, an angel investing bootcamp for underrepresented people in tech, has launched a VC-in-Residence program to help people from diverse backgrounds become managing or general partners at VC firms.

- VC firm General Catalyst hires first-ever woman as managing director. Holly Maloney McConnell is the first-ever woman in that role for one of the biggest venture firms in Cambridge, Massachusetts.

- Women-focused digital investment platform Ellevest raises $34.6M Series A led by Rethink Impact. Ellevest has plenty of competition from other, earlier digital wealth management platforms, including Betterment and Wealthfront, but it caters to women and thinks it can win marketshare by attracting female clients.

- Private Equity may be one of the worst financial services sectors for promoting gender diversity. Vaultier7, led by dealmakers Montse Suarez and Anna Sweeting, will focus on the beauty and personal care, health and wellness and lifestyle sectors. There is a new female-led private equity firm focusing on beauty, health and lifestyle that has launched a £65m fund

- 2017 isn't even over yet, and it's already provided more than enough evidence that the tech world still needs to diversify–from the uproar over the so-called "Google memo" to the shakeup at Uber over the ride-sharing platform's allegedly discriminatory work culture. These Four VCs Share How They Find Diverse Founders To Invest In
---


Women in Tech 👩‍💻
- In 2015, Ellen Pao lost her gender discrimination lawsuit against Kleiner Perkins Caufield Byers. What Ellen Pao's case—and advocacy—means to women in tech and in similarly male-dominated fields

- It's been the talk of the summer in Silicon Valley. CEOs at Uber and SoFi lost their jobs after whistleblowers came forward, alleging sexism and harassment. Workplace harassment isn't new, but we're talking about it more than ever. So what's inspiring these women to speak up? Read here Why women are coming forward about harassment and discrimination
---


Female founders
👩🏽
- Financial literacy among youth is a necessity in today's global world. To meet that need, entrepreneur and Washington, D.C., native Angel Rich has turned her passion into an app, and she's getting recognized for it. Meet Angel Rich, the entrepreneur whose app tackles financial literacy for youth

- The Silicon Valley gender narrative is firmly entrenched: Women don't get computer science degrees and don't start successful tech companies. Computer programmer Therese Tucker built BlackLine, an accounting software company whose stock is outperforming buzzy tech firms like Snap - Meet the Woman Who Broke Silicon Valley's Gender Barrier--and Built a $1.5 Billion Tech Company

- Starting and growing a successful business is no easy feat, no matter what your gender. The entrepreneurial field is riddled with competition, and as the leader of your own business, the stakes are high. Seven Things Every Female Entrepreneur Should Know

- The Wing, in New York City, is a membership-based, female-only co-working-space-meets-social-club that raised $8 million in funding from investors including Kleiner Perkins, NEA, and the co-founders of SoulCycle-and plans to scale nationally. But do Women-Only Networking Groups Help or Hurt Female Entrepreneurs?

- What is the biggest barrier between a woman entrepreneur and her path to success? The fear she creates in her own mind. Sama Jashnani, Co-founde prof DownToDash on Overcoming Fears as a Female Entrepreneur

- Girls just want to have funds. Join the 'Roadmap to Funding' webinar on September 27 with Vicky Brock, former founder of retail startup Clear Returns, sharing her story on how she raised £1.5 million for her startup.
---


FemTech Startups ⚕👩
- No more leaks - control your bladder again. CarinWear receives $3 million dollar boost. Together with an exercise app, their smart underwear can track and monitor the reduction of urine loss resulting from the practice of pelvic floor exercises.

- Here are the Stockholm Startup Weekend FEMTECH winners

- The financial struggles of a young startup beloved by mothers highlights a blind spot of the male-dominated venture capital industry. The smart breast pump I featured last week: Mothers Love It. VCs Don't
---


Events 🎉
- You thought about founding a company or have had first experience working at a start-up or respectively at a venture capital firm? You are in advanced stages of your STEM studies? Get your ticket for the Female Tech Leaders Women in Venture Capital workshop with coaches from next47 & Unternehmertum Venture Capital Partners on October 17 in Munich

- You can meet me at The Future is #FemTech event on Wednesday, November 1 in London

- Womenintech Nordic 2017 EXPO takes places online on the Women's Entrepreneurship Day on November 19. Want to exhibit? It's free!

- UK's first female-focused startup conference Startup&Bloom 2017 is here: Save the date November 21 and 22 in London 🔥
---


Off topic but #GoodReads

- Brad Feld has been one of the most influential investors whose candid approach has positively impacted millions in the tech ecosystem. Inside the Mind of a VC: Brad Feld of Foundry Group.

- 'Doing an 8x fund is probably 100x harder than one 8x exit,
But being founder 100x harder than VC' - A Controversial Thing for VCs to Say

- Post-Brexit, London's startup loss is Berlin's gain: The hottest startups in Berlin

- EQT Venture's Hjalmar Winbladh says entrepreneurs in Europe need to unleash their full potential and resist the urge to sell before they've built a global success story - European entrepreneurs - it's time to think bigger!

- These Corporate VCs Tee Up The Most Inside Acquisitions
---


Should you have any questions, simply reply to this email.
I want to hear from you! Share your secrets of success, stories of failure or memorable challenges with me. Tell me about your entrepreneurial journey.
Have a great day and keep going on your path! 🛤 See you next week on FemStreet 22.
Sarah
If you enjoyed this newsletter, please forward it to a friend and encourage her to sign up.
⬇️