Discover more from Femstreet
Femstreet is a media platform amplifying female voices, accelerating their success and creating a culture of empowerment - where women lead, shape, and fund the future.
Over 19,000 subscribers
FemStreet22 Issue #2 - September 10, 2017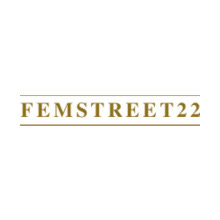 Your weekly newsletter on women in VC, female founders, operators and femtech startups
FemStreet22 - Issue #3
👋🏻Welcome to this week's FemStreet22! I hope this email makes your inbox happy.
I am slightly hungover today from last nights Kräftskiva (crayfish party) with my Swedish friends in London. For those who have never been to one: it's a traditional summertime eating and drinking celebration in the Nordic countries and all you do is basically eat crayfish (if you managed too), drink snaps and stand up to sing a Swedish song every two minutes. Fortunately, song books are always included.
Big thank you to the ladies that told me about their struggle with the sign up process. In case you did not receive the newsletter last Sunday, check out the piece
At the end of the newsletter last week, I asked you to make a list of your key goals for the week ahead. Having a written list means your goals won't get lost in the jumble of draft tweets and browser tabs that tend to dominate our lives. In case you haven't achieved any of your goals quite yet, let's make sure you kill it this week. Don't forget that you are the director of your life. Don't wait for things to happen.

Here is what people were talking about in the 🌠Fem-universe 🌠 this week:
---
Women in VC💸 👩🏽
- So if diversification is one of the most fundamental principles of investing, then why wouldn't diversification of viewpoint include gender as an absolutely fundamental principle on which every investor would base their decisions? VC fund investors struggle to react to Valley's gender issues (Originally published by the Financial Times)

- Sara Weinheimer, former angel investor and founder of BroadMic, a podcast for and about female entrepreneurs, investors and industry leaders on what 19 Years of Angel Investing Has Taught Me About Women Entrepreneurs

- It's no secret that one of the best ways to advance your career is to learn from others who've been successful: Lessons From 5 Fearless Leaders In Tech, Venture Capital And Entrepreneurship

- Whoop Whoop Khosla Ventures adds two women to investment team: Kristina Simmons and Kanu Gulati

- At Inspirefest 2017, seasoned entrepreneur Anne Ravanona offered some pearls of wisdom for female investors and women-led start-ups. How can we encourage more women into the world of venture capital? (It's worth watching the video until the end)
---


Women in Tech 👩‍💻
- Erin Griffith moved from FORTUNE to WIRED. This is her latest terrific piece on why Tech's Lack of Transparency Around Harassment Is Dangerous

- Angela Ahrendts is Apple's only female executive and the only executive. Read here why it absolutely matters what Angela Ahrendts, Apple's retail boss, wore on stage during Apple's iPhone launch event.

- Now, over the past year, at least a dozen women have publicly shared their stories of being discriminated against and harassed in tech by their managers, by investors or by board members. Ellen Pao on if anything really changed for women in tech in the last year

- Becky Case, VP of engineering at BirchBox on what can be done to further promote female entrepreneurs and women in tech

- Some of the biggest roadblocks for women in STEM (science, technology, engineering, and mathematics) include a lack of role models and the idea of feeling like an "outsider" in the industry. These 6 STEM Veterans Share Their Best Advice For Women Interested In Tech
---


Female founders
👩🏽
- Melinda Gates says Closing the gender gap in venture capital deserves our immediate and sustained attention

- Emily Weiss, founder of Glossier, raised a $24M Series B round last November to support international growth, product development across new categories, and technology. This week, Glossier launched Body Hero, Daily Oil Wash and Daily Perfecting Cream, with stunningly diverse campaign photos. You can officially put Glossier on your entire body.

- Blonde Silicon Valley CEO dyes hair to Be 'Taken Seriously', Women In Tech Say She's 'Not Alone'

- Rachel Renock, CEO and Cofounder of Wethos gives actionable advice for female founders fundraising

- Letting go of an employee who is not serving your business any longer isn't a particularly pleasant experience for any gender. It seems women have a harder time with it than men. Tips on Firing as a Female Founder

- Female lead Entrepreneur First announced its $12.4M funding round lead by Greylock Partners this week. Meet the startups that just pitched at EF's 8th Demo Day in London - 1/3 are female lead

- After all the the headlines, there's more hard work to be done. For Women Entrepreneurs or VCs, Doors Will Only Open If We Pound on Them, Loudly and Persistently

---


Featured FemTech Startups ⚕👩
- The lack of women in high-ranking medtech positions is nothing new. But is there change on the horizon? With the rise of a new sector dedicated to female health products and devices – femtech – this might help boost the number of women in healthtech careers?

- Kali is a chemical-free, organic tampon and pads subscription service.

- Even though millions of mothers pump breast milk, the technology hasn't really advanced in decades. Naya Health redesigned the traditional breast pump to create a better pumping experience for mothers everywhere.

---


Events 🎉
- The WWClub is hosting THE LONDON LAUNCH - BOOK BRUNCH + WORK PARTY to celebrate the launch of The Working Woman's Handbook on September 21st in London. I will be in Italy at that time but I have ordered my copy on Amazon already.

- The next event by FutureGirlCorp takes place on September 22 at Campus London and you can still register for free.

- WeAreTechWomen, the Technology arm of WeAreTheCity is hosting its second full day conference for female technologists in London on November 30.
---


Off topic but #GoodReads
- 'Why who, what and how eat awards for breakfast' an overview of the topics to be prepared to discuss when pitching investors by Erik Byrenius from Nordic Makers.
- The Most Important Startup Question by David Skok
- The high startup failure rate can be attributed to new companies' inability to develop repeatable and scalable business models. Founders must continuously measure their business' expenses and earnings. Josiah Humphrey on Burn Rate 101 for Startups: A 15-Min Introduction
- Why early-stage startups should wait to calculate LTV:CAC, and how they should use it when they do by Jared Sleeper
- Ben Blume, VC at Atomico on why AI is now on the menu at dinner, even with my non tech friends

---

Speaking of Atomico, if you are in Europe it's worth completing their survey on The State of European Tech 2017

Should you have any questions, simply reply to this email.
I want to hear from you! Share your secrets of success, stories of failure or memorable challenges with me. Tell me about your entrepreneurial journey.
Have a great day and keep going on your path! 🛤 See you next week on FemStreet 22.
Sarah
If you enjoyed this newsletter, please forward it to a friend and encourage her to sign up.
⬇️