Discover more from Femstreet
Femstreet is a media platform amplifying female voices, accelerating their success and creating a culture of empowerment - where women lead, shape, and fund the future.
Over 19,000 subscribers
FemStreet22 Issue #17 - January 7, 2018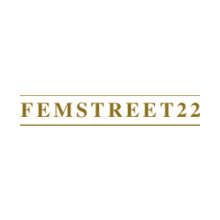 Your weekly newsletter on women in VC, STEM, female founders & femtech startups
FemStreet22 - Issue #17
👋🏻Hey FemStreet22 Fam, long time no see! I hope you had a good start to the new year.
I won't ask you what your resolutions are for this year but I want you to at least think about 2-3 professional and personal objectives. Each year we start laser focused on the goals we set for ourselves. Last year I even created an excel document with my personal and professional objectives and I updated it after Q1. But please be realistic. I think it's good to set personal goals for what you want to learn in the next year and ask yourself how you can improve and what you're afraid to do.

Here is what people were talking about in the Fem-universe in 2018 so far:

---

From the investor 💸

- Diversity VC was set up by five young venture capitalists in March to highlight the fact that most British venture capital investors are middle-class white men, with a knock-on effect on which startups get funding. Now pro-diversity group Diversity VC is planning to expand to the US and will be backed by partners and associates at Female Founders Fund, Entrepreneur First, and financially by law firm Cooley. ~ Diversity VC is expanding to the US to challenge venture capital's monoculture

- Nicole Quinn from Lightspeed Ventures on Being a Girlboss

- A Rising Tide Of Women Fund Women Entrepreneurs In 2018 And Beyond

- Hayley Barna has been making waves in the tech world since the beginning of her career. In 2010, she launched subscription beauty delivery service Birchbox, which is one of a small number of VC-backed companies founded solely by females. More recently, Barna joined First Round Capital as an investor, becoming the venture capital firm's first female partner. ~ Q&A: Hayley Barna on her journey from founder to investor

- The sage venture capitalist Fred Wilson looks back at his predictions for 2017 — and what really happened — and ahead to what he foresees for 2018. Three macro themes dominated the past year in tech, he says: The breakout of crypto/blockchain, the beginning of the end of white male dominance and the backlash against tech. ~ Top venture capitalist Fred Wilson predicts the year in tech

---

From the operator 👩🏽 💻

- That feeling when you get mansplained to about lipstick because your coworker's wife works at Sephora. ~ I was The Only Woman In My Company For Two Long Years

- From Qudini CEO Imogen Wethered to Trouva co-founder Mandeep Singh, these smart people get an incredible amount done, in an impossibly short space of time. ~ How To Boss It Like… Tania Boler CEO at Elvie

- Born in California with Iranian roots, Roxanne Varza today runs Station F in Paris, the largest startup campus worldwide, backed by Xavier Niel. ~ Queen of 1,000 startups – Interview with Roxanne Varza, Director of Station F

- For nine years in a row, this tiny Nordic nation has topped the World Economic Forum's ranking of nations with the smallest gender gap. ~ Iceland becomes the first country to make employers pay men and women equally

- Driven by outrage and a resolve to correct a power imbalance that seemed intractable just months ago, 300 prominent actresses and female agents, writers, directors, producers and entertainment executives have formed an ambitious, sprawling initiative to fight systemic sexual harassment in Hollywood and in blue-collar workplaces nationwide. The initiative includes a legal defense fund, backed by $13 million in donations, to help less privileged women. ~ Powerful Hollywood Women Unveil Anti-Harassment Action Plan

- Brigitte Hackler of High Alpha on Walking the Tightrope of an Early-Stage Startup

- CES, the world's largest electronics trade show, kicks off next week, with the first official events starting Sunday, Jan. 7. At the conference, attendees will get a glimpse of the year's newest technology, hear keynote speeches from top industry leaders, and try futuristic products. The top keynote speakers (those who will address the conference audience alone, rather than as part of a panel) are all male, and five of the six are white. ~ The top keynote speakers at CES are all men. Here's why that's a problem
---

Featured Femtech startups
- German startup Trackle develops a wearable device which helps women to determine their individual fertility window.

- EZbra offers an advanced solution designed to address the difficulty and discomfort many post- op patients experience with current breast-wound dressings.

- myLAB Box is a home-based lab company specializing in STD testing.

---
Events 🎉
- January 9 in London, Female Founders - Creating a job you love by Maven

- January 9 in Gothenburg, Female Founder Roundtable: How to Get Ahead in Entrepreneurship

- January 11 in London, Blooms Masterclass: How To Use Public Speaking To Grow Your Business In 2018

- January 16 in London, AllBright Pitch Day

---

#GOODREADS before you head out for Sunday Brunch

- Three Lessons Learned after (almost) Three Years in the VC World by Clement Vouillon

- Distributed applications, teams, genes and geographies will shape the future of VC in 2018
P.S.: If you like FemStreet22, why not share it on Twitter or Linked or with your colleagues and friends?
See you next Sunday,
Sarah
⬇️