Discover more from Femstreet
Femstreet is a media platform amplifying female voices, accelerating their success and creating a culture of empowerment - where women lead, shape, and fund the future.
Over 19,000 subscribers
Femstreet - Weekly Newsletter on Women in Tech, Entrepreneurship and Diversity in Venture Capital

Issue #66
Your Weekly Newsletter on Women in Tech, Entrepreneurship and Diversity in Venture Capital

This is issue No. 66. The last issue had a 51% open rate and the top two articles were:
The Year in Review for female founders and funders

What a year it's been. Here are the top 10 stories:

1 - With Her 'It's About Damn Time' Fund, Arlan Hamilton Is Bringing $36 Million In VC Funding To Black Women. Arlan Hamilton, the founder and Director of Backstage Capital, has announced that her firm will be investing $36 million specifically towards black women. Backstage has already invested more than $5m in 100 companies founded by underestimated founders. Hamilton is now the first Black woman who is not an entertainer or athlete to be on the cover of Fast Company. In the business magazine's October issue, Hamilton talks about why she created a $36m dollar venture fund for Black women founders.

2 - It was the year of Venture Capital promotions. Andreessen Horowitz adds third female partner to its top tier in just three months. Sarah Guo breaks through at Greylock, becoming one of the first female general partners in the firm's 53-year history. VC firm Maveron promotes Anarghya Vardhana to Partner. Kirthiga Reddy becomes first female venture partner at SoftBank. Rebecca Kaden joins Union Square Ventures as general partner. Atomico promotes Sophia Bendz to Parter. Lightspeed hires Jana Messerschmidt as its second female investment partner.


3 - Research finds Venture capital's major diversity problem: 40% of venture capitalists went to Harvard or Stanford. It is no secret that venture capital is homogeneous when it comes to gender and race. But now there's new data shared by VC Richard Kerby on the industry's lack of diversity, including a previously-unstudied metric: educational background.

4 - Women's health takes centre stage. Women make up just about 49.5% of the world's population. And 80% of household healthcare spending is done by women. Investments into female healthcare have exploded in 2018. As more young adults delay parenthood and the number of same-sex couples starting families climbs, demand for such services has perhaps never been higher. Startups targeting women's healthcare have raised $1.1 billion in venture financing since 2014 and there is even a FemTech fund, Portfolio, which invests exclusively in emerging technologies, products and services focused on improving women's health and wellness.

5 - These are the 14 Venture Firms that are helping to close the massive gender funding gap. These 14 funds should be on every female founder's radar.

6 - All Raise female VCs team up with female founders across the U.S. to pay it forward: Unveiling the Female Founder Office Hours Deal Flow Network. All Raise, a new nonprofit organisation that's behind diversity and inclusion efforts like Female Founder Office Hours (FFOH) and Founders for Change (FfC), wants to increase the amount of funding female founders receive. All Raise also launched VC Champions, a mentorship program that will match women and underrepresented men with general partners—men and women—at top venture capital firms.

7 - Female-focused co-working is booming. The Wing raised a $75 Million Series C led by Sequoia Capital with support from Airbnb and Upfront Ventures, as well as existing investors NEA and WeWork. and The Riveter raised a $15 Million Series A with the aim to open 100 female-focused co-working spaces.

8 - More women are raising their own funds and go bigger. Aileen Lee raised Cowboy's third fund. Kirsten Green raised Forerunner Venture's fourth fund with $360m in capital commitments. Mary Meeker is leaving Kleiner Perkins to run her own fund and reportedly looking to raise up to $1.25 billion. Ex-Index VC Ophelia Brown launches Blossom Capital.

9 - The portrait of a founder as a young man is finally coming to an end. The more women who achieve billion-dollar exits, and the highest level of startup success, the easier it will be for others to follow. Only a few blockbuster startup success stories feature women, but the number of women leading 'unicorns,' startups valued above $1 billion, is rising.

10 - Female founded Eventbrite IPOs and gains 60% in its market debut. Founder Julia Hartz joins a tiny but growing list of female founders to steer their companies onto the public markets.


Sounds like 2018 was good year for the female-driven economy? Unfortunately, we still have a long way to go. Despite efforts to level the playing field for female entrepreneurs, U.S. female-founded startups have raised just 2.2 percent of venture capital investment in 2018, according to PitchBook. Unfortunately, the portion of VC-backed startups founded by women stays stubbornly stagnant. In Europe, VC firm Atomico found that 93% of VC funds go to all-male founding teams and 46% of women in European tech reported that they have experienced discrimination in 2018.

We can do better in 2019, right?
Femstreet x Firstminute Capital

Femstreet is giving away 10 tickets to our invite only FemTech event on 9th of January in London. If you're a FemTech founder or interested in the space, please reach out but be quick!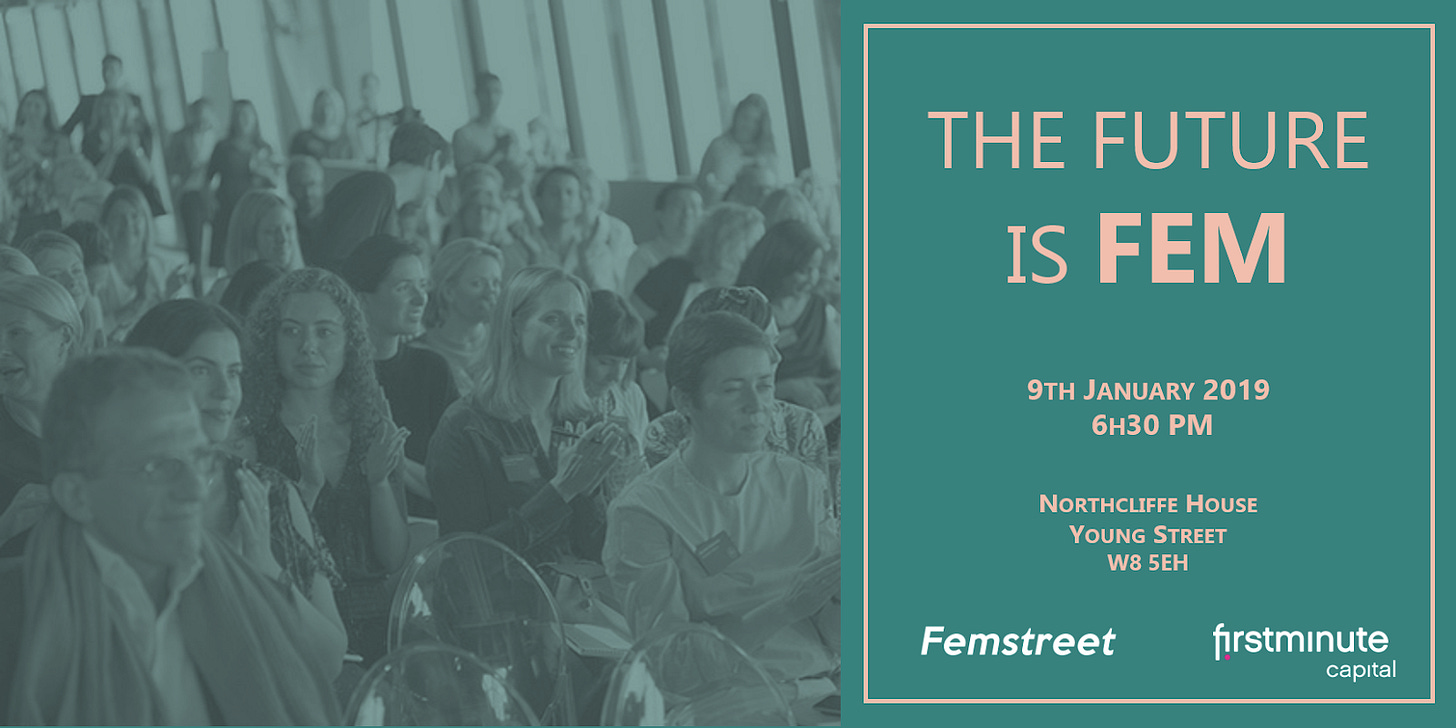 What's your top business-related prediction for 2019? We've spoken to several Femstreet readers and will share their thoughts early next year. If you'd like to share your prediction with me and other Femstreet readers in January, please submit your prediction until January 4th.
This is the last newsletter of 2018. The Holiday period is the perfect time to detox from digital devices and Femstreet. It's about your family, friends and food.

Thanks for taking part in the subscriber survey last week. I can't wait to build out the Femstreet community in 2019!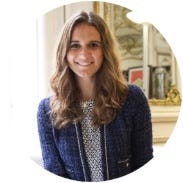 🎉Wishing you a happy and healthy New Year 🎉

Sarah