Discover more from Femstreet
Femstreet is a media platform amplifying female voices, accelerating their success and creating a culture of empowerment - where women lead, shape, and fund the future.
Over 19,000 subscribers
Femstreet Issue No. 74 - Weekly Newsletter on Women in Tech, Entrepreneurship and Diversity in Venture Capital

Issue #74
Your Weekly Newsletter on Women in Tech, Entrepreneurship and Diversity in Venture Capital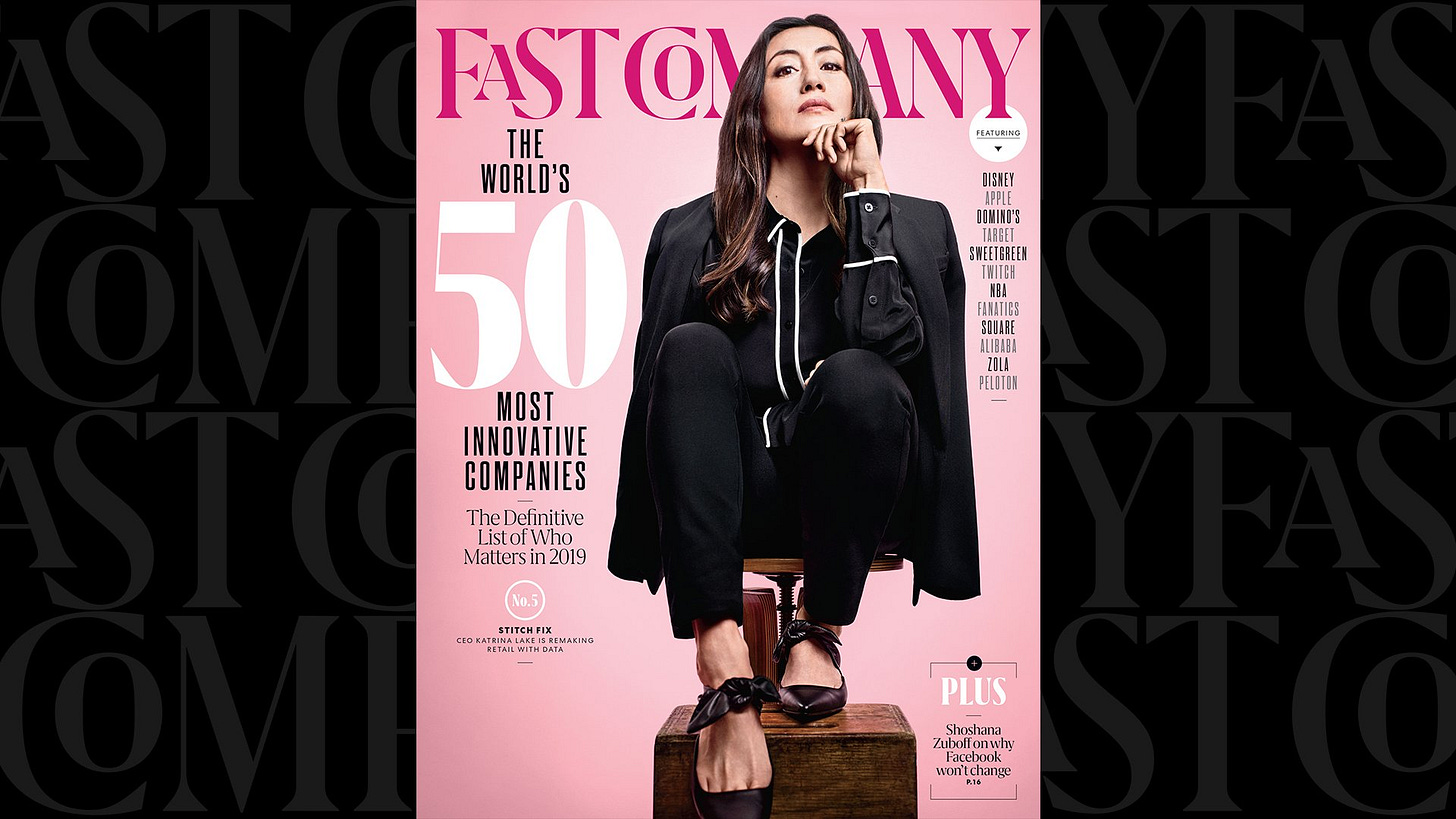 Stitch Fix CEO Katrina Lake | Fast Company
Hi there, I am back from holiday with loads of energy and a pretty nice tan but I've missed you.

This is issue No. 74 and the last issue had a 46% open rate. The top two articles from last week's special edition curated by Anisah of Backstage Capital were:
50

FastCompany released the 2019 list of the 50 world's most innovative companies. We are thrilled to find female founded companies such as Zola, Modern Fertility, Away and Stitchfix on the list. Even better is that Katrina Lake will be on the cover of the March/April issue. Stitchfix raised $43M in funding and is doing $1.2B in revenue. When she took Stitchfix public in 2017, at age 34, she was not only the youngest female founder to ever lead an IPO (correct me if I am wrong) but also the first to stand at the Nasdaq podium while holding her toddler on her hip.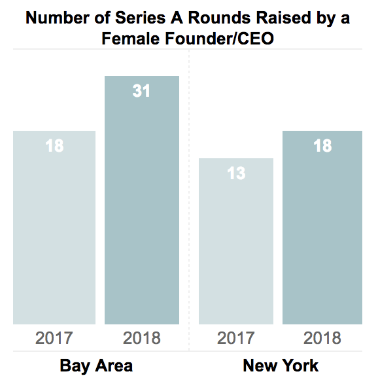 2018 Review of funding for female founders.
Female Founders Fund's 2018 Review of funding for female founders shows that New York is more female-founder-friendly than ever and female founders are seeing significant returns on exits. EF announced a $115m fund and creates a new stage of VC - Talent Investing. The 23 most powerful LGBTQ+ people in tech. Once female founders raise their first round of funding, the odds get better, a new study shows. A male CTO's lessons on working with female-majority team. How Bumble re-engineered online connections for women. Lightspeed Venture partner Nicole Quinn Nicole on why female-led businesses are finally getting the recognition they deserve.
Angel investor Joanne Wilson on the survivor mentality of female founders and why investing in women entrepreneurs and diversity works.

Elizabeth Yin, Co-founder of Hustle Fund, on how to go from $0 to $1m revenue in 1 month with just < $25k in ad spend.

Clara Lindh Bergendorff of first minute Capital on investing in the cool kids: Gen Z-centric startups.

Does your job title matter to you? Bethany Crystal, GM at Union Square Ventures on titles and influence.

The next wave of social systems are unlikely to look like the current dominant platforms. Rebecca Kaden, Partner at USV, on the new evolution of communities and connections.

Interested in venture? Read the Q&A with e.ventures' Marguerite de Tavernost. In a separate blog post, Marguerite shared a few observations on winning marketing strategies for consumer companies.
Mathilde Collin of Front on the merits of building a transparent organisation and how Front practices transparency and how to run an efficient and effective All Hands meeting.

Karen Wickre, former Editorial Director of Twitter and introvert, on how to make connections that count.

Caitlin Roman, Product Manager at Medium, on how to build a subscription business, three principles to align value, convert users, and keep them happy.

These young black women are making waves in the field of technology sharing the advice they have to offer other young women looking to follow in their footsteps.
Dashl is a Stockholm-based company developing a digital hair and beauty booking platform.

Rekki is a London-based company that released a free mobile app that allows you to order and chat with any supplier. Rekki raised $20m from Benchmark Capital end of last year.

Berlin-based STARK Mobility develops smart electric mobility solutions for modern consumers.

Based in Ireland, Beats Medical develops technology solutions for people with Parkinson's disease.

Dublin-based TandemHR facilitates insightful ongoing feedback between managers and teams to deliver accelerated growth.
👉 Apply for the Viva Technology & 50inTech Female Founder Challenge to win exclusive appointments with influential VCs and get 2 free Startup passes for the 3 days at VivaTech in Paris.
🔥🔥A practical list of resources about venture.

The Fundraising Bible
Juniors in Tech - A newsletter & job board for juniors in tech.
Download the Diversity and Inclusion toolkit for entrepreneurs.
Here are 588 women in the UK who could speak at your tech event.

👉 Access the database of female founders (featured in Femstreet) here.

Whether you're a founder, VC fund, corporate or accelerator, email me for collaboration inquiries.
Comments, questions, tips? Send me a note!
Sarah, Founder / Editor in Chief
@femstreet
Want more?