Discover more from Femstreet
Femstreet is a media platform amplifying female voices, accelerating their success and creating a culture of empowerment - where women lead, shape, and fund the future.
Over 19,000 subscribers
Femstreet Issue No. 64 - Weekly Newsletter on Women in Tech, Entrepreneurship and Diversity in Venture Capital

Issue #64
Your Weekly Newsletter on Women in Tech, Entrepreneurship and Diversity in Venture Capital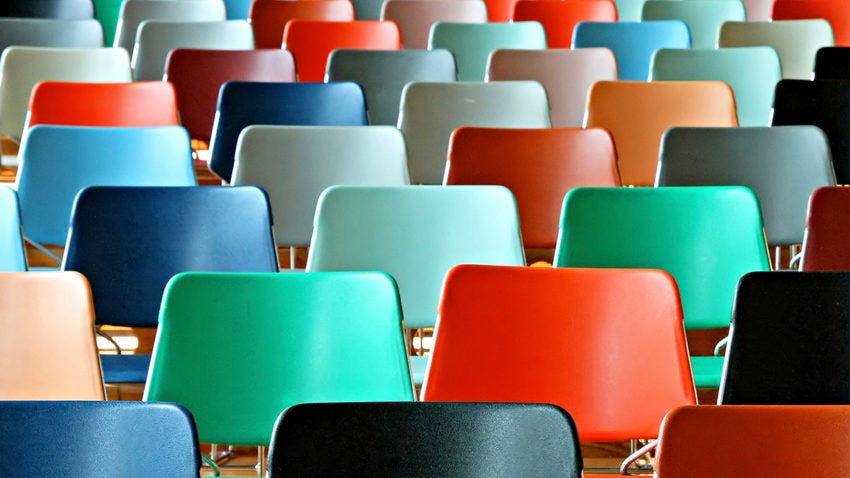 This is issue No. 64. The last issue had a 58% open rate and the top two articles were:
This week, Atomico released its 2018 State of European Tech report - the largest and most comprehensive dataset on European tech. This year the focus was on diversity and inclusion. Here are four facts about the issue:
93% of VC funds go to all-male founding teams in Europe.

46% of women in European tech reported that they have experienced discrimination.

Out of 175 CTOs that work at VC-backed European tech companies that raised Series A or Series B in the past year only ONE is female.

The share of women by position of senior leaders and founders of selected European Series A and B venture-backed companies shows no improvement compared to a similar analysis from 2017.
You can explore all the data at the #soet18 website and download the report.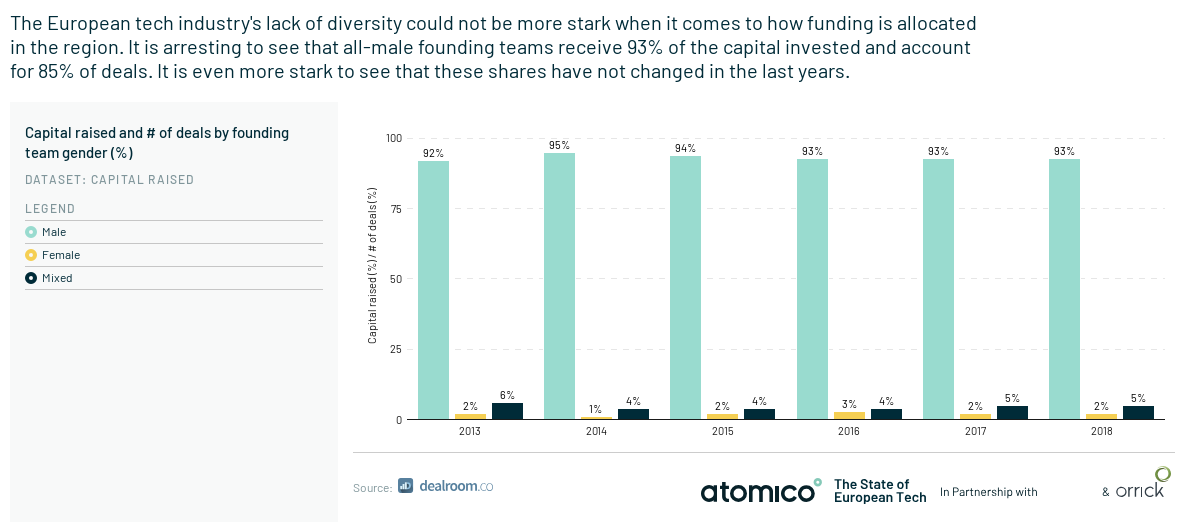 Also this week, Diversity VC and Atomico officially released a free Diversity and Inclusion Guidebook - a practical resource for entrepreneurs to plan and implement diversity and inclusion in their companies. Get the report at www.inclusionintech.com and #StartToday.
Insights

From the Investor

Sarah Tavel, General Partner at Benchmark, shares her reflections on becoming a parent.

As a founding partner at Passion Capital, she co-parents five children under 13 with her partner, Tom, in north London. Venture capitalist Eileen Burbidge on sexism, motherhood and women in tech.

Anarghya Vardhana is the youngest partner at Maveron, the consumer-focused venture capital firm. 30-year-old VC Vardhana shares 3 tips for breaking into tech.

Sarah A. Downey, Principal at Accomplice, shares further lessons from Star Trek episodes: Have parity of video chat on business calls (most of the time) & Don't disregard employees' input just because they're junior

Melinda Gates sees signs all around her that leaders in computer science are taking the challenge more seriously and coming up with innovative ways to address it. The next Bill Gates won't look like the last one.

DFJ Partner Heidi Roizen: Sexual Harassment Allegations Are a 'Wake-Up Call to Any Firm'. In a wide-ranging conversation, Roizen discusses a number of topics including how DFJ dealt with the allegations and what the firm is doing differently today.

Caitlin Strandberg, a principal investor at Lerer Hippeau, is looking beyond direct-to-consumer for the next generation of retail.

Jane VC, a new early stage venture capital fund that invests in high-growth female led startups, on the 4 things that make them say yes and the things they don't care about.

Ex-Facebook exec Kirthiga Reddy becomes first female investing partner at SoftBank's Vision Fund.

VC Firm Lightspeed adds five Partners. The full lineup of new Lightspeed partners is Jana Messerschmidt, Merci Victoria Grace, Ashley Brasier, Jerry Ye and Jay Madheswaran, with Neetzan Zimmerman joining as vice president of growth. The additions are 50 percent female, a good move for Lightspeed. Two of its newest hires, Messerschmidt and Grace, are particularly active advocates of women in tech, too. In a separate post, Messersmidt also shares why she joins Lightspeed.
Love data? This is a must-read! Check out this week's recommended reading by a male investor. Ali Tamaseb of DCVC spent 300 hours gathering data on billion-dollar startups and here's 100 Charts you shouldn't miss. Land of the "Super Founders"— A Data-Driven Approach to Uncover the Secrets of Billion Dollar Startups
From the Operator

Most Powerful Women In Tech In 2018: With Greater Power Comes Greater Responsibility. The 2018 World's 100 Most Powerful Women list celebrates the icons, innovators and instigators who are using their voice to change power structures and create a lasting impact.

Stumbling into Product-Market Fit: Lessons from a Startup CEO. Colette Nataf, Co-founder of Lightning AI on How she went from 3 to 100+ customers in 2 years.

How to Price Your Product for Long-Term Success. Here are five things to consider when you set the price for your product.

Abadesi from Product Hunt shares her key takeaways from Blavity's AfroTech conference in Silicon Valley.

This is why women leave jobs in tech. Not only are there still very few women in tech jobs, the ones who are there leave at a much higher rate than their male counterparts. Here is why and what we can do about it.

The COO: Why do you need a COO? The seven COO archetypes, how to become a COO and words to operate by. Cori Land on how COOs started their careers, what their responsibilities include, how they interact with the rest of the C-Suite, and what mental models they use to be successful.

This Founder Raised $42M To Start A Digital Health App For Women. Kate Ryder is the founder of Maven Clinic, a New York telehealth startup that provides healthcare services to women, easily accessed using a mobile app, that has secured $42 million in venture funding.

Emily Maskin, Engineering director at Simple Contacts, Stop Telling Women to 'Act Like a Man'

Mona Zhang of Bra Theory share the lessons that she learned in the past 3 years about bra engineering and entrepreneurship. It's been a wild ride of highs, lows, successes, and failures. More in What we learned from 3 years of bra engineering, and what's next.

If you want a raise or a promotion at work, Girlboss CEO Sophia Amoruso says to consider one thing first: You don't get what you don't ask for. 6 tips for negotiating your next raise.

Sharmadean Reid MBE, founder of Beautystack on Why Beauty Treatments Won't be Disrupted by AI.
Research

Pitchbook takes an inside look at VC's gender gap in carried interest.
So, when analyzing the gender gap in how investors are paid, it's important to consider as many factors as possible. In the world of venture capital, a core element of compensation is carried interest—the share of profits from an investment that goes to GPs. A clear trend emerged: While women can often earn close to equal and even more in total cash, they often receive significantly less in carried interest. Hiring more women is a good start but 'we must also examine the ways in which we mentor, evaluate, promote and compensate women investors, and take measurable steps to improve our practices'.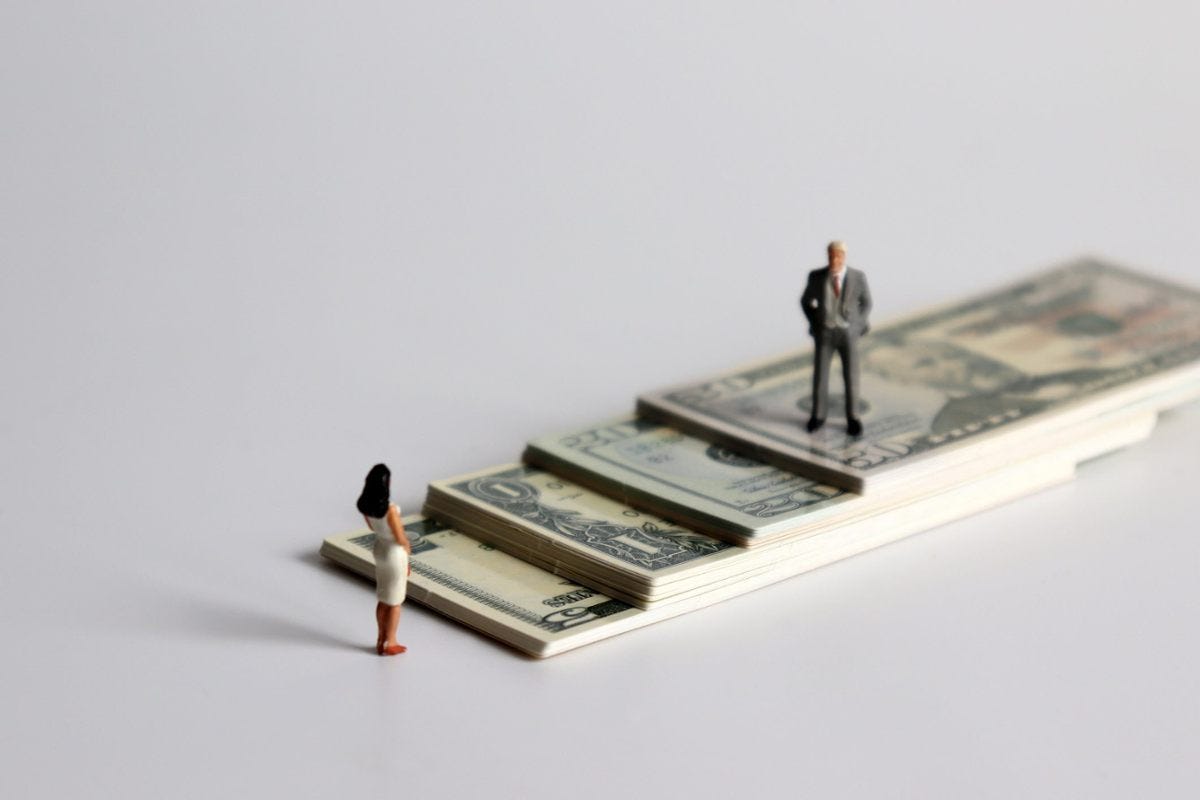 To retain talent, most organizations offer the typical things: free coffee and tea in the break room, competitive benefits, generous raises and bonuses, and employee recognition programs. To Retain Employees, Focus on Inclusion — Not Just Diversity.
...And Elsewhere

Magic Leap loses two women from top executive positions. Birth control delivery startup Nurx now offers an at-home HPV testing kit. VMware to train 15,000 Indian women in tech for free. The Company Behind Corona and Svedka Vodka Invests $100 Million to Support Female Entrepreneurs. If profits beat ethics, is ethical tech possible? Simply put, yes. There is a different genre of tech startup that values impact over profits. It's okay for men to let go of some power for the sake of equality. This was supposed to be the year of the woman. But dozens of female political operatives say they weren't invited to the party. Michelle Obama Just Said 'Lean In' Doesn't Work. Here's the Study That Proves She's Right.
#BuiltbyWomen Europe

Oslo and SF-based Megacool lets mobile gamers seamlessly record and share gameplay GIFs via messaging channels.

Stockholm-based Optimus is a personal development marketplace for passionate people to take part in affordable, bite-sized challenges with real coaches to improve skills and habits, achieve life goals and be part of a supportive community.

Dublin-based &Open is the first gifting platform dedicated to helping brands delight their customers and build long-lasting relationships

The Swiss startup Ledgy develops a platform where you can track all your shares, manage your ESOPs and model detailed financing rounds.

The Irish fintech AQMETRICS develops a legal governance, risk & compliance (GRC) software for financial services firms trading on the global financial markets.
📆 Events

Build your startup in SF alongside kick-ass immigrant founders: $20,000 investment. Free housing in SF for 3 months. Pro bono immigration lawyer. Lifelong friends and mentors. Apply by January 6th!

- December 11th in London: Open Conversations: The True Cost of Being a Female Founder

- December 11th in Berlin: Sistership! Women in tech w/ Delphine, Zalando & Liz, Chatterbug by The Family

- December 12th in London: GET STARTED: INVESTING! The Female Only Workshop Night by Vestpod

- December 12th in Stockholm: FemTech Sweden Presents: Her success is not my failure

- December 12th in Stockholm: Connecting Fintech - how to diversify talent

- December 14th in London: Female Founders Christmas Fair by Blooming Founders

- December 14th in London: Hatch Enterprise Pitch Day - BAME Female Founders Incubator
In case you missed it ...

Here are 536 women in the UK who could speak at your tech event.

Investor Insights
Operator Insights
Research
Access the full list of the top Femstreet resources here.
Partnership Opportunities
Whether you're a VC fund, accelerator or a founder, email me for collaboration inquiries. (Just hit send, it's already filled out!)

Femstreet 2.0
How can we make Femstreet a better experience? What would you like us to improve or see next? Submit your idea here.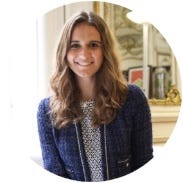 Comments, questions, tips? Send me a note!
Until next Sunday,
Sarah