Discover more from Femstreet
Femstreet is a media platform amplifying female voices, accelerating their success and creating a culture of empowerment - where women lead, shape, and fund the future.
Over 19,000 subscribers
Femstreet Issue #38 - Weekly Newsletter on Women in Tech & VC

Issue #38
Your weekly newsletter on women in tech, venture and entrepreneurship
This is issue No. 38. The last issue had a 42% open rate with 20% clicking on Why Melinda Gates Has Been Funding Female VCs Through Her Secretive Investment Firm
Insights

From the Investor

Raising A Fund? 9 Questions That Help Get You To GP/LP Fit
by Elizabeth"Beezer"Clarkson of Sapphire VC Medium

Silicon Valley's Portfolia Launches Nation's First FemTech Fund
First of its kind fund dedicated solely to FemTech is launched by female-led firm. Over the course of 12 months, as a member of the FemTech Fund, you will have an exclusive opportunity to make an impact by investing in top early-stage companies in the nascent women's health and wellness space. PR Newswire

Melinda Gates says the early rise of 'male-focused' computer games is a big reason there are fewer female computer science graduates today than in the 80s and 90s. Business Insider

The AllBright , the first women-only private members club to open a second venue in Mayfair
Debbie Wosskow, who sold travel company Love Home Swap for $53 million (£39 million), and former Hearst chief Anna Jones launched The AllBright in Fitzrovia in March. Wosskow revealed that an AllBright Mayfair is set to open in Maddox Street in early 2019 — the first in a series of openings planned across London over the next two years. Evening Standard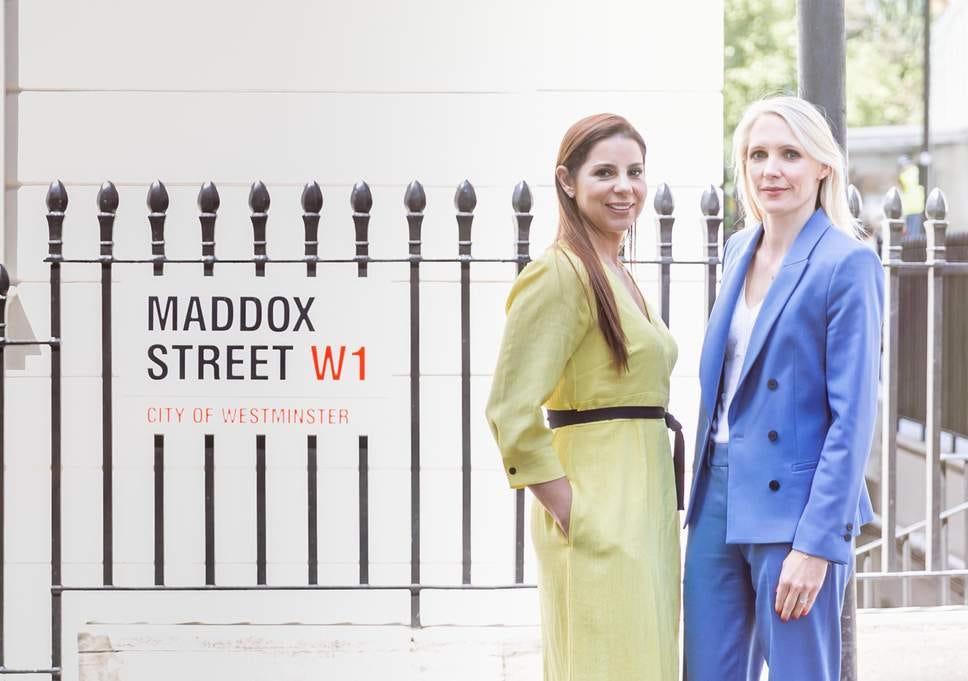 What John Doerr Taught Me About Great Investing, Why Not All A Rounds Are Post-Traction and Why Despite Overfunding, There Is Still Gaps In Venture Financing with Trae Vassallo, Founding Partner at Defy.vc The Twenty Minute VC

Arlan Hamilton's Backstage Capital has invested in 100 startups with underrepresented founders
When venture capitalist Arlan Hamilton started writing checks three years ago, she promised herself—and the underrepresented founders she planned to back—that her firm, Backstage Capital, would make 100 investments by 2020. Now, two years early, Backstage has achieved that goal. As of this week, the firm has invested in 100 companies with at least one founder who is a woman, person of color, or LGBTQ. Fast Company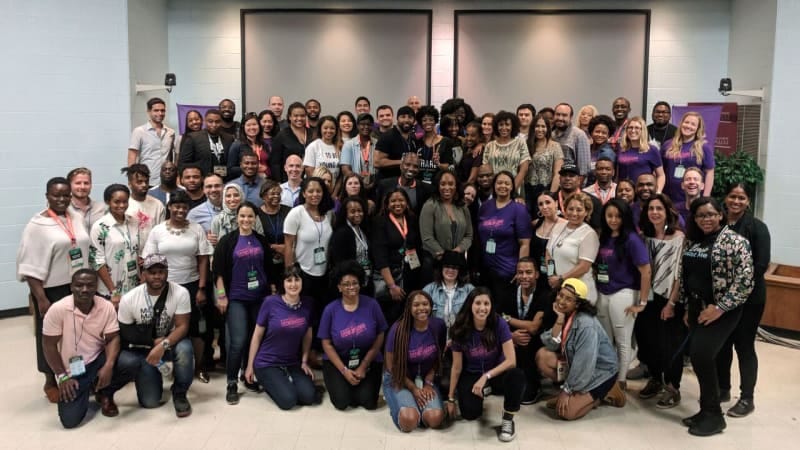 Led By Female Founders For Female Founders, VC Fund XFactor Ventures Has Big Plans To Triple In Size
With an investor group of nine all-women operators running their own businesses, XFactor Ventures is small but growing fast, with plans to triple in size and add new partners in its second fund. After backing 19 women-led startups so far, XFactor now has big plans to expand. Forbes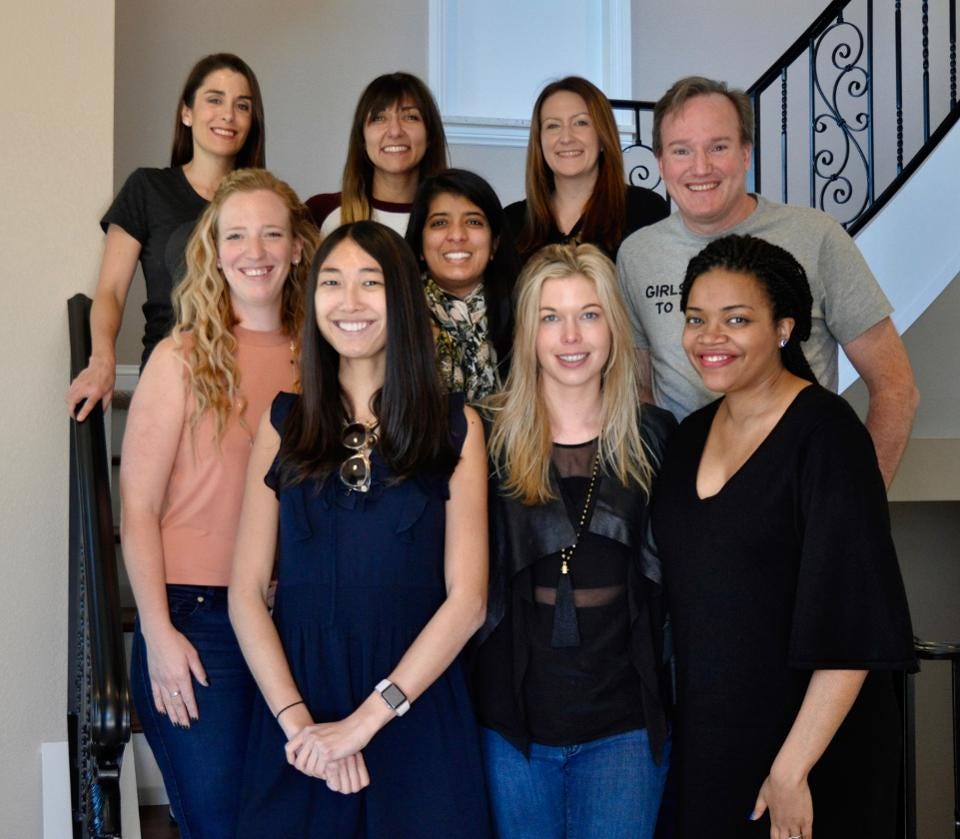 Consumer Packaged Goods are ripe for disruption by Nicole Quinn of Lightspeed Venture Partners Medium

These angel investors want to bring women into startups early—and get them equity
This investing collective of six former Twitter executives, called #Angels, says that if more women have representation on the cap table — the legal document that lays out equity stakes in a company — that will help boost female leadership and wealth creation, and turn more women into VC investors who can back women-run startups. #Angels is focused on educating women and men alike on the value of bringing in female executives early and giving them shares. CNBC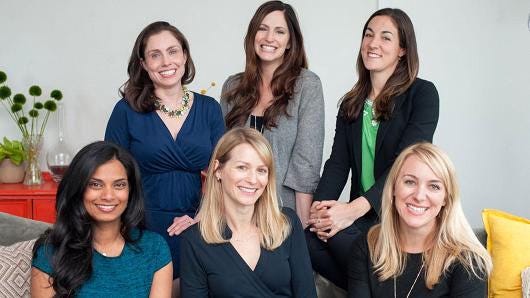 From the Operator

Former Wall Street CEO reveals how most financial products designed for women completely miss the point
Sallie Krawcheck has led Merrill Lynch, Smith Barney, and Citi Private as CEO. She is now the co-founder and CEO of Ellevest, a digital financial advisor for women. According to Krawcheck, the problem with many investment products designed for women is that only the marketing has changed. Sometimes in a condescending way, "Don't buy shoes; invest in the market." Business Insider

6 Globally Successful Female Entrepreneurs Who Started Out Late in Life
These supremely successful businesswomen prove that age really is just a number. Entrepreneur

Ty Haney Is the Queen of Recreation - The 29-year-old CEO of Outdoor Voices is taking on Nike, one color block at a time
A beautiful portrait of my friend, the queen of #DoingThings, who is building Outdoor Voices with so much passion and authenticity. Outside Magazine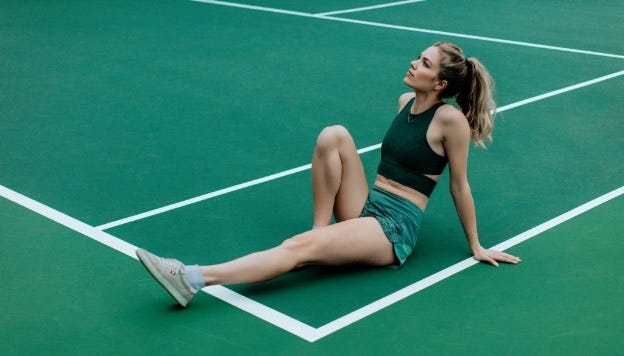 I'm A Mom Who Started Her Own Company. Here's Why I Want People To Stop Calling Me A 'Mompreneur' by Michelle Kennedy, the CEO and co-founder of Peanut. Mind Body Green

How Disney is turning women from across the company into coders
Nikki Katz's CODE: Rosie program gives employees already well into their careers the chance to reinvent themselves as software engineers. Fast Company

I'm a Mother of 9 and the Head of Personal Finance at a Trillion Dollar Investment Firm. Here Are My 6 Secrets for Work-Life Balance Time

How 3 Teenage Women Created Apps Before Finishing High School & Earned Recognition From Apple
Meet 3 Teen Women Who Won Apple's 2018 WWDC Scholarship. Refinery29

How to Transition From the Corporate World to Entrepreneurship as a Working Woman
Transitioning from corporate to entrepreneurship can be a scary prospect as a working woman. Here's how to approach it. Entrepreneur
Women in tech: meet the woman who brought co-working to London | London Evening Standard
Forget WeWork, London wouldn't have co-working spaces if it weren't for Huckletree's Gabriela Hersham. Evening Standard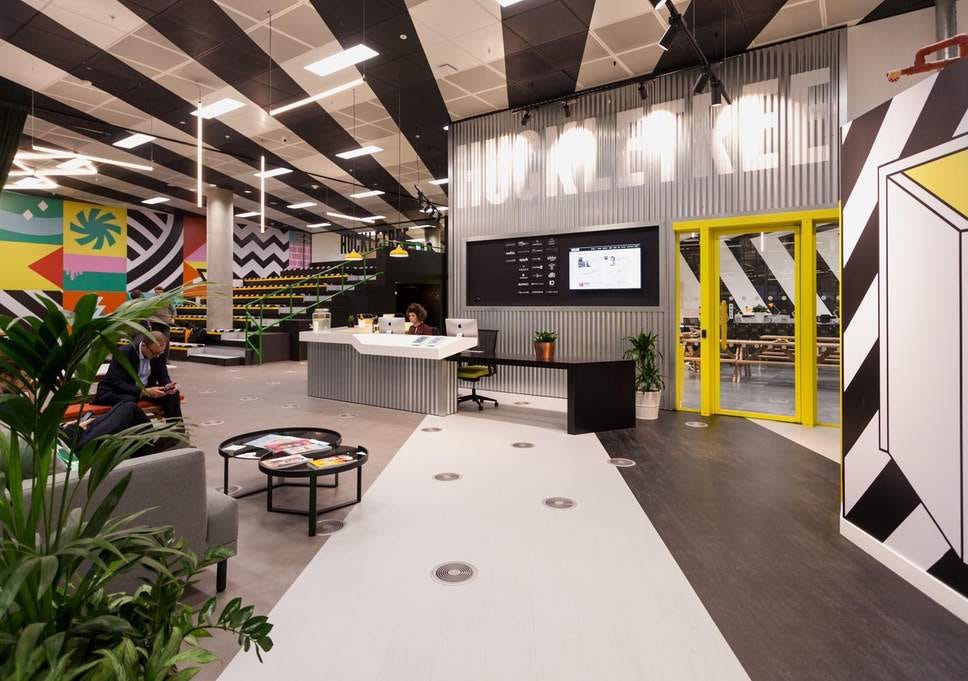 Stitch fix blows out Wall Street's expectations and announces the launch of Stitch Fix Kids
Female founded Stitch Fix, one of last year's high-profile IPOs, has had a bumpy ride for the past few quarters — but it blew out expectations this afternoon for its most recent quarter, and the stock went absolutely nuts. Techcrunch

Kate Spade's death shines a light on the pressures of being a woman in leadership
The unexpected suicide of prominent designer Kate Spade has shed light on the sometimes unequal pressures faced by women in leadership and the struggle for mothers to "have it all." NBC News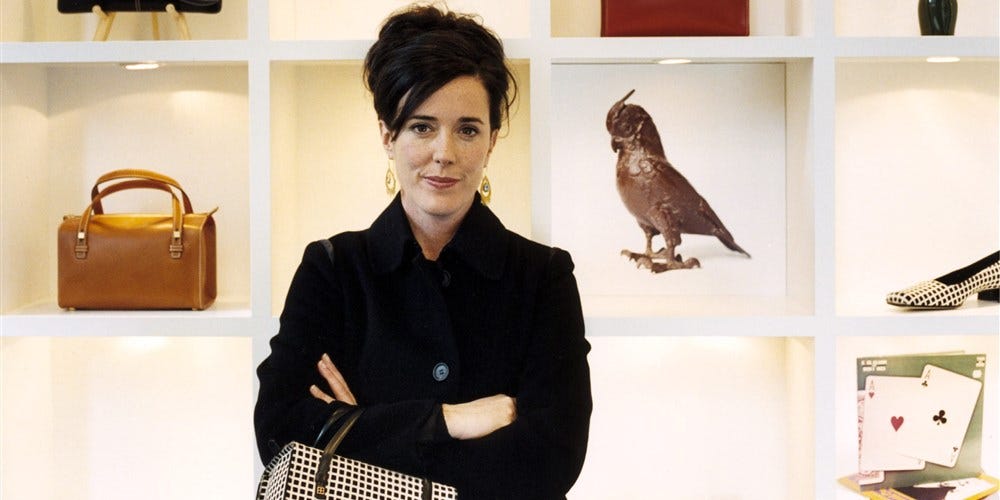 Research

Boston Consulting Group finds female-led startups raise less, earn more
Why Women-Owned Startups Are a Better Bet BCG

Why Female Entrepreneurs Have a Harder Time Raising Venture Capital
There is a subtle but important difference in the questions investors tend to ask. Scientific American

Why Women Hold the Majority of Student Loan Debt in America
In total, women hold nearly two-thirds of the outstanding student debt in America, nearly $900 billion as of mid-2018, the report says. Fortune
#BuiltbyWomen

💰 SciApps the [All Female Management] team behind SkinNinja, the UK's fastest growing health & skincare app, announced it has significantly oversubscribed its Seed Round, to over $1m/£750k. Voulez Capital leads the round and includes participation from Firestartr and the London Co-Investment Fund (LCIF).

💰MoloFinance scores £3.7M seed funding to offer a fully digital mortgage. The round is led by Ubon Partners, a Nordic fund specialised in financial services, and will be used to launch the company's first product release later this summer.

💰 Jessica Alba's Honest Co Gets $200 Million Investment From L Catterton.

🏫 Stockholm-based Sana Labs is an artificial intelligence company that applies recent breakthroughs in deep learning to personalize education.

⚖️ London-based Enforcd develops a global regulatory intelligence platform that helps firms train staff, save costs, keep up to date with regulatory change.

📈 Sigmastocks develops and distributes stock portfolios to individuals and businesses in Sweden.

Add your company to the
List of Female Founders in Europe
📆 Events
The team at the Europas has reserved a block of free tickets, to ensure that they include more women and more people of colour to join them on July 3rd in London. Apply here - Europas 2018: Diversity Application

Here are 536 women in the UK who could speak at your tech event.

Revolut is running free monthly coding classes for women at their new office space in London.

All Raise will run a three-part workshop for women founders over two days at Disrupt SF.

- June 11th in London: Female Founders First - LTW

- June 12th in London: GET STARTED: INVESTING! The Female Only Workshop Night hosted by Vestpod

- June 13th in London: Breakfast at Dishoom with Anisah Osman Britton of 23 Code Street

- June 13th in Stockholm: Women in FinTech-lunch

- June 18th in London: How to get Publicity for Your Start-Up - An Event For Female Entrepreneurs

- June 20th in Paris: Women in Blockchain France

- June 21st in Paris: WAI Summer Camp Paris 2018 - Women in AI

- June 25th in London: Selling on an Online Market Place - Female Founders in Retail

- June 28th in Berlin: SheLovesTech Germany 2018

- June 30th in Munich: Female Tech Leaders Html/css crash course
Essential Reads of the Week

How startups die from their addiction to paid marketing
A brilliant piece from Andreessen Horowitz's Andrew Chen who argues that marketing on platforms is tricky to grow, at scale, as the primary channel. Saturation is a real thing: As brands buy up their core demographic, they have to focus on folks who are non-core––and who are less responsive. Many VC-backed brands are confronting this dynamic as we speak. Andrew Chen

The 5 Forces Driving Startup Valuations Today Tom Tunguz

Turning the fundraising process on its head - five questions that will help you pick the right VC by Tom Mendoza of EQT Ventures Medium

In case you missed it ...

10 British VCs To Start Sharing Diversity Data On All The Startups They Meet Forbes

What Trident Capital's First Female Partner Thinks We Need in VC Fortune
What the venture landscape is really like for Europe's female
founders Pitchbook
Tara Reeves of LocalGlobe shares What this VC has learned since coming back from maternity leave Medium

Attention Female Entrepreneurs: Here's a Step-by-Step Guide for Picking the Right VC Entrepreneur

Female entrepreneurs share how to avoid feeling isolated Telegraph

The top 16 VC investors in Europe's female-founded companies. Who leads the way in Europe when it comes to investing in female-founded companies? Pitchbook

With Her 'It's About Damn Time' Fund, Arlan Hamilton Is Bringing $36 Million In V.C. Funding To Black Women TechCrunch

A startup founder who was rejected 148 times before raising almost $30 million made 2 small changes to get investors excited. Entrepreneur Kathryn Minshew made 2 changes to get investors excited Business Insider

Tactics for the investor pitch by Ashley Lundström, Venture Lead at EQT Ventures Medium

Co-founder of Diversity VC shares her seed investing framework Medium

Q1 2018 global diversity investment report: Investing Trends in Female Founders TechCrunch

How to build an investor lead by Kate Preston McAndrew of Bolt VC. Bolt VC

The Different Words We Use to Describe Male and Female Leaders HBR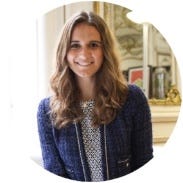 Comments, questions, tips? Send me a note!
Until next Sunday,
Sarah

Sharing is caring.

You know that there is a small but meaningful thing you can do this Sunday. Please take a minute and share Femstreet with friends on Twitter or Linkedin or forward this by 📧