Discover more from Femstreet
Femstreet is a media platform amplifying female voices, accelerating their success and creating a culture of empowerment - where women lead, shape, and fund the future.
Over 19,000 subscribers
Femstreet Issue #36 - Weekly Newsletter on Women in Tech & VC

Issue #36
Your weekly newsletter on women in tech, venture and entrepreneurship
This is issue No. 36. The last issue had a 42% open rate with 13% clicking on Bain Capital Ventures Hires Sarah Smith As Firm's First Female Partner.

Here is what people were talking about in the Fem-universe in the last week:
💸From the Investor

How many female-founded SMEs actually raise investment from British venture capitalists? 10 British VCs To Start Sharing Diversity Data On All The Startups They Meet
British Business Bank, Diversity VC and BVCA join forces to find out just how many female-founded SMEs have approached British VCs for funding, and how many have made the cut.
The goal is to have a transparent view of the pipelines of UK venture capital firms, who sits at the helm of their portfolio companies, and how this corresponds to the deals that get done. Forbes

Venture capital firms are running to hire their first female general partners
Adding one woman GP is a tangible achievement — even if it's a minimal one. Recode

What SaaS Startups Need To Raise A Series A Today, Why We Need A New Framework To Think About SaaS Multiples and How "The Rule of 40" Changes with Scale with Kristina Shen, Partner at Bessemer Venture Partners Saastr Podcast

Former journo Alexia Bonatsos unveils her new venture fund, Dream Machine
Five years ago, Alexia Bonatsos, née Tsotsis, was co-editor of TechCrunch, a job that made her renowned in startup circles and familiar with a wide number of startups and their founders. What she really longed to do, in fact, was invest in some of them. TechCrunch

Female Founders Fund Partners Discuss Fundraising, Melinda Gates, and Startup Diversity Fortune

Attention Female Entrepreneurs: Here's a Step-by-Step Guide for Picking the Right VC
The VC relationships you gain are far more important than the money, so choose wisely.
Entrepreneur
From the Operator

How a 28-year-old went from running poker games and waitressing on roller skates to running her own 'InsurTech' startup
My friend Phoebe Hugh, 28, runs startup Brolly, an artificial intelligence-powered chatbot that helps people navigate the world of insurance. Phoebe worked as an Indian head masseuse, roller-skating waitress, and croupier during her teens and thinks the varied experience helped prepare her for entrepreneurship. Business Insider

After Crying 'in a Fetal Position' Upon the Sale of Her Last Company, This Entrepreneur Keeps Her New Venture Separate From Her Identity
Blindsided by emotion when she gave up her business and broke up her team, Christiane Lemieux learned a valuable lesson about personal distance. Entrepreneur

How Women Entrepreneurs Should Prepare To Sell A Business Forbes

How raising a $2+M Seed Round really, actually went by Emily Best, Founder & CEO of Seed & Spark Medium

Ask Women in Product: Do you have tips for learning and developing soft skills around leadership, negotiation, and influencing?
Bhavika Shah, Amy Lin, and Emma Carew Grovum share their tactics for developing and using soft skills to lead, negotiate, and influence. Medium

Women-founded companies make up majority of MassChallenge finalists
For the first time, companies led by women make up more than half of the 128 finalists selected to compete in MassChallenge, the Boston-based startup accelerator. The Boston Globe

A woman will lead the New York Stock Exchange for the first time in its 226-year history Business Insider

Brianne Kimmel, Senior Growth Manager at Zendesk and Expert Advisor at First Round Capital, says if you have an early idea, but need help with an MVP: @ycombinator Leap, @dreamyhumans and @womeninproduct are safe spaces to share ideas and get feedback from top product leaders and engineers. She has more tips for you guys here.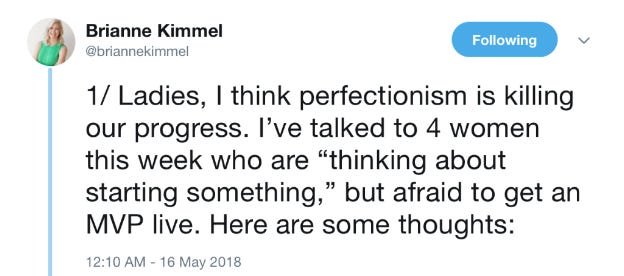 Research
How many billion-dollar companies have female founders?
Of the 134 VC-backed US-based companies valued at $1 billion or more, aka "unicorns," just 16 have a woman co-founder. Remove two whose recent controversies have likely diminished their valuations, Theranos and Outcome Health, and 14 companies remain. Pitchbook

Women are less likely to be replaced by robots and might even benefit from automation
Research shows women are better positioned than men to resist the automation of work and possibly even benefit from it. The Conversation

Do Women's Networking Events Move the Needle on Equality? HBR

How technology companies alienate women during recruitment
Much of the debate about the paucity of women in technology focuses on the pipeline problem: how to get young schoolgirls interested in science and math. But what happens when girls do elect to study STEM fields? Why aren't many women with technical qualifications moving into STEM-related careers? Quartz at work

#BuiltbyWomen

Listen to Maternity Tech - Part 1: Carrot (feat. Tammy Sun) from The Bootstrapped VC - A Backstage Capital Podcast

☢️ Montpellier-based startup Novagray develops personalized radiation treatments.

📹 London-based Channel Mum is a video-network and community for mums' bringing together thousands of parenting videos in one easy to navigate site where vloggers and businesses alike are able to work with Channel Mum to get in front of their target audiences.

👶 London-based Baby2Body develops a personalized health and wellbeing coach for pregnancy and beyond.

Add your company to the
List of Female Founders in Europe
📆 Events
Free coding classes for women
Revolut will be running free monthly coding classes for women at our new office space in London. Revolut will be running free monthly coding classes for women at their new office space in London. Revolut Blog

Female Founders Mentoring Programme Vienna APPLY NOW

- May 29th in Stockholm: Femtech #11 - Created for women, by women

- May 30th in London: How To Become A Female Leader In Tech

- May 31st in London: ZERO TO ONE: Entering the startup world by Entrepreneur First

- June 8th in London: Femtech Talks Meetup

- June 11th in London: Female Founders First - LTW
Essential Reads of the Week

The Ladder of Proof: Uncovering How VC's See Your Startup NfX

How [and why] I invest in startups by Ashton Kutcher Techcrunch

14 Lessons Learned Investing in B2B Hardware-as-a-Service Startups by Rodrigo Martinez of Point Nine Capital Medium

In case you missed it ...

What Trident Capital's First Female Partner Thinks We Need in VC Fortune
What the venture landscape is really like for Europe's female
founders Pitchbook
Tara Reeves of LocalGlobe shares What this VC has learned since coming back from maternity leave Medium

Top tips for technical interviews from nine of Instagram's tech girls Medium

Female entrepreneurs share how to avoid feeling isolated Telegraph

The top 16 VC investors in Europe's female-founded companies. Who leads the way in Europe when it comes to investing in female-founded companies? Pitchbook

With Her 'It's About Damn Time' Fund, Arlan Hamilton Is Bringing $36 Million In V.C. Funding To Black Women TechCrunch

A startup founder who was rejected 148 times before raising almost $30 million made 2 small changes to get investors excited. Entrepreneur Kathryn Minshew made 2 changes to get investors excited Business Insider

Tactics for the investor pitch by Ashley Lundström, Venture Lead at EQT Ventures Medium

Co-founder of Diversity VC shares her seed investing framework Medium

Q1 2018 global diversity investment report: Investing Trends in Female Founders TechCrunch

How to build an investor lead by Kate Preston McAndrew of Bolt VC. Bolt VC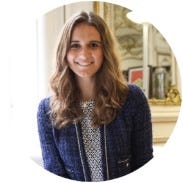 Comments, questions, tips? Send me a note!
Until next Sunday,
Sarah

Sharing is caring.

You know that there is a small but meaningful thing you can do this Sunday. Please take a minute and share Femstreet with friends on Twitter or Linkedin or forward this by 📧