Discover more from Femstreet
Femstreet is a media platform amplifying female voices, accelerating their success and creating a culture of empowerment - where women lead, shape, and fund the future.
Over 19,000 subscribers
Femstreet Issue #33 - Weekly Newsletter on Women in Tech & VC

Issue #33
Your weekly newsletter on women in tech, venture and entrepreneurship
Hello there and welcome to another issue of Femstreet!
Getting ready for GDPR. Are you set to get your Femstreet emails?
As you probably know by now, new GDPR rules are coming into effect very soon. This means if you are currently subscribed to Femstreet and don't want to miss out on the next issues after 25th May, you'll need to re opt-in. YES, RE OPT-IN
🌴I am on holiday next week and so will be Femstreet next Sunday!
Here is what people were talking about in the Fem-universe last week:
💸From the Investor

A revolutionary Silicon Valley VC reveals the five traits she looks for in founders
Arlan Hamilton isn't afraid to dismantle everything Silicon Valley stands for. As a black, queer woman who skipped college to pursue a career in the music industry, she looks nothing like the white, straight, Stanford-educated bros who dominate venture capital. Ultimately, Hamilton focuses on five characteristics when evaluating pitches. Quartz

The Valuation Circle by angel investor Joanne Wilson Gotham Gal

Time-saving tips from busy VCs by Sarah A. Downey, Principal at Accomplice. Medium

BirchBox CEO-Turned-Investor Hayley Barna Discusses Top Founder Mistakes
In a conversation with Term Sheet, Barna talks about her transition from operator to investor, her biggest mistakes as a founder, and whether she plans to start another company. Fortune

Why diversity is crucial for VC funding: 5 tips for planning your fundraise
VCs care a lot more about diversity and inclusion that you may think. A leading VC outlines five lesser-known pointers when planning your fundraise. Realbusiness

Meet the Venture Capitalist backing your favourite brands
Nisha Dua has a portfolio full of success stories and a black belt in karate. Coveteur

From the Operator
I'm CEO of an early stage SaaS startup and I'm about to have a baby. This is what I'm doing for maternity leave. Margot Schmorak of Hostfully Medium

You Can't Prepare For Parenthood But You Can Prioritize Parental Leave by Poornima Vijayashanker of Femgineer Hackernoon

3 Ways to Play the VC Game if You're Not a White Guy The current VC model is skewed to favor the style of male-run companies. Here's how women and minorities can get a seat at the table. Forbes

1 Mission >> 55 Founders >> 17 Companies by Ella Holder of Zinc VC
Zinc's first mission was to improve the Mental and Emotional Mental Health of 650 million Women and Girls in the developed world. 7 months into the first programme , Ella Goldner reflects on what they have achieved. FYI 82% of the companies have a Female Founder; that's vs global statistics of 17% in 2017. Medium
Is the crypto world sexist? That might be the wrong question.
"Inclusion happens when people in power use that power to bring people in rather than keep people out." Anyone can use cryptocurrency. Man, woman, pony, or toaster—we all look alike on a blockchain. MIT Technology Review

Meet the women challenging the gender investment gap
Companies founded by women face bias when raising investment, but new initiatives are sidestepping the boys' club to support female founders. The Guardian

Why this entrepreneur turned down Richard Branson and McKinsey to start her own business
Caroline Plumb co-founded FreshMinds and Fluidly, despite some unexpected advice. Not many people ignore the advice of Sir Richard Branson, self-made billionaire and one of Britain's top entrepreneurs. But Caroline Plumb did. Management Today

Cryptocurrency Is Not Just a Boys' Club
Meet nine women who are changing the game. Glamour

Women-Only Member's Clubs: Sexist And Elitist Or A Way For Women To Get Ahead? Londonist

California Could Become First State to Mandate Women on Boards
Proposed legislation in California would require California-based companies with all-male boards, add women. Bloomberg

Getting Around the Venture Capital Gender Gap
Five ways women can get around the gap, start their own businesses, and help build the future Forbes
Research
The Next Wave Of Tech-For-Good Companies Are Being Built By Women And Minorities
A new report looks at the demographics of so-called "tech nonprofits." Fast Company

There's too many men.
In China and India, men outnumber women by 70 million. Both nations are belatedly trying to come to grips with the policies that created this male-heavy generation. Washington Post
Mapping investment for female founders in Europe

There are a number of ways to improve the venture space for Europe's female founders. As several women investors and entrepreneurs recently told PitchBook, those can range from creating more opportunities and increasing educational awareness to redefining the 'Silicon Valley' archetype often given to founders.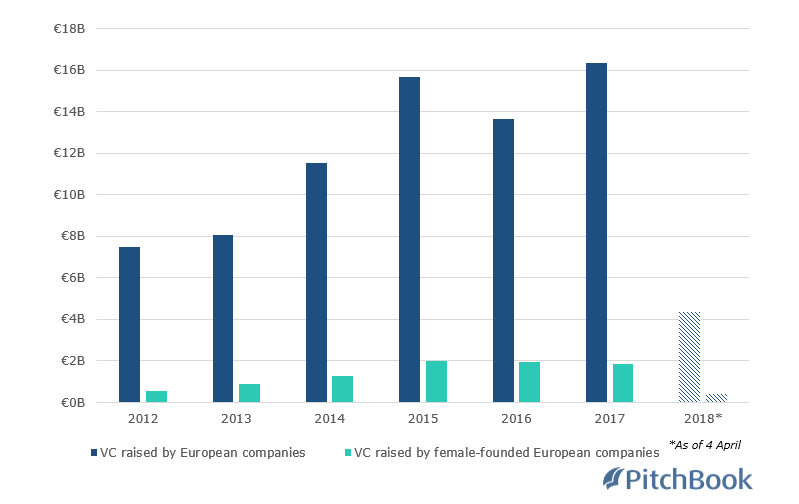 #BuiltbyWomen

👵 Vantik is a Berlin-based PensionTech startup providing fully digital private pension for millennials.

💰 Zuper is a Munich-based startup developing AI-driven financial coach that helps people navigate their finances.

🔒Berlin-based data security startup KI protect provides real-time protection for your data infrastructure by securing your data at the entrypoint of your analytics and AI pipeline.

🌎 Jobbatical is an Estonian startup connecting innovative companies with top tech and business talent around the world.

Add your company to the
List of Female Founders in Europe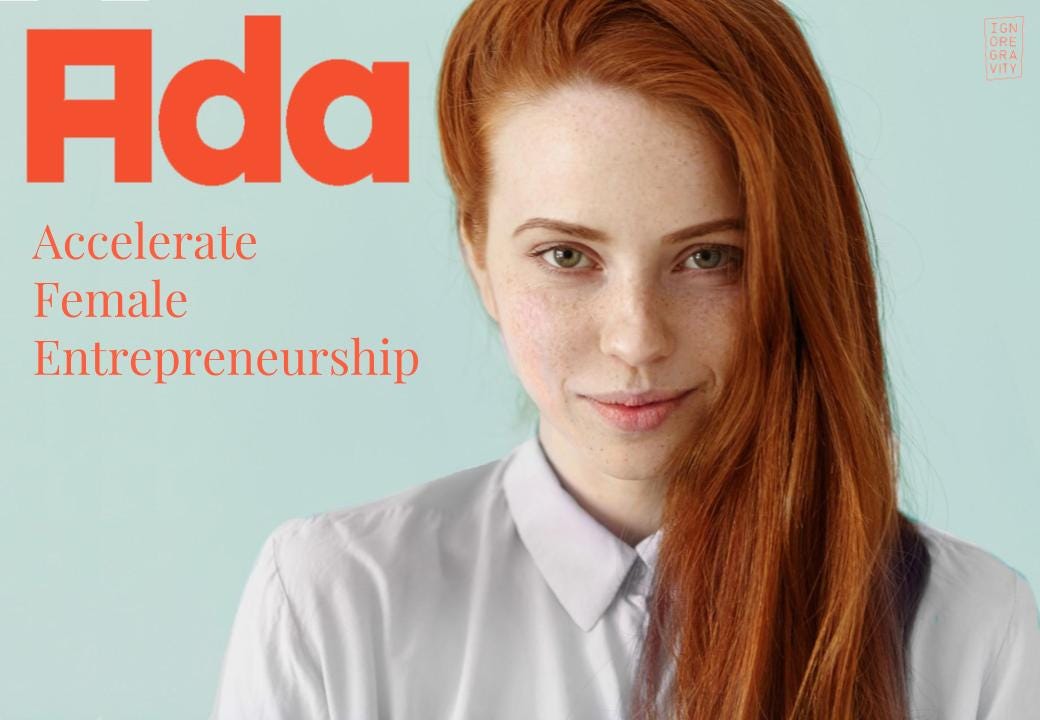 ADA Accelerate Female Entrepreneurship Summer Camp 2018 in Berlin Apply until May 20th
📆 Events
SaaStr is setting aside 1,000 Diversity + Inclusion Tickets for 2019 SaaStr Annual. APPLY NOW!

Female Founders Mentoring Programme Vienna APPLY NOW

- May 3rd in Berlin: GTEC Open Lecture: Ida Tin, CEO and Co-Founder of Clue

- May 3rd in Vienna: Female Founders Meetup #8
- May 5th in Munich: WomenHack - recruiting event for women developers, designers, and product managers

- May 7th in Brussels: Panel: Women in Technology and Innovation @ European Parliament

- May 7th in Stockholm: Diversity and equality in the game industry
- May 7th in Paris: Techstars Roadshow Paris: Women in Tech

- May 9th in London: Female Founders - How to grow and evolve your company

- May 10th in London: GIRLS IN TECH presents: Getting into Tech - Founder/CEO Career path

- May 24th in London: Diversity in Tech
Essential Reads of the Week

Think Tank: What It Takes to Build a 21st-Century 'Superbrand' WWD

7 years of trying and failing with SaaS: The road to 2,964% growth
According to Alexis Prenn, CEO and co-founder of Receipt Bank, SaaS is a bit like playing a video game — every 9 months or so you move to the next level. Each level is as difficult as the one before. way. SaaStock

The Top Jobs Where Women Are Outnumbered by Men Named John NYT

How Stitch Fix Turned Personal Style Into a Data Science Problem HBR

Kanye West Tweets About Starting VC Fund, Meeting With Billionaire Peter Thiel Fortune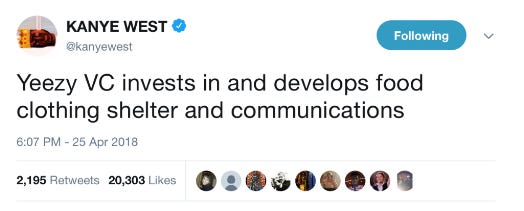 In case you missed it ...
What the venture landscape is really like for Europe's female founders Pitchbook
Tara Reeves of LocalGlobe shares What this VC has learned since coming back from maternity leave Medium

What Trident Capital's First Female Partner Thinks We Need in VC Fortune

Top tips for technical interviews from nine of Instagram's tech girls Medium

Female entrepreneurs share how to avoid feeling isolated Telegraph

The top 16 VC investors in Europe's female-founded companies. Who leads the way in Europe when it comes to investing in female-founded companies? Pitchbook

VC Diversity Index
Silicon Valley's Most and Least Diverse Investors The Information

A startup founder who was rejected 148 times before raising almost $30 million made 2 small changes to get investors excited. Entrepreneur Kathryn Minshew made 2 changes to get investors excited Business Insider

Tactics for the investor pitch by Ashley Lundström, Venture Lead at EQT Ventures Medium

Co-founder of Diversity VC shares her seed investing framework Medium

Q1 2018 global diversity investment report: Investing Trends in Female Founders TechCrunch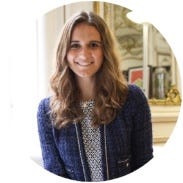 Comments, questions, tips? Send me a note!
Until 13th May,
Sarah

You know that there is a small but meaningful thing you can do this Sunday. Please take a minute and share Femstreet with friends on Twitter or Linkedin or forward this by 📧
Sharing is caring.

Want to see your content in the Femstreet newsletter?
I love featuring content sent to me by readers. Email the link with the public, non-paywalled post by Friday 6pm GMT to be considered for that week's newsletter.