Discover more from Femstreet
Femstreet is a media platform amplifying female voices, accelerating their success and creating a culture of empowerment - where women lead, shape, and fund the future.
Over 19,000 subscribers
Femstreet Issue #32 - Weekly Newsletter on Women in Tech & VC

Issue #32
Your weekly newsletter on women in tech, venture and entrepreneurship
Hello there and welcome to another issue of Femstreet!

Since I am working on a comprehensive list of early stage tech firms founded by women in Europe, please share the form for the List of Female Founders Europe with your network.

Here is what people were talking about in the Fem-universe last week:
💸From the Investor

What Trident Capital's First Female Partner Thinks We Need in VC Fortune

Venture Capitalists, circa 2032
Introducing VC to a group of 14-year-olds at Comp Sci High Enrollment Day by Bethany Marz Crystal of Union Square Ventures Medium

How to angel invest, part 3: company stages by Sarah A. Downey, Principal at Accomplice Medium

This is the upside to only funding women-led companies
Female Founders Fund partners Anu Duggal and Sutian Dong tell Moneyish what they look for in a founder — and share tips on how to raise money Moneyish

€1m Competitive Start Fund for Female Entrepreneurs open for applications
Enterprise Ireland has revealed that the €1m Competitive Start Fund (CSF) for Female Entrepreneurs is open for applications. Silicon Republic

Net-a-Porter founder Natalie Massenet's VC firm has closed its first $75m fund
Imaginary Ventures has reportedly raised $75 million for its first investment vehicle. The early-stage VC, co-founded by former Net-a-Porter creator Natalie Massenet and Nick Brown, invests in companies at the intersection of retail and technology. Its portfolio includes apparel company Everlane and Glossier, a skincare and makeup retailer. NYT

Venture capital firm co-founder: I wanted to 'solve my own personal pain point
What started as a personal dissatisfaction with an old boys' club mentality in venture capital led Pocket Sun to co-found what she calls the first female-led millennial venture capital firm. SoGal Ventures has gone on to make 52 investments in the past two and a half years, Sun said. CNBC
From the Operator

Female entrepreneurs share how to avoid feeling isolated
From co-working to mentoring, women who started up solo share their tips on how to tackle feelings of loneliness. Telegraph

13 things diverse and inclusive leaders don't do by Jana Hlistova of Diversity Hacks Medium

Ask Women in Product: What's a day in the life of a PM like?
In this post, four women in product — Shilpi Roongta, Heather Campbell, Karmel Elshinnawi, and Clarissa Matthews — describe a 'typical' week at work leading teams that build products to scale. Women in Product on Medium

Here's How Women and Startups Can Accelerate Pay Equity in Tech First Round

The Business Case (and Plan) for Gender Equality
Whitney Wolfe Herd sounded an early alarm on Silicon Valley's sexist culture in 2014 when she sued her former employer, the dating app Tinder, for discrimination and sexual harassment. Today she's calling for concrete steps to improve gender inequities in the workplace. WSJ

These 5 Female Entrepreneurs Are Sharing Their Secrets for Success Brit+Co

How Women Of The French Tech Movement Are Turning France Into A Startup Nation Forbes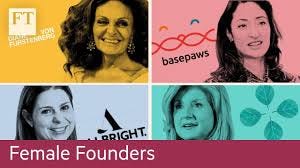 Top business tips from female founders
Four female business founders – including Arianna Huffington and Diane von Furstenberg – share their management do's and don'ts, their keys to success and advice for would-be entrepreneurs in a short video. FT
Research
How more women in AI could change the world
Have you ever wondered why so many companies program robots, virtual assistants, and AI with feminine traits? Venture Beat

How Women Entrepreneurs Thrive
A U.S. Trust study find successful female business owners focus on keeping their employees, clients and communities happy. Barron's

How Women Entrepreneurs Are Closing The Venture Capital Gap
According to a study by First Round Capital, companies with a woman on the founding team are outperforming all-male companies by 63%. So why aren't more women getting funded? Forbes

What Most People Get Wrong About Men and Women
The conversation about the treatment of women in the workplace has reached a crescendo of late, and senior leaders—men as well as women—are increasingly vocal about a commitment to gender parity. HBR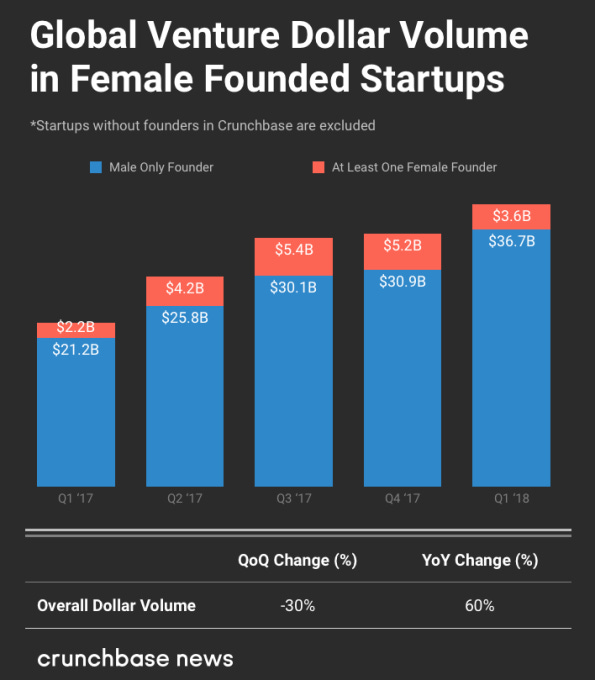 Q1 2018 global diversity investment report: Investing Trends in Female Founders

Overall, the money invested into companies with at least one female founder represents just nine percent of venture dollars invested in Q1 2018. That is one percentage point below Q1 2017's 10 percent result. The second, third and fourth quarters of 2017 all presented higher percentages, as well: 14, 15 and 15 percent of venture dollars invested in those quarters, respectively. TechCrunch
#BuiltbyWomen

✈️ Weekender is a London-based startup developing AI-powered weekend recommendations at home and abroad. (The link was broken last week.)

👪 The UK-based Edtech Kinfo is a recommendation platform where parents can find activities that work for their kids. Every activity recommended by Kinfo has been tested by real kids, and approved by real parents.

👧 London-based Project Kitchen Table is using voice and immersive tech to empower a generation to become more socially confident and mentally resilient.

⚗️ UK-based SkinNinja is a data driven app solution to discover what's in our skincare. SkinNinja matches world leading expert evidence, to over 200k ingredients, across 800k products.

Add your company to the
List of Female Founders in Europe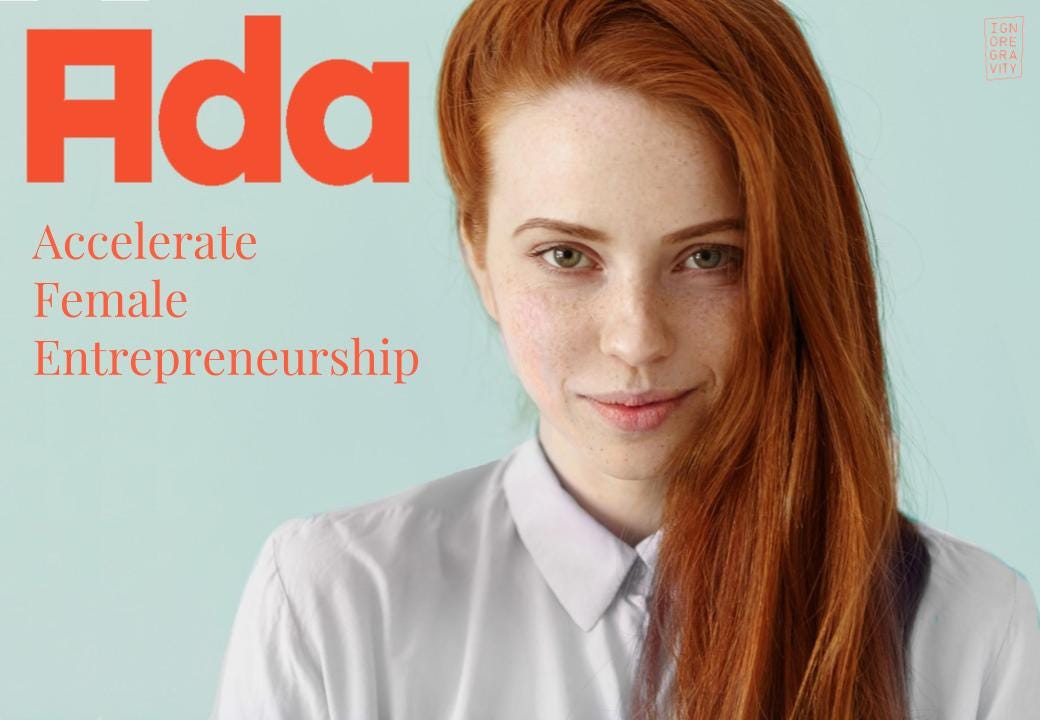 ADA Accelerate Female Entrepreneurship Summer Camp 2018 in Berlin Apply until May 20th
📆 Events
SaaStr is setting aside 1,000 Diversity + Inclusion Tickets for 2019 SaaStr Annual. APPLY NOW!

Female Founders Mentoring Programme Vienna APPLY NOW

- April 25th in London: Female Founders Series at Huckletree

- May 3rd in Berlin: GTEC Open Lecture: Ida Tin, CEO and Co-Founder of Clue

- May 3rd in Vienna: Female Founders Meetup #8
- May 5th in Munich: WomenHack - recruiting event for women developers, designers, and product managers

- May 7th in Brussels: Panel: Women in Technology and Innovation @ European Parliament
- May 7th in Paris: Techstars Roadshow Paris: Women in Tech

- May 24th in London: Diversity in Tech
Essential Reads of the Week

Decoding Ambition
Is it possible to influence the odds of success? Can we learn from the lessons of the past to support today's European entrepreneurs? 8Roads Ventures

What Kind of Seed Round Should You Raise?
by Rob Go of NextView Ventures Medium

Is this the end of the subscription era? OpenView Partners

Can digitally vertical native brands (DNVB) achieve modern luxury?
Does the modern luxury go-to Lean Luxe (and the industry as a whole) have a grasp on what luxury means in online retail? 2PM
Startup Founder's Perfect Age to Start Company
Here's How Old You Should Be When You Start a Company, According to Science. (It's Not What You Think) Inc
In case you missed it ...
What the venture landscape is really like for Europe's female founders Pitchbook
Tara Reeves of LocalGlobe shares What this VC has learned since coming back from maternity leave Medium

Meet the new non-profit AllRaise founded by 36 senior female investors, dedicated to diversity in funders and founders. AllRaise has set goals to double the % of women in VC partner roles over next 10 years & increase total VC funding to female founders from 15% to 25% in 5 years. Forbes

Top tips for technical interviews from nine of Instagram's tech girls Medium

The top 16 VC investors in Europe's female-founded companies. Who leads the way in Europe when it comes to investing in female-founded companies? Pitchbook

VC Diversity Index
Silicon Valley's Most and Least Diverse Investors The Information

A startup founder who was rejected 148 times before raising almost $30 million made 2 small changes to get investors excited. Entrepreneur Kathryn Minshew made 2 changes to get investors excited Business Insider

Tactics for the investor pitch by Ashley Lundström, Venture Lead at EQT Ventures Medium

Co-founder of Diversity VC shares her seed investing framework Medium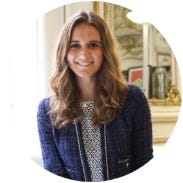 Comments, questions, tips? Send me a note!
Until next Sunday,
Sarah

You know that there is a small but meaningful thing you can do this Sunday. Please take a minute and share Femstreet with friends on Twitter or Linkedin or forward this by 📧
Sharing is caring.

Want to see your content in the Femstreet newsletter?
I love featuring content sent to me by readers. Email the link with the public, non-paywalled post by Friday 6pm GMT to be considered for that week's newsletter.