Discover more from Femstreet
Femstreet is a media platform amplifying female voices, accelerating their success and creating a culture of empowerment - where women lead, shape, and fund the future.
Over 19,000 subscribers
Do's and Don'ts of marketing in a global crisis; Party like it's 2008; Social clubs go virtual & More
Your weekly Newsletter on Women in Tech and Venture Capital
Welcome to issue No. 128. Thank you for tuning in this Sunday. Most of us are still adjusting to work and life at home. I've been wearing the same pair of white jeans all week, started to "cook" more sophisticated things than just smoothies and been listening to a lot of Japanese lounge music. Before we jump into this week's highlights, I want you to take a deep breath. I just want you to remember that this breath is there and it's yours. Don't take it for granted. 🙏🏻

This week, we held two expert sessions on all things remote working, fundraising and operating in the current climate. In case you missed them, you can read the entire discussion threads (even as a non-paying member) below:
👩🏻‍💻 Remote management strategies with Camille Ricketts, Head of Marketing at Notion.
💰Navigating fundraising in uncertain times with Jessica Lin, Co-founder & General Partner at Work-Bench.
---
Femstreet Perks
As you know, we are putting together a collection of perks for Femstreet members. If you are a founder running a business in the remote work or mindful productivity space and can offer our community free/discounted resources, please get in touch 🙏 These are the perks kindly offered by our incredible community so far.
(We make no commission on sales through discount codes or affiliate links.)

Insights
The pandemic has left thousands of small businesses wondering what to do about cash, debt and staff, and for female entrepreneurs dealing with the consequences of this crisis, just navigating the loans, grants, and aid available can be overwhelming. Our friends and Femstreet members at the Helm created an awesome state-by-state and country-wide roundup of government-backed and corporate resources for small businesses to get funded. Here is your complete guide to emergency funding in the US.

Amid a spate of aggressive coverage, a debate has arisen about whether female founders are being treated fairly by the tech press. The Information's editor-in-chief Jessica Lessin sat down with veteran tech reporter and columnist Kara Swisher of Recode and the New York Times to discuss the topic, analyse this current moment and suggest a path forward. Watch the video here.



Can Marie Kondo fix the workplace? Her new book offers tips to make the daily grind more smooth. "There's a lot of emphasis on using index cards but no mention of Slack or Zoom." Interesting timing for a new book release about work.


Ethel's Club, a social and wellness club for people of color, pivots to a virtual model. Founder Naj Austin says "Community becomes even more critical after a disaster. You feel anxious, fearful, sad, and irritable. You may have difficulty concentrating and sleeping. Taking care of your mental health is vitally important. I realized it was time to implement the digital plan."
People
April Underwood, founder of #Angels and former CPO at Slack, has joined Obvious Ventures as a venture partner.



From the Investor

Managing through a crisis and navigating in uncertainty.
— Leah Busque / Fuel Ventures


A 76 page B2B Sales Playbook with everything a founder needs to know about how to build an efficient B2B sales team.
— Caye Hurtado / Balderton Capital



Finding purpose and mission in bleak times + SF Bay Area COVID-19 support activities.
— Elizabeth Yin / Hustle Fund


On new consumer behaviors that emerged in China from these tough times.
— Nicole Quinn / Lightspeed


How SaaS companies can reduce churn related to Covid19.
— Amélie Faure / Serena Capital
Why "Crossing the Chasm" doesn't work for workplace products and how to build a balanced self-serve and enterprise-grade platform with multiple reinforcements.
— Brianne Kimmel / Work-Life VC

The new SaaS metric you should be tracking.
— Sam Richard / OpenView Partners


Elizabeth Yin of Hustle Fund on antifragility of startups.
---
🔥 Only 3 days left!
Take advantage of our special offer until 03/31 and become an official Femstreet member for $80/year today.
If you become a paid member, you will receive the complete suite of Femstreet resources, access to our Slack channel, archive with Q&A expert sessions, member directory and invites to member-only events + an additional weekly member briefing in your inbox.
---
From the Founder & Operator
The Do's and Don'ts of marketing in a global crisis.
— Natasha Lytton / Seedcamp


Party like it's 2008: Advice on how to manage your mental and emotional well-being, and hopefully come out stronger.
— Holly Liu / Kabam


3 focuses to go from side-hustle to full-time business owner.
— Sophie Sunwoo / Ascent Strategy


Wellness links that help you find groundedness in your self-care routines and to make both mental and social distancing a priority. 
— Patricia Mou / Stitchfix


With uncertainty in the markets, organizations minimizing costs, and intent purchase decreasing, marketers have to figure out ways to manage during these uncertain times. They are adjusting budgets and channels, experimenting with messaging, switching from live to digital-conferences and webinars, social and more. Here are interesting data points showing the effect that the coronavirus has on marketing.
— Merav Meluban / Viola


Conversation starters that don't trigger coronavirus anxiety.
— Leah Fessler / Chief


Bonus: Katie Wilhoit started an Instagram account called Covid Good News to share stories and aggregate good news around Covid-19. Thought you might like the positivity, human stories, and design. I love it.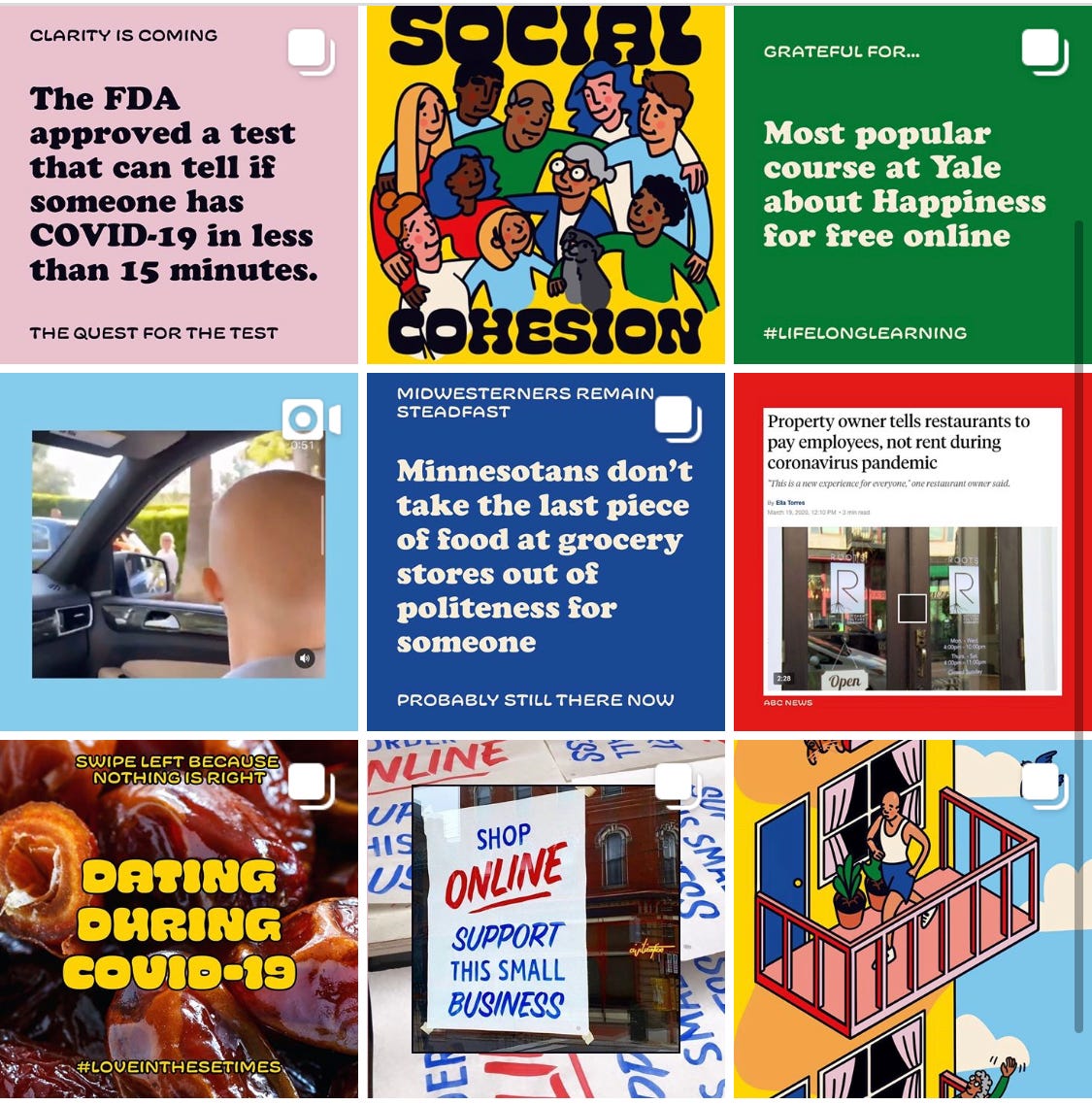 Upcoming (Virtual) Events


🗓️March 30
The Grant Session: Gaining Self-Awareness in a Time of Solitude
🗓️March 31
Allbright Virtual Pitch Day
🗓️April 1
Beautystack Women in Tech: Business Survival in 2020
🗓️April 1
Crisis communications 101: Facing Covid-19

🗓️April 1
Navigating your way through an economic crisis: learnings from 2008

We are currently working on more virtual Femstreet events, please reach out if you'd like to partner with us.
---
Thank you for being part of Femstreet this Sunday, beautiful people. Stay home and take care of yourself!
If you are a female investor, founder or startup operator, we'd love to feature your content.
Are you currently fundraising? Share the details with us here.
Follow me on Twitter, Medium, and Femstreet on Instagram.
👋Comments, questions, tips? Know a founder of a B2B company I should meet? Send me a note!
---
Curated in London by Sarah Nöckel, Founder/Editor in Chief & B2B SaaS Investor at Dawn Capital