Discover more from Femstreet
Femstreet is a media platform amplifying female voices, accelerating their success and creating a culture of empowerment - where women lead, shape, and fund the future.
Over 19,000 subscribers
Tech trends for 2020; Construct Capital; Learnings on brand building in VC & More Femstreet events
Your weekly Newsletter on Women in Tech and Venture Capital

Welcome to issue No. 112. The top two articles from the last week's issue were:  
Before our US readers switch to offline mode for Thanksgiving next week (I hope you will), we've got an issue full of goodies for you.
ICYMI we launched the Femstreet Membership last week. We want you to not only be the most informed founder, funder or startup operator in the room (with this weekly newsletter) but also have access to the tools and network you need to thrive in tech and VC over the long term.
We sent out our first member briefing this Friday. We made the post public for a couple of days so you can get a glimpse of what to expect when you're a paying subscriber. Femstreet members also get a decent discount when joining the Wing in London.
We also have two Q&A sessions lined up for December with:
Do you want to participate in these sessions?
Sign up for just $10 a month or $100 a year.
For more information, read our list of FAQs here.
---
Let's connect IRL

NYC
Femstreet is teaming up with Marc Jacobs and Declare for a holiday party on Dec 3rd in NYC. Mingle with our community and get 40% off Marc Jacobs items.
London
Join the Femstreet & Huckletree Winter Warmer on December 9th in London for seasonal socialising with fellow founders, operators and investors.
Both events are open to all — please feel free to share with your friends and colleagues.
---
Insights



Global beauty company Coty acquired a 51% stake in celebrity superstar Kylie Jenner's cosmetics company for a cool $600m this week. It is a seismic deal for the beauty house and one that values Kylie Cosmetics at $1.2bn. Kylie may not be the typical founder profile we'd like to promote but it's pretty impressive considering…


London MarTech firm Aiden.ai has been acquired by Twitter. The 11-strong company had raised $2.4m since its inception in 2016 over two seed rounds. Massive congrats to our longterm Femstreet friend Marie Outtier and team!

YC startup Searchlight raises $2.5m from Accel to build software that helps companies hire more diverse teams.

Silicon Valley's Portfolia launches its 8th fund to focus on African-American, Latino, LGBTQ markets and entrepreneurs.

Unconventional Ventures launches new Nordic micro fund to back underrepresented founders.

Dutch VC firm Borski Fund raises €21 million fund to blow wind in the sails of female founders.

VC firm Atomico launched The State of European Tech 2019 report at Slush this week. The lack of diversity remains a major problem in European tech. 92% of funding went to all-male founding teams in 2019. 49% of female founders have experienced discrimination within the last 12 months. Get the full report here.
---
People



Axios reported that NEA partner Dayna Grayson is leaving to launch her own shop, Construct Capital.
Airbnb COO Belinda Johnson is stepping down ahead of the firm's expected public debut in 2020. She will join the company's board of directors as its ninth member and third woman.
"Being elevated to the Board of Directors and contributing to the long term success of Airbnb while taking more time to be with my amazing family is an incredible opportunity," said Johnson, who joined Airbnb back in 2011.
---
From the Investor
As social media platforms hit maturity, nearly all have taken a turn from intimate social network to social media with broadcasting as the core use case. Here's more on the rise of status media platforms and their characteristics.
— Laura Chau / Canaan Partners


The low-code and no-code market continues to heat up as more and more VCs pour money into the space. Here's more on what the low-code/no-code movement is all about - myths & reality! 
— Priyanka Somrah / Work-Bench
How to build your investor pipeline spreadsheet.
— Jenny Fielding / Techstars

Elizabeth Yin on why focus on the One Metric that Matters (OMTM) is the most important thing for early-stage startups.
"If entrepreneurs can come from anywhere, then why do all VCs look the same?"
— Julie Morrongiello / Point Nine Capital

On the value of true diversity in a partnership.
— Mercedes Bent / Lightspeed Venture Partners


On the education transformation.
— Rebecca Kaden / Union Square Ventures

Closed beta vs. mass freemium? Before you choose to launch with a closed beta, here are some considerations by Brianne Kimmel of Work Life Ventures.

Five leading investors from around the world about what they view as the most promising tech trends for 2020. They are excited by solutions addressing tectonic shifts in how work gets done, how people and businesses get paid and how people manage their health.
— Maren Bannon / Jane VC
The team at Jane VC shared another goodie about PR: What does good PR look like? How do you get it? How can you shape it? How do you decide if/when to do it? What should you avoid? Here are a few PR tips for early-stage startups.
---
Are you a female angel investor and/or an angel with a history of supporting female founders?
Founders in our community frequently ask us for introductions to angels and we decided to put a list together. Our hope with this list is that founders in our community can more easily find investors (female and male) that have a history of supporting female founders and can make meaningful connections with you. Please add yourself to the Femstreet list of angel investors by filling out this short form here.

Our list of female angel investors is only accessible to Femstreet members.
---
From the Founder & Operator
Learnings on brand building in venture capital.
— Natalie Sportelli / Lerer Hippeau
How to make remote work a success.
— Alison Eastaway / Sqreen
"Self-awareness is one of the most important qualities a leader can have. And the third-party perspective of a mentor helps you hone it."
25 tips on how to be a career-changing mentor.


How to scale your sales team for success.
— Janey Zitomer / Built In

How I split equity with my part-time co-founders.
— Eman Aboulatta / Rogue
What do leaders need to do differently as their company gets bigger? When is the right time to plan for global expansion? How do you preserve culture as you grow from 4 employees to 4,000?A Q&A with Christa Quarles, former CEO of OpenTable and Jana Messerschmidt, Partner at Lightspeed.


3 insights from the 2019 EU Platform Summit.
— Keji Mustapha / Connect Ventures
5 key lessons on building a business that super-successful female founders wished they'd known when they started.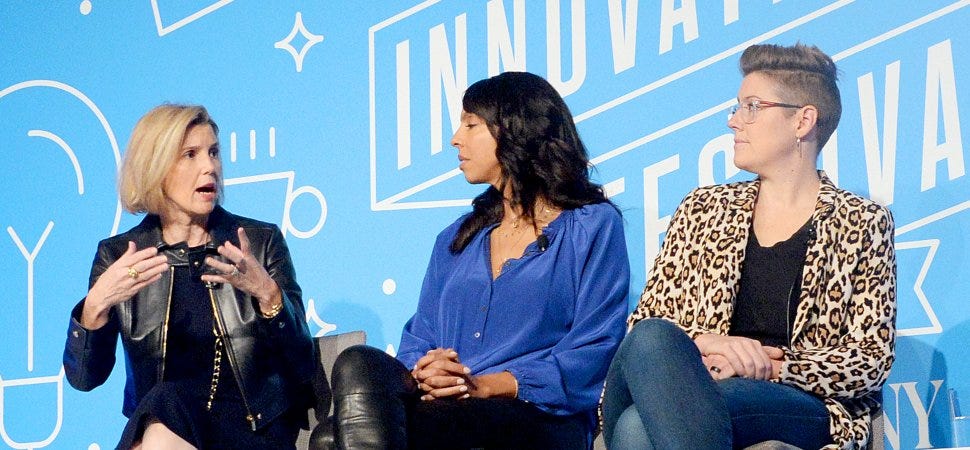 ---
Upcoming Events
🗓️November 27 London
Female Founders: The Drivers of Corporate Innovation and Industry Disruption, in Partnership with WeWork Labs
🗓️November 28 London
Women in VC Negotiation Workshop
🗓️December 3 New York
Effective Communication for Women in Tech by Oscar Health
🗓️December 4 New York
Zola Women in Tech Event

🗓️December 9 San Francisco
PinAngels Event - hosted by Cat Lee, Partner at Maveron
🗓️December 11 Los Angeles
Building the dream team - Workshop by Jane VC
---
Thanks for being part of Femstreet this Sunday. 🙏If you enjoyed this newsletter so far but you aren't subscribed yet or want to become an official member, sign up here.
If you are a female investor, founder or startup operator, we'd love to feature your content.
Are you currently fundraising? Share the details with us here.
---
👋Comments, questions, tips? Send me a note!
Curated in London by Sarah Nöckel, Founder/Editor in Chief & B2B SaaS Investor at Dawn Capital - sarah@femstreet.com