Discover more from Femstreet
Femstreet is a media platform amplifying female voices, accelerating their success and creating a culture of empowerment - where women lead, shape, and fund the future.
Over 19,000 subscribers
5 things before you start a SaaS company; These founders are using Instagram to mentor the next generation of entrepreneurs; Ellie Cachette
Your weekly Newsletter on Women in Tech and Venture Capital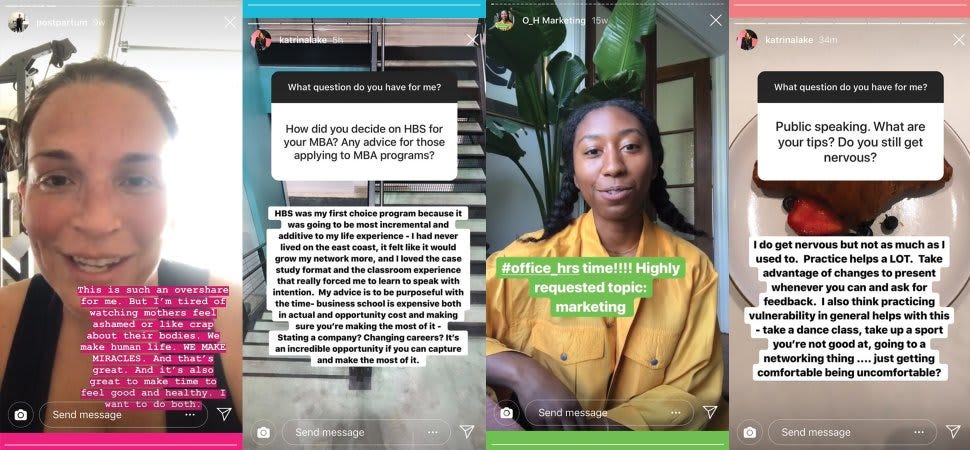 This is issue No. 104 and the last issue had a 51% open rate. The top two articles from the last week's issue were:  
---
Insights 
High-profile entrepreneurs like Stitch Fix's Katrina Lake and The Riveter's Amy Sterner Nelson are using Stories on Instagram to answer questions about everything from managing cash flow to storing breast milk during business trips. Here is how these founders are using Instagram to mentor the next generation of entrepreneurs.

PagerDuty's Jennifer Tejada on changing tech's power networks and leading in a male field and using key "north star" data to drive performance.

What Ty Haney of Outdoor Voices can't live without. 

Ellie Cachette of Cachette Capital, a fund of funds, said she had money to give venture capitalists, and many were eager to go into business with her. The deals didn't go exactly as planned. 

Women of colour are starting new businesses faster than anyone else.

Investments in Femtech to cross the $1.3Bn mark in 2020. 

Pitchbook created a map showing the most valuable VC-backed company led by a woman in each state in the US. 

Meme editor Kapwing grows 10X, raises $11M. 

VC to ambitious women: Don't lean in. Quit and do your own thing.
---
From the Investor
5 things before you start a SaaS company.
Brianne Kimmel/ Work Life Ventures

How do you treat yourself after a failure? From self-criticism to self-compassion: The journey to better performance.
Magdalena Kata/ Bain Capital

Why Emotional Intelligence is so important in entrepreneurship and how you can get better at it.
Beatrice Aliprandi/ TalisCapital

Interoperability and composability within Ethereum.
Linda Xie/Scalar Capital

Five tempting myths of raising VC funding.
Allison Baum/ Trinity Ventures
---
From the Founder & Operator



Why marketing innovation is as important as product innovation, why every company is becoming a media company & the benefits of not raising money too early. (Podcast)
Julia Enthoven/ Kapwing

How to transition from startup founder to Product Manager.
Hannah Yang/ Oscar Health

I've watched 190+ women & people of colour negotiate. Here's what I've learned.
Jordan Sale/ Fundrise 

Why Adam Neumann had to go and what to learn from WeWork's CEO stepping down. 
Amy Nelson/ The Riveter

Where black female founders can find funding, resources, and more. 
Lolita Taub/ Catalyte

---
Upcoming Events
🗓️October 1 Paris 
F for Femme (Meet me there)
🗓️October 1 London 
AllBright x Bumble Bizz Present: How to make your first investment
🗓️October 2 London 
Getting on The Property Ladder & Renting Better by Vestpod
🗓️October 3 London 
Her Hustle: Female Founders
🗓️October 14-17 Dublin 
Meet me at SaaStock
🗓️October 15 Malmö 
Nordic Female Investor meet-up
🗓️October 17 San Francisco 
Female Founders, Funders and First Employees Happy Hour with AngelList
🗓️October 23 New York 
The Vinetta Showcase Pitch & Panel Finals
🗓️October 25 Mountain View 
All Raise When Founder Met Funder Even

If you are a SaaS founder or executive from a minority background, SaaStock has an excellent offer for you. In their aim to make SaaS more equal and inclusive, they have put aside several free tickets for their conference in Dublin. You will get a full 3-day pass with access to all stages, parties, and activities, plus an exclusive mentorship opportunity with mentors. Don't miss this opportunity and join SaaStock on October 14-16 in Dublin. Apply here!
---
Resources
---
👋Comments, questions, tips? Send me a note!

If you are a female investor, founder or startup operator, we'd love to feature your content.

Curated in London by Sarah Nöckel, Founder / Editor in Chief & B2B SaaS Investor at Dawn Capital - sarah@femstreet.com