👩 Parenthood and entrepreneurship; The right time to approach a VC; 3 rules to create the best recruitment process
Your Weekly Newsletter on Women in Tech, Entrepreneurship and Diversity in Venture Capital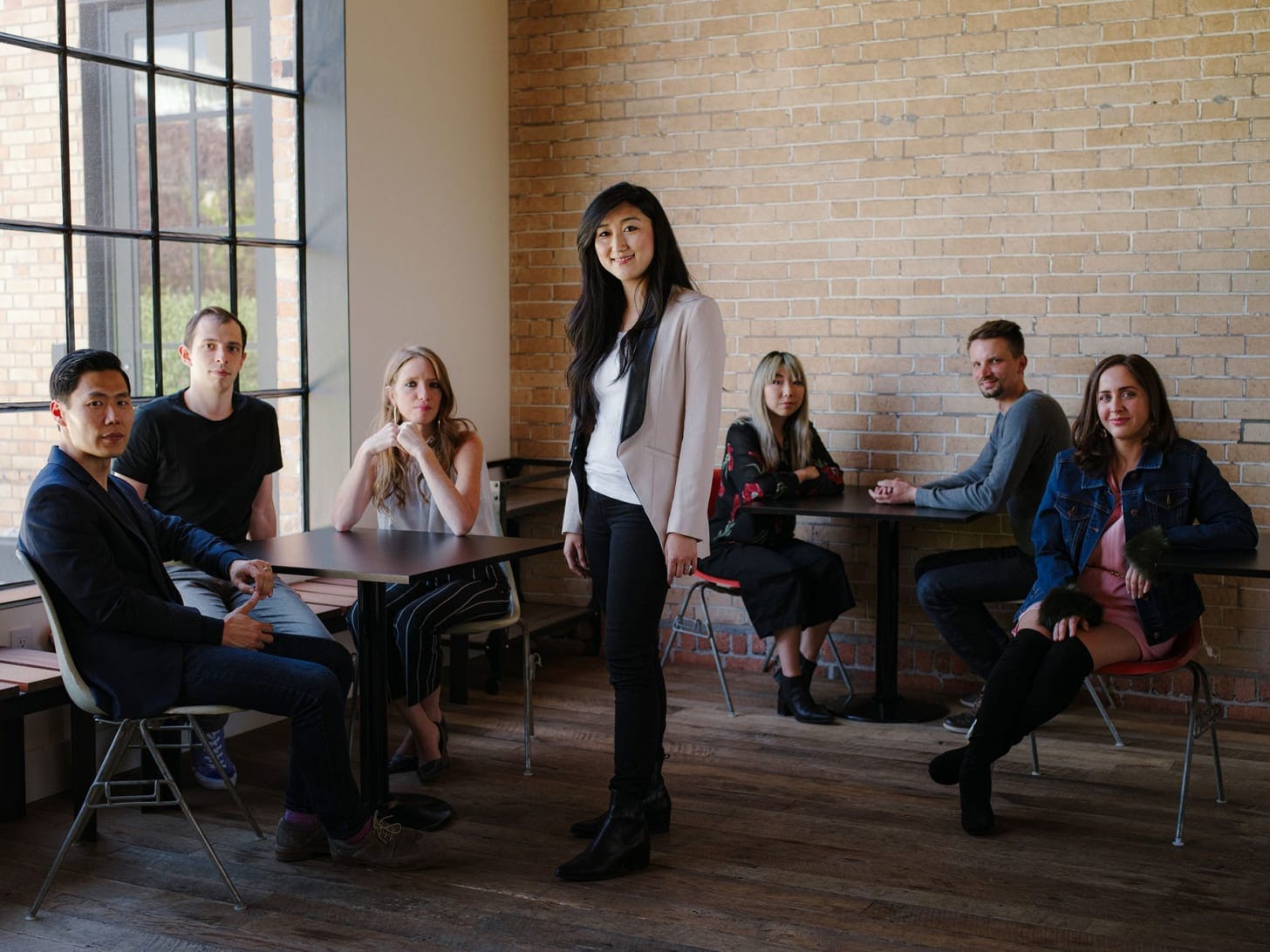 Issue #97
Jess Lee with the founders of the companies she's led the investments on for Sequoia | Bloomberg
This is issue No. 97 and the last issue had a 48% open rate. The top two articles from last week's issue were:
---
Insights.
Sequoia's first woman Partner Jess Lee is raising capital, and standards. To succeed in venture capital as a youngish Asian woman, she'd need her own approach, one that took her uphill battle into account.

CRV hires Anna Khan as a general partner and Kristin Baker Spohn as Venture Partner focused on enterprise. Direct-to-consumer lingerie brand Lively acquired for $85M. That's great for the founders but not so great for the investors.

Sutian Dong departs her role at Female Founders Fund. Meet the teenage AI whizz asking the tough questions about AI.

Thoughts on Uber Marketing and how they could have done better.

Techstars teams up with Global Women in VC.

Barcelona-based Emjoy raises €1 million in seed funding for its sexual wellness app.

Courtney Powell is the new COO of 500 Startups. Deena Shakir of GV joins Lux Capital as an investing partner.
---
From the Investor.
Some VCs say that you should start building relationships early. Others say that you should only pitch when you are at the right point in your business. When is the right time to approach a VC?
Elizabeth Yin/Hustle Fund

On the line between an idea that's crazy good and one that's just crazy and criteria/metrics to assess product-market fit.
Sarah Guo/Greylock Partners

Reflecting on parenthood and entrepreneurship.
Melody Koh/NextView Ventures

Shares of Application Performance Management company, Dynatrace, soared 49% in its stock market debut. Here is Dynatrace S-1 Analysis you'll actually enjoy reading.
Astasia Myers/Redpoint Ventures

What VidCon means for the future of social media platforms.
Justine & Olivia Moore/CRV
---
From the Founder & Operator.
Models for integrating data science teams within organisations. An answer to employee churn, coordination failures and lack of context with centralised teams.
Pardis Noorzad/Twitter
You want to know how the magic happen when it comes to hiring? Here are 3 rules you should follow to create the best recruitment process ever.
Stella Walter/Eutopia VC
Lessons we learned from launching a Saas tool on Product Hunt.
Marie Outtier/Aiden.ai

When it comes to creating content, why are we so hard on ourselves?
Natalie Sportelli/Lerer Hippeau

4 crucial keys to get into Y Combinator.
Yana Welinder/Kraftful

Some hard truths about soft skills.
Anne-Laure Le Cunff/Ness Labs
---
Upcoming Events.
---
📝Resources.
NEW: The Ultimate Guide for Female Founders in NYC

The Fundraising Bible
The essential Venture Capital database for women entrepreneurs.
A practical list of resources about venture.
Global directory for women in venture capital.
A database of 200 Black & Latinx Venture Capitalists & 100 Latina founders
Elpha - The leading women-only forum

👉Access the Femstreet Female Founders Power List here. Are we missing someone? Send them our way!
---
👋Comments, questions, tips? Send me a note!

Sarah Nöckel, Founder / Editor in Chief
@femstreet & B2B SaaS Investor @dawncapital
👉Guide To Crushing Enterprise Sales.

** If you are a female investor, founder or startup operator, we'd love to feature your content.

Having trouble seeing this email in your inbox?